Located inside Torres del Paine National Park, Hotel Las Torres Patagonia features a spa, a restaurant and an organic garden. It offers rooms with free Wi-Fi and is located only 4 miles from Laguna Amarga Lake.

A family-owned hotel, Las Torres began as a family ranch in the early 20th century. It remains the only private property within the Torres del Paine National Park and offers unrivaled access to the incredible landscape and adventures within. Built in the early 1990's, the Hotel has grown from 9 rooms to over 80 rooms, and has become one of the most important tourist destinations in the region.

All of the rooms at Hotel Las Torres are decorated in a simple yet comfortable style, welcoming you after a long day of touring the park. Large windows that open onto the valley and nearby mountains also offer bright light to start your day. Each room comes equipped with central heating, en suite bathroom with tub, wireless internet, closet, hairdryer, and telephone.

The on-site Coiron Restaurant serves three meals a day, specializing in Patagonian fare as well as international dishes, and serving all organic foods. In fact, most of the food served here is produced at the Hotel Las Torres. Greenhouses, an organic garden, and nearby farmland provide fresh and healthy ingredients for each meal.

You can also enjoy regional drinks like the Calafate Sour and Flamenco Magellan, or a number of cocktails, beers, snacks, and coffee drinks at the Pionero Bar, open daily. While you sip your beverage of choice, take in the incredible view of Almirante Nieto Mount.

All-inclusive programs as well as daily excursions departing from the hotel are offered. Join experienced gauchos for a horseback ride, trek the mountains at all ability levels, explore the flora and fauna on guided nature walks, or enjoy superb views on a panoramic vehicle tour.

In addition, other amenities include the Hotel's Spa. Choose from a number of treatments - including hydro-massages, reflexology, sauna, or Fango therapy - to revitalize and restore you after your Patagonia excursion. Find handcrafted souvenirs and Chilean-made goods at the gift shop, as well as outdoor equipment, books, and groceries to prepare you for your next adventure. You can also visit the interpretive museum to learn more about the history and geography of the region. Finally, if you are looking for an incredible place to host your conference, the Hotel Las Torres has a 150-person capacity conference center ideal for presentations and seminars int he heart of Patagonia.
Rooms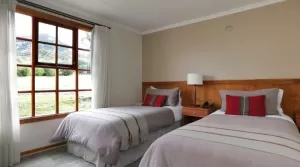 Superior Ciprés
22m² - Recharge your batteries with a good night's sleep in one of these charming rooms with large windows that overlook the peaceful mountains or the Patagonian pampa. The Superior rooms are ideal for small families or groups. 1-4 people + children under 3, One Double, Two Single or Three Single Beds, View of the mountains or garden.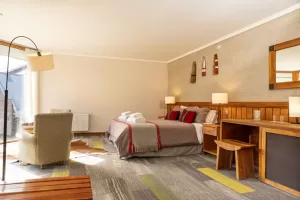 Premium Suite
38m² - Renew your body after a day of adventure in one of these lovely, spacious rooms with a cozy living area, a big window that frames the beautiful Paine Massif, and a jacuzzi. The Suite rooms are fully equipped for a romantic getaway or comfortable premium stay. 2 people + children under 3, King size bed, view of the Paine Massif.
Excursions from Hotel Las Torres

Hotel Las Torres is located in a privileged sector that shows the true spirit of an Estancia. Your home in Torres del Paine provides access to the most renowned places of the park start, such as the trail to the base of the towers.

We encourage travelers to get familiar with the options, decide preferences, and book their selections in advance with your Trip Planner. However, Patagonia is known for unpredictable weather that can change within hours or even minutes. Therefore, please be aware that excursions could be altered depending on forecasts and current weather conditions. All plans will be confirmed one day prior to scheduled excursions.

TREKKING

Las Torres Base View Point
Walk along the foothills of Mount Almirante Nieto and then follow the trail along the steep slopes of the Ascencio Valley. Granite peaks stand in the distance and create truly invigorating energy for your hike. You'll cross a lush, native lenga forest (4 km / 2.5 mi) and eventually hit a rocky moraine, which represents the final, yet hardest, a section of the trail (1.5 km / 1 mi).
Duration: 8 hours
Distance: 18.8km | 11.6 miles
Difficulty: High

Cuernos Trail Sector
Take a breathtaking, relatively flat hike between Mount Almirante Nieto and the ice-blue shore of Lake Nordenskjöld. As you walk along the lake, pristine streams fed by hanging glaciers cross the rocky trail that leads to the Cuernos sector. You'll pass over a hanging bridge, make a stop to see the deep blue Inge Lagoon, and appreciate moon-like rock and land formations.
Duration: 6-8 hours
Distance: 22.2km | 14.4 miles
Difficulty: Medium - High

Lenga Forest
Follow part of the O Circuit as you hike around the eastern edge of the Massif and venture into a mystic old-growth lenga forest. One of Patagonia's iconic trees, the Nothofagus Pumilio thrives in areas with low temperatures and heavy snow. Lenga woodland provides a habitat for many animals so, if you keep your eyes peeled, you have a good chance at spotting Magellanic woodpeckers, Austral parakeets, Chilean flickers and other forest birds like Thorn-tailed Rayadito, White-crested Elaenia and House Wren. This tour is great for windy days because, not only do the trees block most of the wind, but you'll get to hear the rhythmic swaying of the leaves and branches.
Duration: 3 hours
Distance: 8km | 5 miles
Difficulty: Low

TREKKING + HORSEBACK RIDING

Las Torres Base View Point
This tour combines the Park's "must-see" with a special twist. Horseback riding in Torres del Paine offers a unique and exhilarating experience. Start the day learning about the horses in the stables and then begin your ride across typical Patagonian lands of low vegetation and wide-open spaces. You can let the horse walk freely and simply enjoy the impressive, mesmerizing views of the Ascencio Valley (4 km / 2.5 mi).
*Excursion requires previous riding experience and is subject to weather conditions.
Duration: 8 hours
Distance: 9.2km | 5.7 miles + 9.6km | 6 miles
Difficulty: High

HORSEBACK RIDING

Lake Nordeskjold (Half Day)
This famous lake is situated at the base of the Paine Massif and is named after Otto Nordenskjöld (1869-1928), a Swedish-Finnish explorer who dedicated himself to the study of Chile, Antarctica, Peru, and Greenland. We'll start the day following a portion of the W Circuit and savoring the silence of the Reserve's private trails. As you ride along the deep blue shores of Lake Nordenskjöld, our expert baqueanos will help you learn how to ride. With the wind in your hair, the sounds of the lake, and the rhythm of the horse's strong, sturdy movements, you'll get a glimpse into Patagonia's origins.
Duration: 3 hours
Distance: 8km | 5 miles
Difficulty: Low

Lake Nordeskjold (Full Day)
This fantastic horseback tour is excellent for beginner riders looking to face a new challenge. You'll walk the Reserve's private trails and along the deep blue shores of Lake Nordenskjöld, feeling the inspiring energy that radiates in these silent places where your best company is nature herself. With the wind in your hair, the sounds of the lake, and the rhythm of the horse's strong, sturdy movements, you'll get a feel of Patagonia and its beginnings.
Duration: 6 hours
Distance: 13km | 8 miles
Difficulty: Medium

Ascencio Valley
Ride towards the valley on little-known trails that the colonists and baqueanos used in Patagonia's early days. You'll look up at imposing rock walls and a spectacular view of the Las Torres Mountains, creating a true connection to the horse and the environment around you. The flat terrain provides a perfect opportunity to practice different rhythms.
Duration: 2.5 hours
Distance: 7km | 4.3 miles
Difficulty: Low

Encantado Valley
If you have prior horseback riding experience, then this tour is for you! Feel the Patagonian wind in your face and the adrenaline race through your body as you gallop across the pampas and through the forests. You'll follow the original trail that was used by the baqueanos, around the eastern edge of the Paine Massif and spend a full day immersing yourself in their horse culture. Next to the windy Paine River and under soaring peaks, we guarantee you'll fall in love with the nature around you.
*Excursion requires previous riding experience and is subject to weather conditions.
Duration: 6-8 hours
Distance: 24km | 15 miles
Difficulty: High

LAS TORRES RESERVE EXCLUSIVES

Baqueano Cultural Experience
Spend a morning with the baqueanos and get a glimpse of the traditional Patagonian lifestyle. During your time with these Patagonian cowboys and girls — descendants of horsemen who came to work ranches in this remote region more than a century ago — you will learn about their special clothing, saddles and other horse tacks. They can show you how to properly saddle a horse, nail a horseshoe and, of course, how to ride!
Duration: 3 hours
Difficulty: Low

Regenerative Kitchen Garden
They say necessity is the mother of all inventions. When the Kusanovic Family took over the property, they immediately began cultivating their own herbs, fruits, and vegetables. Today, our garden has developed immensely since its origin in the early 1950s and is now one of the region's largest regenerative gardens.
Duration: 1 hour

VAN + WALK / TREKKING

Azul Lagoon
This tour is a great option if you would like to observe the Las Torres Mountains, but without the 8-hour hike to the Base Viewpoint. You'll head to the quiet shores of Azul Lagoon in the comforts of a van, where you can then take an easy 30-minute walk amidst remarkable views of the Las Torres Mountains and the Paine Massif. The views here offer a unique perspective of the granite peaks - one that is very different from other sectors of the Park. Wildlife is abundant and the peaceful ambiance naturally leads you to ponder life, nature, and the magic of the present moment.
Duration: 4 hours
Distance: 1.5 hours van + 1km | .6 miles
Difficulty: Low

Los Cuernos Lookout
Start the adventure with a 45-minute drive to Pudeto and fall in love with the resilience of nature as you see trees sprouting new life. You'll take a short walk to the raging Salto Grande Waterfall that channels water between the Nordenskjöld and Pehoé lakes. Then you'll continue along the trail until finding yourself standing in front of a spectacular, truly powerful perspective. The Paine Massif hovers over Lake Nordenskjöld and boasts one of the most humbling views in Torres del Paine National Park. This panorama features the Los Cuernos Mountains, Mount Paine Grande, and the Francés Valley and its glacier rising straight up from the other side of Lake Nordenskjöld. It is hands down a breathtaking spectacle.
Duration: 4 hours
Distance: 1.5 hours van + 6km | 3.7 miles
Difficulty: Low

Patagon
Start the day with a trip in the van to Amarga Lagoon, where you'll get up close with the literal origins of life on earth. This lake is one of the few left on earth that contain cyanobacteria, which played a fundamental role in transforming carbon dioxide into oxygen and permitting life to evolve. You'll head south through an area that local guides have dubbed the "puma restaurant." While the likelihood of seeing this iconic feline during daytime is slim, you have a good chance of spotting foxes, condors and rheas, the Patagonian version of the emu.
Duration: 4 hours
Distance: 1 hour van+ 9.5km | 6 miles
Difficulty: Low

Lakes Trail
Get a different take on the Torres del Paine flora and fauna — and a dramatically different view of the mountain. You'll see a lot of wildlife as we drive for 90 minutes alongside the intense blue of Lake Sarmiento, one of the largest in the Park. We will move away from the Paine Massif and slowly.
Duration: 7-8 hours
Distance: 2.5 hours van+ 15km | 9.3 miles
Difficulty: Medium

VAN + HIKE / TREKKING + BOAT TRIP

Full Paine + Grey Glacier
This tour gives you a beautiful taste of all Torres del Paine National Park has to offer, in the shortest amount of time. Travel comfortably in a van that stops at all the main sights, letting you get out and take short hikes to outstanding lookouts. In one day, you'll get to see almost all the Park's must-sees and you'll have a terrific view of the entire Paine Massif.
*The navigation is optional and not included in our all-inclusive programs. The cruise takes around three hours and holds up to 100 people, the additional cost per person is US $140 (subject to change). A minimum of 15 people is required in March and April.
Duration: 7-10 hours
Distance: 1.5 hours van + 1km | .6 miles + 3 hours boat
Difficulty: Low

Frances Valley
This tour ventures into the famous Francés Valley, in the heart of Torres del Paine National Park and the famous W Circuit. After a 45-minute drive, you'll start by sailing for a half-hour across the sparkling blue Lake Pehoé to Paine Grande. When back on land, you'll follow a relatively flat trail for 7 km / 4 mi along the north side of Lake Skottsberg. Upon reaching the bottom of the Francés Valley, you'll head up a steep trail and deeper into the valley. The powerful energy flowing through the native Lenga tree forest will bring you fully into the present moment. When you get past the treeline, a new landscape awaits - an awesome view of the multi-colored Los Cuernos Mountains and the Francés Glacier that hangs from Mount Paine Grande. This active glacier gives you the opportunity to hear and see its movements, with frequent cracks and calvings. Before leaving, don't forget to look behind you! The lakes below, surrounded by mountains, seal the deal on this panoramic view. The altitude change from start to finish of this second part is 700-800 meters / 2,300-2,600 feet.
*The boat trips are not included in our all-inclusive programs and an additional cost of US $70 applies
Duration: 12 hours
Distance: 1.5 hours van + 20km | 12.4 miles + 1 hour boat
Difficulty: High
Inquire
Our guide and driver were very good with their knowledge and were very helpful with our questions. It was a very pleasant visit that would have been impossible to do on our own. Hotels and restaurants were fantastic. The special places we got to go to, like the kitchens, were great. Enjoyed the entire trip!
Meyer Smolen