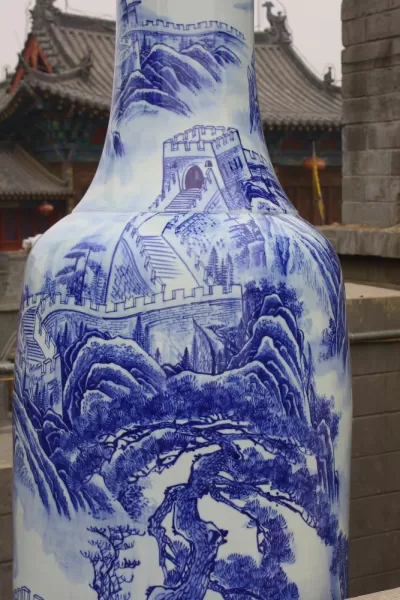 June 16 - Beijing Zoo
One of the main reasons I wanted to go to China this year was to see the pandas at the Beijing Zoo. Apparently there are pandas all over the world in zoos, had I known that before I went I guess I could have saved thousands of dollars. Oh well. I wanted to see the real thing, not that the others aren't real.
Before going to China I looked on google earth and mapped out where the different things we wanted to see were. The Beijing Zoo looked like it was about 1.5 miles from where we were staying. Not really knowing where the Zoo was exactly, we decided we'd walk there. I knew it was east, but never seeing a clear sky and being able to see the sun made it difficult to know which way to walk.
Luckily we had a map, in chinese, and we guessed which way to go.
Along our walk we saw the usual things you'd expect to see on a busy street in any city. Clothing stores selling the latest fashions, athletic apparel stores, street vendors selling things I assume people consider food, and of course, a porn shop. Apparently the chinese like porn, because this wasn't the only store I saw. The best one's are the one's that sell one thing on one side, and then the other side it's all porn. Whatever.
So we continue walking, and it being early in the morning we decided we'd stop and get some donuts from a bakery. Actually we ended up getting a pastry of some kind, but it was still good. We walked down some road alongside the highway, wondering if we're going to have to cross over it to get to the zoo and wondering where the zoo was exactly.
After about 30 minutes of walking we finally see a sign that says "Beijing Zoo." So we just kept going in the direction the sign was pointing. What we thought was about a mile and a half was actually about 3.5 miles and instead of taking 20 minutes like we were thinking it took about an hour.
We got there around 10 AM, and it was pretty crowded outside at the gate. Still new to China, at this point we didn't understand how you are supposed to get in line. For those of you that don't know, the art of lining up consists of picking out the shortest line, then walking in front of everybody that has been standing there in the hot sun for 15 minutes and pushing your way to the window. At least this is how it seemed everyone else was doing it. So I decided that must be the way it works.
After pushing our way to the front we got our tickets. It was pretty cheap, like all attractions in China. Which was pretty cool, I didn't have to spend as much money. You had to pay a little extra to see the panda exhibit, but it was like $1 and that's all I really cared to see anyway. I can see the boring animals at home.
Once we got in we immediately made our way to the Panda Exhibit, which of course was pretty crowded. They actually had a few things inside and a few things outside. So that helped spread the crowds out a little bit I think. This was after the earthquake in Chengdu obviously, so alot of the pandas from that region had been brought to Beijing. So there was a lot more pandas to see.
They also had a little exhibit set up explaining what took place at the panda sanctuary that had been destroyed, and all of its successes, and what they hoped to do to rebuild it. A lot of pandas have been born there, so I think it is important that they get something like that up and running again soon.
Because we were also planning on seeing the Summer Palace, we decided we could have about 3 1/2 hours at the zoo. We ended up staying about 2 hours at the panda exhibit. The only other animals I really cared to see were the tigers and maybe some monkeys. So after seeing the pandas and buying some souvenirs we went to see the big cats. This area didn't look very appealing, and of course it smelled bad. It was an indoor building with different cats in small cages, about 15 feet by 20 feet, at most.
Most of the animals in there just layed around. But the leopards actually paced back and forth in their cage looking at all the people taking their pictures. Probably wanting to kill them. A few times they would start huffing really loudly, and everyone would come running over to see them. I don't know if they just had a hairball or what, but it made for some good pictures. There was a small lion that seemed to like walking around too, and it also made growling noises. After about 20 minutes of that we went outside where there were more cats, but these cats got to walk around in a fake jungle. One tiger in particular, I have pictures of it, was actually nice enough to pose for some pictures. Otherwise, he did nothing but walk around. I think it might have peed a few times also.

We also checked out the elephants, not really on purpose, they just happened to be where we were walking. Elephants are ok, but they always smell horrible. These elephants, like the other animals, just paced around in circles. What an exciting life. We saw some bears. They looked like grizzly bears, just different. I don't know how to explain it, and I didn't take any pictures, since I had already taken about 60 of the pandas, I didn't want to run out of pictures on my memory card after only a week. Somehow I took 1,400 pictures in 4 days at Shanghai, and 5 days in Beijing.
The interesting thing about the bears was that people were feeding them. They were feeding them junk food, right next to a sign that said "don't feed the bears.
Chinese people. They're nice people, and have a fascinating culture, but they don't follow directions very well. Which I found interesting since it's a communist country. I thought everyone would be really orderly and obedient. It was much different then I thought it would be. We didn't stay very long at the bears, partly because I see bears in the wild, and that's better, but also because I didn't want to be around in case someone showed up and people started getting in trouble for feeding the bears.
At about this time our 3 1/2 hours was just about up and we needed to start heading for the exit to get a taxi to the Summer Palace. On our way out we tried to find the monkey exhibit, but either it had moved or was under construction, because it was nowhere near where the maps said it should be.
The maps were all wrong. I remember one map said the elephants were 400 meters away, it was about 100 feet.
The Beijing Zoo was really cool I thought, even with all the pacing animals and incorrect signs. It was better than any zoo I've been to, and I've been to the San Diego Zoo, Dallas Zoo, Ft. Worth Zoo, Sea World in San Antonio, and the Orlando Zoo. Maybe others too that I just don't remember. I think what made it so good was the fact that it was like a park. It had alot of ponds and trees everywhere. It was the type of place you could just hang out at and if you wanted to go look at animals. We didn't go to the aquarium because of time, but it looked like a nice building and it said they offered some kind of shows. The Chinese are really good at building parks, especially in Beijing. They're much better than the parks in the U.S., at least near me.
So anyway, we left the zoo and headed down the street a little ways and caught a taxi to the Summer Palace. We originally planned on walking to there too, it was way too far for that. About a 20 minute taxi ride. They should have a subway to there now, at least that's how it looked on the maps we saw. I think they were waiting to open those until the Olympics.