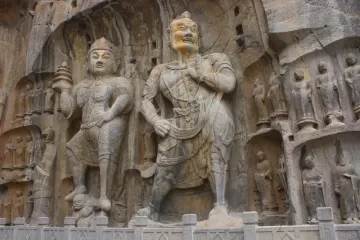 June 29 - Longji Rice Terraces
After a short bus ride from Sajiang we arrived in Longsheng, an area known for its rice terraces. As we stepped off the bus we were ambushed by a young lady, probably early 20s and a couple of guys. They were saying something in chinese that we obviously couldn't understand. We told them we wanted to go to the rice terraces which somehow they understood. They began saying "Longji" and pointing to a postcard of the rice terraces. Somehow my brother recognized the world Longji, so we told them that is where we wanted to go. The lady said we could go on a bus and stay at her house. This was the second time someone had said this too us and I still felt weird about saying yes. Since she seemed nice and was willing to help we decided we'd go.
We got on another bus and headed for the rice terraces.
We took this bus about 50 yards and then stopped. The lady told us to get off, and confused we followed her. We hopped onto another bus instead, I read that this is common in China. They apparently don't like taking half empty buses on longer trips. Since we hadn't paid yet I didn't mind, otherwise I might have thought they were just trying to take our money. This next bus went up a mountain rode for about 30 minutes picking people up and dropping people off along the way. We finally came to a stop where the lady again told us to get off the bus, where we immediately jumped onto another. On this bus we had to pay an extra fee to enter the rice terraces, it was 50 RMB. We took this bus for another 25 minutes or so. There was some really nice scenery along the way. It seemed like a good area to go hiking if you get the chance, but there weren't necessarily any trails.