Have questions? We're here.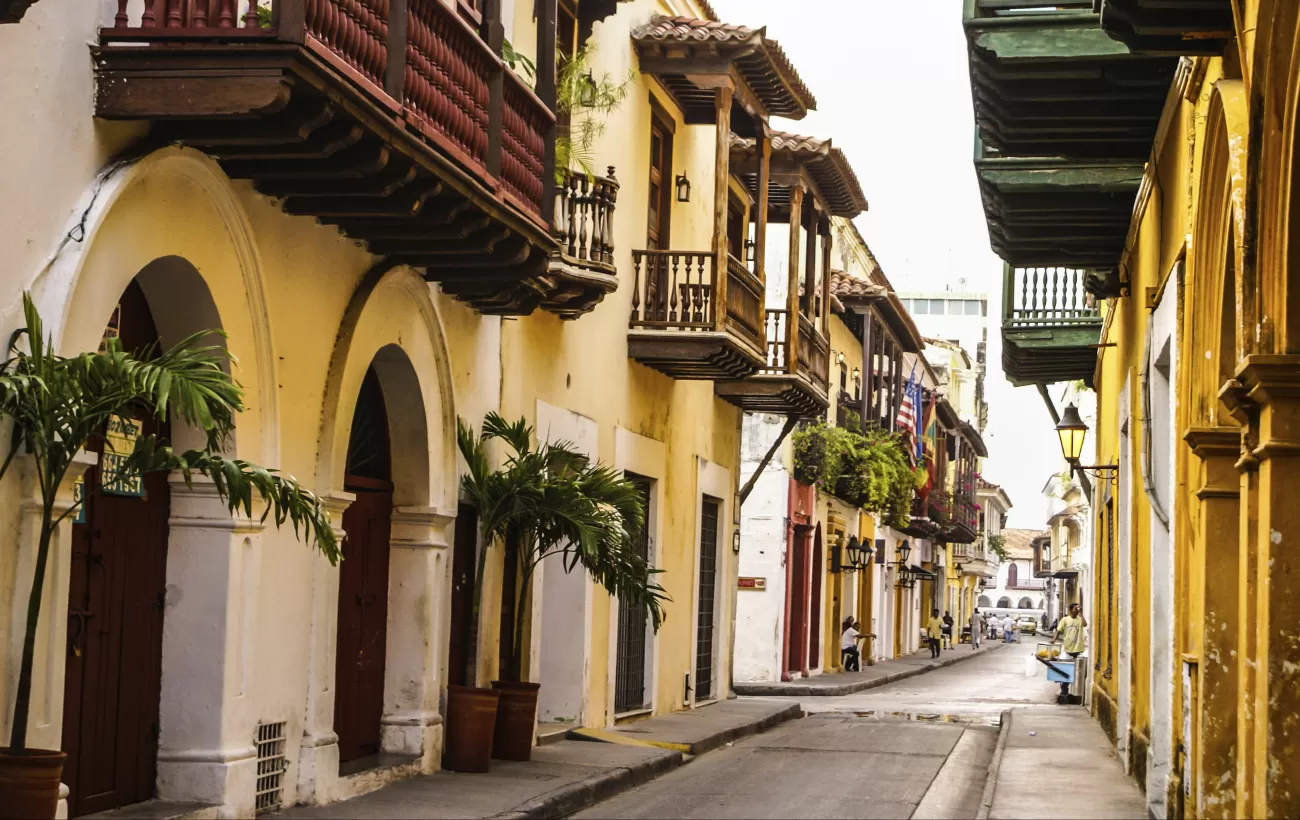 Bogota to Cartagena Adventure
Example 7 Day Tour
Get inspired by the possibilities.
Build your ideal trip.
Spend your week on this one-of-a-kind adventure in Colombia, from the vibrant city of Bogota to the pearl of the Caribbean, Cartagena. Discover the wonders of Bogotá on a sightseeing tour with an expert guide. Take a ride towards Monserrate Church and enjoy the most breathtaking views of this city. Walk in the cobblestoned streets of La Candelaria, surrounded by colonial architecture. Fly to Cartagena and experience the clear blue waters, white sand, and corals on a day tour at Blue Apple Beach. Discover the group of islands on the coast of Colombia, a perfect natural environment to have fun and relax. Enjoy the experience of learning the culture of the Caribbean, visiting the craft market, enjoying the cuisine, and learning about the history of Cartagena.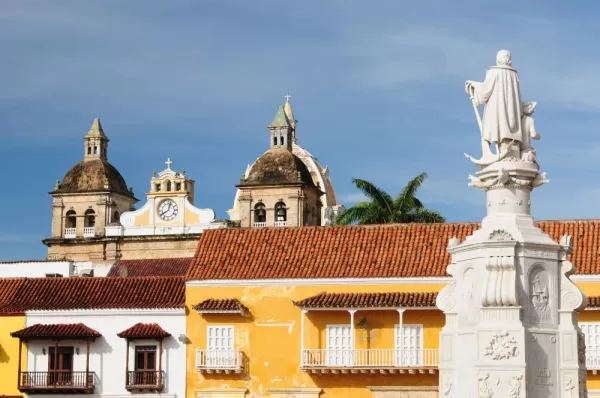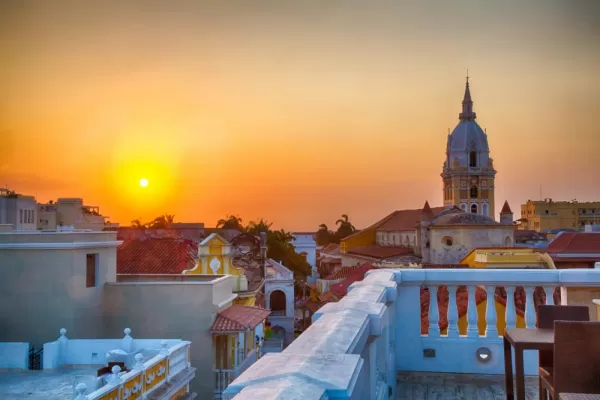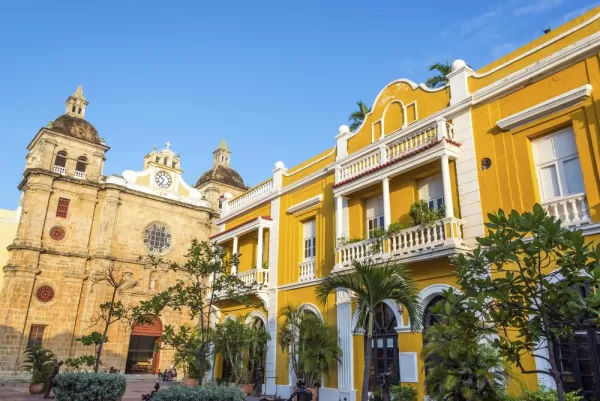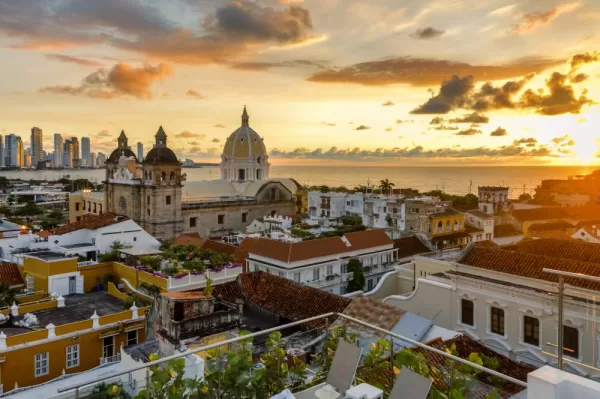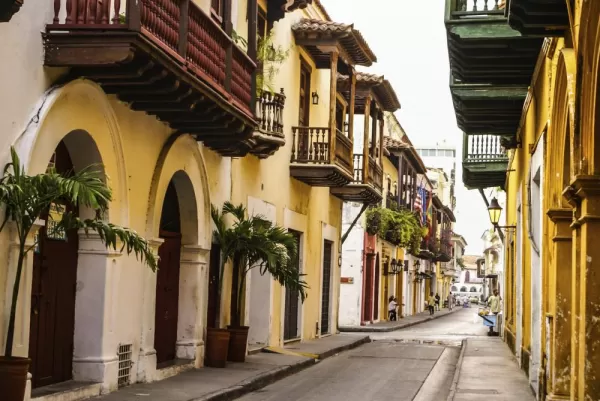 Discover the most iconic and historical landmarks in Bogota
See Indigenous jewelry at the Gold Museum
Walk in the cobblestoned streets of La Candelaria, surrounded by colonial architecture
Explore Cartagena's rich culture and well-preserved colonial architecture
Spend the day relaxing in a picture-perfect beach in Blue Apple Beach
Visit the San Basilio de Palenque, known for first free town for Africans
Bogota
San Basilio de Palenque
Full Itinerary
Expand All
Day 1: Arrive in Bogota
Upon arrival at Bogota Airport, a private vehicle will transfer you to your hotel in Bogota. After settling in, take a free walk around the hotel on your own and explore the restaurant or cafe nearby.
Day 2: Bogota
Bogota is a vibrant city, full of color, contrast, and history. On this tour, your host will take you on a walking tour to the most iconic locations in Bogota. This tour will give you a deep understanding of the capital's culture and allow you to learn about local food and traditions.

The walking tour will begin in the historical center of the city. Start at Monserrate, a church at the top of a mountain that gives you an appreciation of how big and diverse Bogota is. Afterward, you will head to La Candelaria, where your host will share the official and non-official history of the country. You will also have the chance to try some typical snacks and coca tea while exploring one of the oldest and most traditional handicraft markets downtown.
Day 3: Bogota
During your stay in Bogota, you can choose two optional activities; the La Chorrera tour and the Zipaquirá Salt Cathedral visit.

Option 1: La Chorrera is known to be the tallest waterfall in Colombia, measuring almost 600 meters high. Spend the day hiking at this magnificent park located 1 hour away from Bogota.

Option 2: Visit one of South America's wonders, the Zipaquirá Salt Cathedral. Explore the magnificent salt mine of Zipaquirá and see the famous cathedral up close.
Day 4: Fly to Cartagena
After breakfast, a private transfer will take you to Pereira airport to catch your flight to Cartagena. A private vehicle will take you from Cartagena Airport to your hotel for your next activity.

Stay at the Bantú Hotel by Faranda Boutique, the perfect place to stay to discover all of Cartagena's charm. This 5-star boutique hotel will stun you with its tranquil courtyards and cutting-edge design. While the decoration draws inspiration from San Basilio de Palenque culture, the architecture is a product of colonial romanticism.

In the afternoon, go on a walking tour around the magnificent city of Cartagena. Cartagena was declared a UNESCO Heritage Site in 1984 and is one of the most recognized cities in all of Latin America for its colorful diversity and architectural conservation. This walking tour with a historian and an English-speaking guide takes you through the beautiful streets of the old town and main sites and teaches you about the past and modern-day of this gorgeous and fascinating city. Your guide will also focus on architecture, art, music, food, and culture.
Day 5: San Basilio De Palenque
Arrive to a warm welcome in the Palenquera language. Your day will start with a historical tour through the most emblematic points of what is considered to be the most important aspects of humankind's intangible oral legacy.

Located 60 km from Cartagena, the Palenque de San Basilio is a community of descendants of African Maroons from the 17th century. The mythical leader, Domingo Biohó, was a leader whose fierceness was reflected in the reports that the governors of the Province of Cartagena sent to the Crown.

Learn about the memorial to Benko's Biohos, the creator and leader of Palenque, and the residence of Kombilesa Mi, a musical ensemble dedicated to preserving and promoting Palenquera music and its unique instruments. Learn about ancestral and communal justice, which has been the way to solve local problems within the Palenquera community. Traditional leaders oversee the process. Finally, your experience will end with a traditional lunch that will introduce you to local flavors and techniques.
Day 6: Blue Apple Beach
1 Breakfast, 1 Lunch, 1 Dinner
This morning, take a private boat for a 20-minute ride to Isla Tierra Bomba in the Rosario Islands. A welcome cocktail and a typical coastal lunch will be served upon arrival. Spend the day relaxing in a picture-perfect beach chair and turquoise waters at the idyllic Blue Apple.

The location of this tropical bliss is the idyllic Blue Apple Beach House, an exclusive private beach club. It also features an excellent restaurant that serves fresh, local seafood dishes to tantalize your palate. Lounge by the pool in a hammock, sample cocktails at the bar, or enjoy a rejuvenating beachside massage. You can even take a dip in the blue Caribbean waters.

Head back on the return boat around either 4 pm or 5:30 pm, and soak up the relaxed atmosphere as you watch the sun begin to sink into the horizon.

In the evening, take your leisurely dinner in Celele Restaurant. The passionate undertaking by two of Latin America's most innovative and exceptionally talented chefs, this restaurant & food is more than just visually stunning and delights and surprises tastebuds. This Degustation meal will include 5-courses with matching drinks. It is an important investigation into Colombian ingredients and food traditions that have been overlooked for too long and are in danger of being lost forever.

The result is one of those truly special experiences where you feel you are witnessing a future chef's table genius in the making.


Day 7: Return Home
After breakfast, you will be transported from your hotel to Cartagena airport in time for your departure flight.
6 Breakfasts, 3 Lunches, 1 Dinner, 1 Box Lunch
6 Nights Accommodations
4 Days Locally Hosted Guide Service
Accommodations as listed
Ground transportation as listed
Activities as listed
Meals as listed
Access to a 24-7 Emergency line while traveling
Domestic Flights
Carbon Offset Fee
Professional local English speaking guides throughout your tour
All entrance fees as per program
Local Fish Lunch in Palenque de San Basilio
Community Contribution in Palenque de San Basilio
Taxi transfer to/from Monserrate
Food Tastings During City Tour
A welcome cocktail drinks in Blue Apple Beach Club with 2 Course meal (Appetizer and Main) and a glass of the house wine or one cocktail, Bed and towel service, and use of the beach house (pool, beach, games)
A 5 courses meal with matching wines in Celele Restaurant
Bike & helmet per person
Entrances to San Felipe Castle
Gratuities
Travel Insurance
Personal Expenses
Additional excursions during free time
Fuel and transportation surcharges (when applicable)
International Flights
When to Go
Good to ideal period to travel, and many people choose to visit at this time.
Inquire
Our guide and driver were very good with their knowledge and were very helpful with our questions. It was a very pleasant visit that would have been impossible to do on our own. Hotels and restaurants were fantastic. The special places we got to go to, like the kitchens, were great. Enjoyed the entire trip!
Meyer Smolen
Colombia Travel Guide
Favorite Colombia All Trips