Have questions? We're here.

Get inspired by the possibilities.
Change and customize this trip to make it yours.
Andes to Caribbean Multisport
Example 10 Day Tour
This Colombia multisport trip begins in Bogota where you hit the trails, both on foot and mountain bike, in the Santander region. Raft Colombia's best one-day river, the Chicamocha Gorge, and enjoy the turquoise water and lush rainforest of Colombia's Caribbean coast. This Colombia trip provides a good view of Colombia's history, culture, and diverse landscape for travelers wanting to stay active on their Colombia vacation.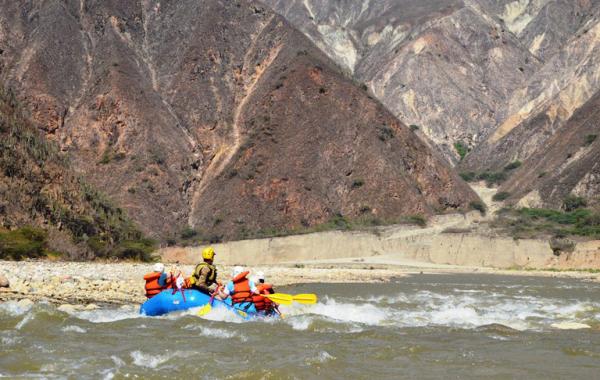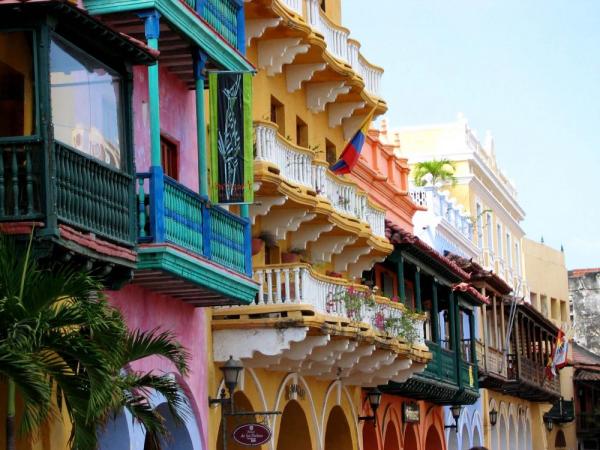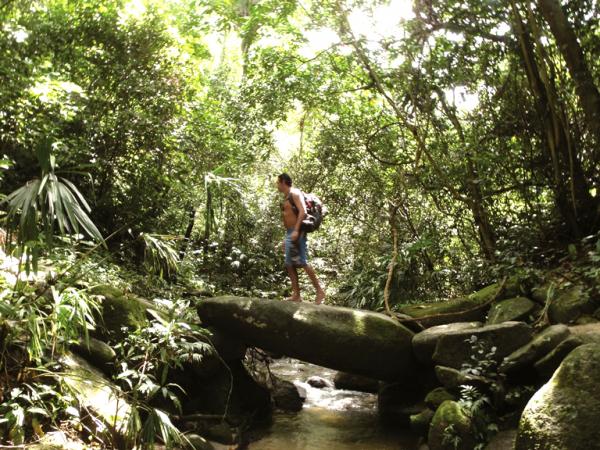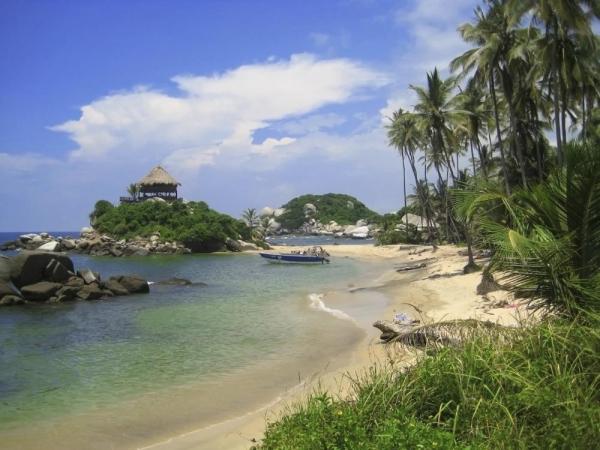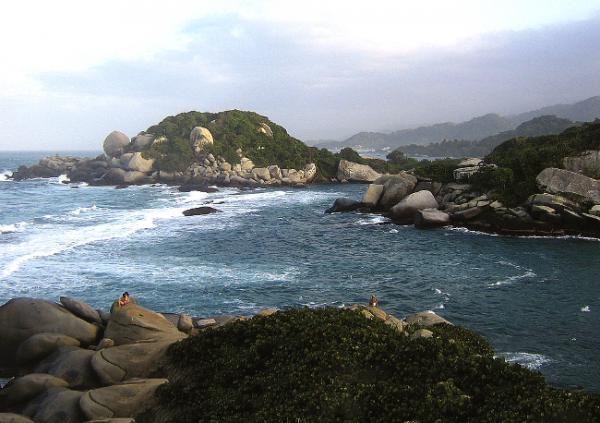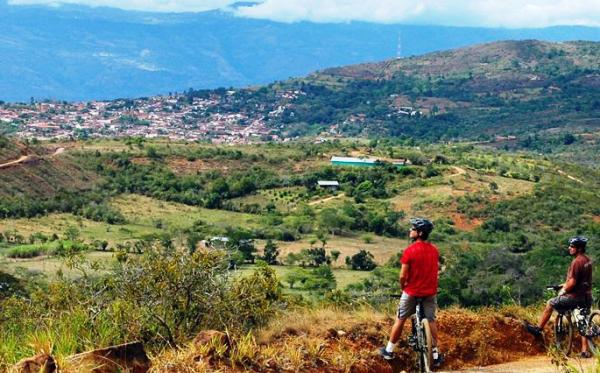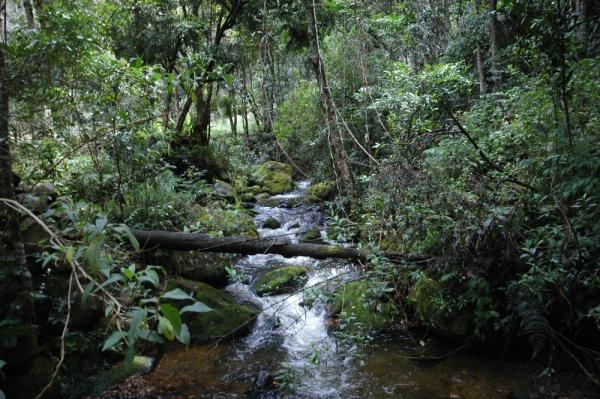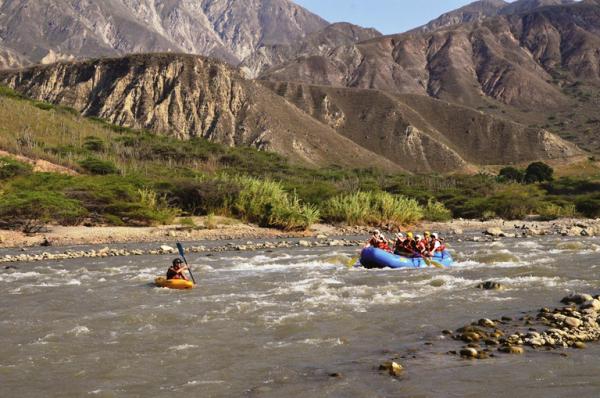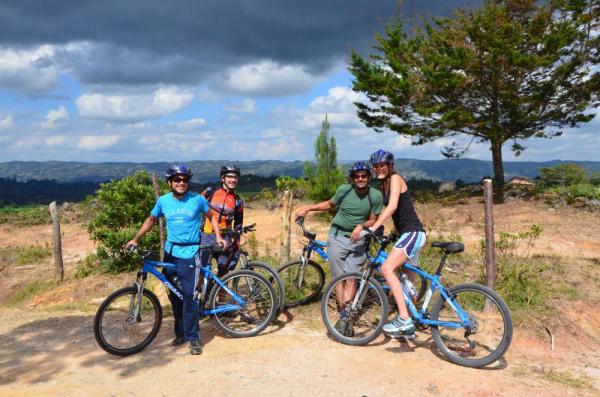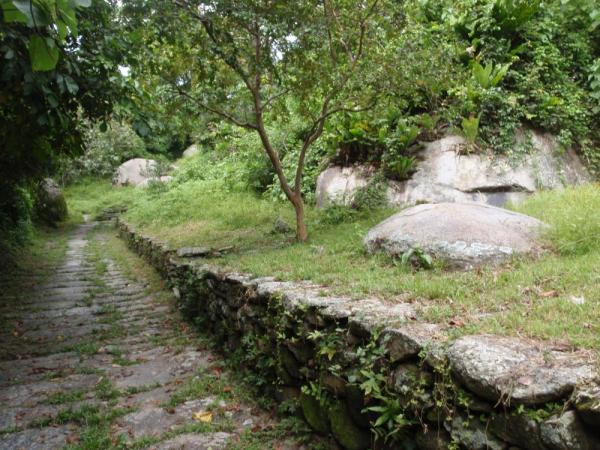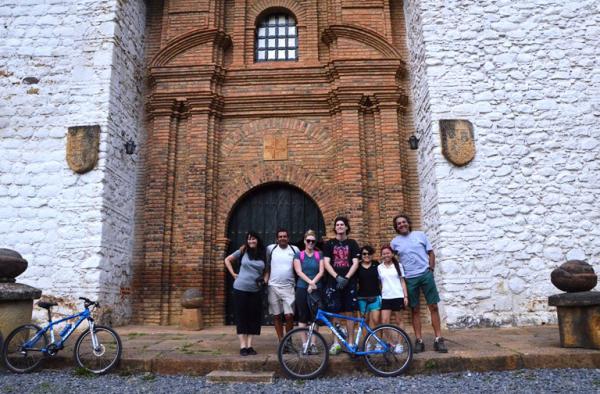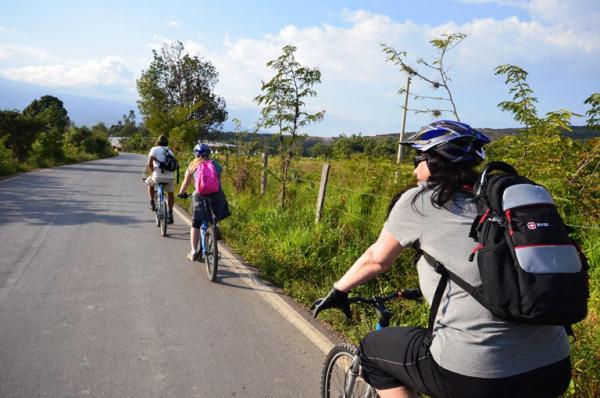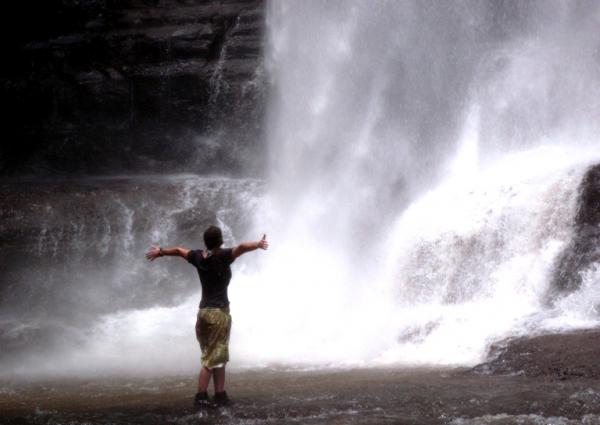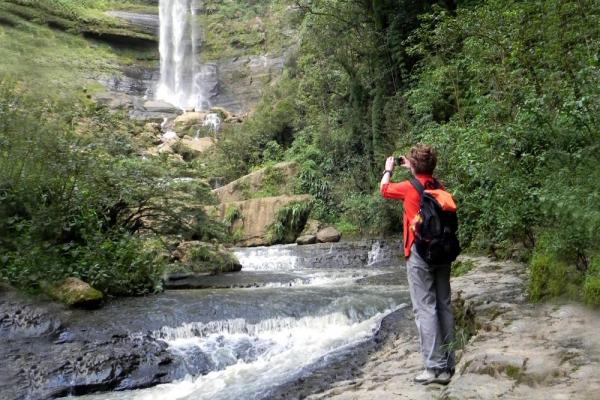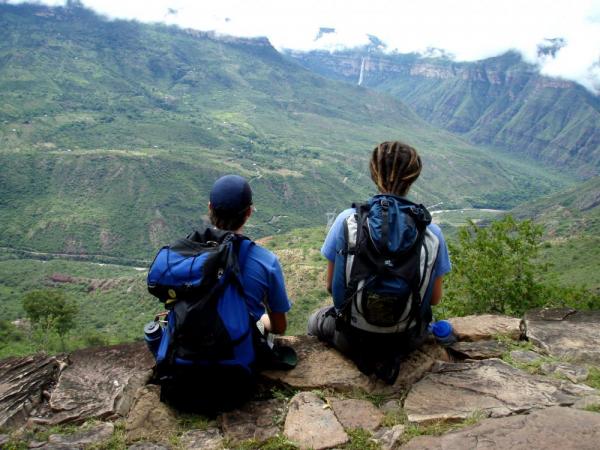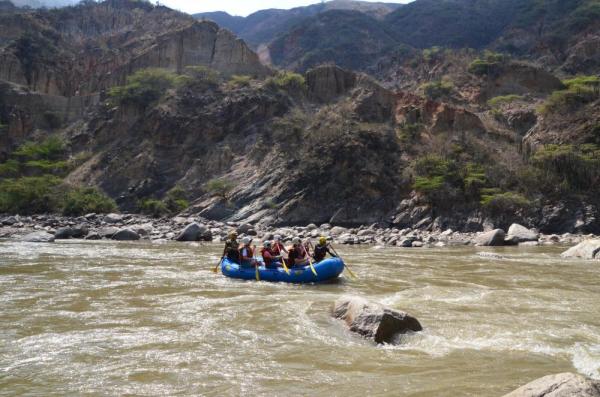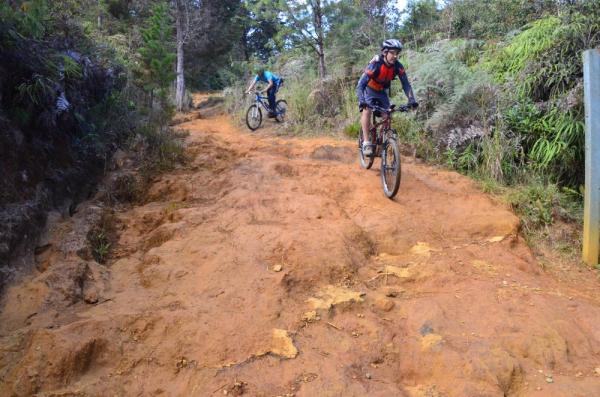 Hike the Royal Trail, used by the Spanish to transport gold to the coast
Bike through local villages and sprawling farmlands
Raft the Chicamocha Gorge with class III rapids
Explore the Lost Stone City of the Tayrona, an advanced civilization
Andes Mountains
Barichara
Bogota
Bucaramanga
Chicamocha Gorge
El Pueblito
Guane
Hacienda El Roble
Iguaque National Park
Santa Marta
Tayrona
Villa de Leyva
Full Itinerary
Expand All
Day 1: Arrive Bogota
Arrive in Bogota and meet your guide and transfer into the city to your selected hotel.
Day 2: City Tour and Explore Villa de Leyva
1 Breakfast, 1 Lunch, 1 Dinner
Bogota was once the main trade center between South America and Europe due to its location in the Andean savanna on the Magdalena River that connects to the Caribbean Sea. Take a city tour of the colonial center to learn about the pre-Columbian and Spanish heritage with visits to the Plaza of Simon Bolivar, colonial churches, the bohemian La Candelaria neighborhood, and the Gold Museum. In the afternoon, drive to Villa de Leyva, a beautiful village three hours from Bogota. Villa de Leyva's colonial charm has been preserved with cobblestone streets, tiled roofs, and whitewashed buildings, and the region is known for its dinosaur fossils. Spend the night in a colonial hotel.
Day 3: Hike Iguaque National Park
1 Breakfast, 1 Lunch, 1 Dinner
Begin the day with a visit to Iguaque National Park. Iguaque is a sacred place to the native Muisca who believe that mankind originated in the Iguaque Lake. Explore the park while on the lookout for the hundreds of species of orchids, bromeliads, lichens, ferns and rare tropical birds of the cloud forest.
Day 4: Santander and Mountain Bike in Barichara Valley
1 Breakfast, 1 Lunch, 1 Dinner
Drive north through diverse, beautiful landscapes over mountains and rivers and pass local villages and fertile farmland to get a glimpse of rural Colombian lifestyle (approximately 4 hours). Arrive in the Santander region in San Gil, known as a center for Colombia's adventure travel, for an afternoon of mountain biking. Ride through this unique forest, characterized by huge strands of moss hanging in the trees, and cruise along the trails through coffee and cattle haciendas (14 km ride for approximately two hours). Arrive in the colonial city of Barichara, the home for the next two nights.
Day 5: Hike the Royal Trail to Guane and Juan Curi Waterfall
1 Breakfast, 1 Lunch, 1 Dinner
Begin the day with a hike on a historic trail that was originally built by the Guane Indians and then reconstructed in stone by the Spanish colonists to gain access to the Atlantic for exporting gold and other natural resources. This preserved, scenic road is framed by old stone walls with great views of the gorge below and excellent birding as a high concentration of species feed and inhabit this area. After the 7 km (4 miles) hike, arrive to Guane, another colonial town that seems lost in time with its great Spanish architecture as well as a rich pre-Columbian cultural history of the original Guane who inhabited this area before who assimilating with the Spanish over time. Visit the local Guane anthropology museum before hiking in the lush forest to the Juan Curi waterfall, an impressive 50 m (160 ft.) drop and enjoy the spray at the base of the falls. There is optional rappelling for anyone interested in more adrenaline (additional cost). Return to Barichara in the afternoon.
Day 6: Whitewater Raft the Chicamocha Gorge
1 Breakfast, 1 Lunch, 1 Dinner
Hit the river for some Class III whitewater action on the Chicamocha Gorge. Descend by vehicle nearly 800 meters to the river put-in and raft Colombia's best one-day whitewater run. Enjoy a 20 km trip through this towering limestone canyon and the Chicamocha's big waves. Take out in the afternoon and transfer to the charming hacienda on the other side of the gorge. A nice rest after an active rafting day during your Colombia tour.
Day 7: Coffee Hacienda Tour | Transfer to Tayrona National Park
1 Breakfast, 1 Lunch, 1 Dinner
After enjoying Colombian coffee the last few days, visit an award-winning organic coffee hacienda located near Bucaramanga. Tour the estate to see the harvest and production of various shade-grown varieties and taste a cup of brew. In the afternoon, a short thirty-minute flight takes you to Santa Marta, and you continue to the Tayrona National Park which is considered one of the best nature reserves in the Caribbean. Tayrona is squeezed between the coast and the Sierra Nevada de Santa Marta, the highest coastal mountain range in the world. Tayrona is where snow-capped mountains, sandy beach, and rainforest converge, where green jungle tumbles down the mountains into the turquoise water. The region is also home to the Kogi people, a pre-Columbian culture that descends from the ancient Tayrona, one of the few cultures in Colombia that have preserved their traditional way of life. Spend the afternoon exploring the trails and beaches of Tayrona and relax and enjoy the sunset at the beach hotel.
Day 8: Hike to El Pueblito
1 Breakfast, 1 Lunch, 1 Dinner
Hike to El Pueblito, a city originally built by the Tayrona and considered one of Colombia's best archeological sites, starting by the area of el Calabazo. Just a 20 minute drive from Santa Marta, follow a stone trail through the forest for approximately three hours with great opportunities for wildlife viewing with parrots, toucans, hawks, howler monkeys, colorful lizards and hundreds of butterflies. Upon reaching El Pueblito, explore and learn about this highly developed culture and its advanced architecture of waterways, stone bridges, stairways, and terraced structures that were built in the 5th century and inhabited until the 16th century when it was abandoned and swallowed by the jungle. After the hike have lunch at a local restaurant and make your way back via the beach of Cañaveral to reach the entrance of the Tayrona National Park, from here the drive back to Santa Marta (approx. 1 hour and 30 minutes).

Day 9: Explore Cartagena
Drive south along the Caribbean coast through fishing towns and coastal cities on the way to Cartagena de Indias, a World Heritage city filled with beauty, charm, and history. Cartagena was one of the wealthiest and most influential cities of the Spanish crown, and the greatness of the city can be witnessed in its fine architecture, museums, churches, plazas and fortressed walls. Explore this beautiful city with your guide
Day 10: Visit Castillo de San Felipe. Return Home
After breakfast, tour the Castillo de San Felipe de Barajas, a stone fortress strategically built on the top of a hill to repel enemies and protect the city of Cartagena during many conflicts. Considered as the most impenetrable fortresses of the Spanish colonies since it was never overtaken. Transfer to the airport in the afternoon for your return flight.
9 Breakfasts, 8 Lunches, 7 Dinners
9 Nights Accommodations
9 Days Locally Hosted Guide Service
Accommodations as listed
Meals as listed
Ground transportation as listed
Professional, bilingual guide service as listed
Excursions and activities as listed
Arrival Transfer
Departure Transfer
Gear Rental
Gratuities
Travel Insurance
Personal Expenses
Flight costs (please request a quote)
Additional excursions during free time
Tipping Guidelines in Colombia: Local Guide (

$

10

-

$

15

per traveler per day), Drivers (

$

5

per traveler per full day of touring), Support Staff (porters, horsemen, camp crew -

$

1

-2 per traveler per day) Restaurants (10-15% of the bill). It is becoming more common for higher-end restaurants in Colombia to include a 15% service charge in the bill.

Make sure bills are new—crisp, unmarked, and untorn -- as damaged bills are not accepted by merchants and financial institutions.
International Flights
Park Entrance Fee
Airport Departure Tax
Optional Excursions
Internal Flights - Bucaramanga - Santa Marta
When to Go
Good to ideal period to travel, and many people choose to visit at this time.
Chance for unpredictable weather but with fewer visitors.
Inquire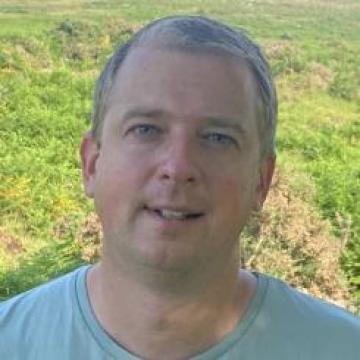 We Love to Talk Travel
Call
1.800.344.6118
or
Chat Now
Beyond expectations! Then again we weren't sure what to expect. Lovely stay at the lodge, met other like-minded travelers (many had their trips planned by Adventure Life) and the owner was a gracious hostess. It felt like you were one happy family, visiting with a favorite aunt.
Nancy Sin
Colombia Travel Guide
Favorite Colombia Tours & Cruises