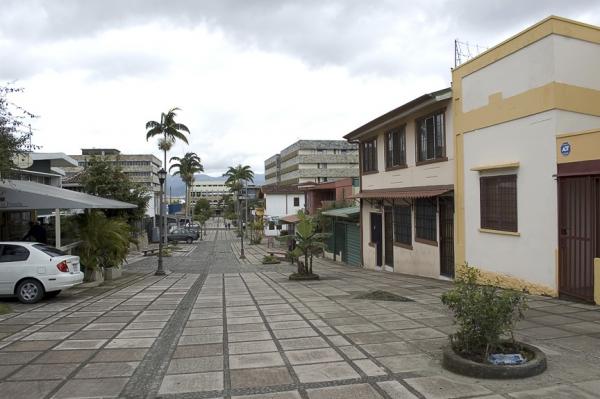 We woke up early to the rumbling of Arenal Volcano sending black smoke skywards. It was so very cool to hear and see a live volcano. In the observatory lodge you can watch the seismograph needle vibration to the movement of the earth causing the volcanic reactions.
After breakfast we hiked in the rain forest and saw two species of Toucan, a Crested Guan any many different epiphytes. It seems that no tree stands alone in the rain forest. Living within it's branches are orchids, ferns, mosses, vines and bromeliads. You can hardly recognize the host tree with all that life growing on it's branches! I was very fascinated by the plant life of the rain forest. There are flowers shaped for the 50 species of hummingbirds in Costa Rica as well at the night blooming Angel Trumpet Tree that gets pollinated by bats. On our way back to the hotel we took a detour stop at an insect and butterfly museum. This was a nice diversion and the guide was very knowledgeable about the life of the butterfly.
Once back at the Arenal Observatory Lodge we had the afternoon to explore the gorgeous property and it trails. Here we saw a Coati, which is a relative of the raccoon. The Coati was not afraid of us and continued foraging while we stood and watched at a meters distance. We also saw the unusual looking Crested Curassow. There are many hummingbirds and the beautiful Passerinin's Tanager flies throughout the property. There is a fun hike down to a waterfall where people swim and played. We spent one evening swimming in the pool and soaking in the hot tub. A great end to a day of hiking!