Best time to visit Costa Rica
Since Costa Rica is located in the tropics, it is a great year-round destination, but the dry season from December to April definitely attracts the most visitors. For those hoping to avoid the crowds and get off-season deals, May to November (the wet, green season) can be a fair alternative.
Temperature
The temperature is consistent throughout the year and varies most based on altitude. The coast enjoys warm and sunny temperatures between 71º and 81ºF (21-27ºC), while higher elevations can dip into the 50s. Between the highlands and the coast, temperatures can be between 5-10 degrees cooler than the coast.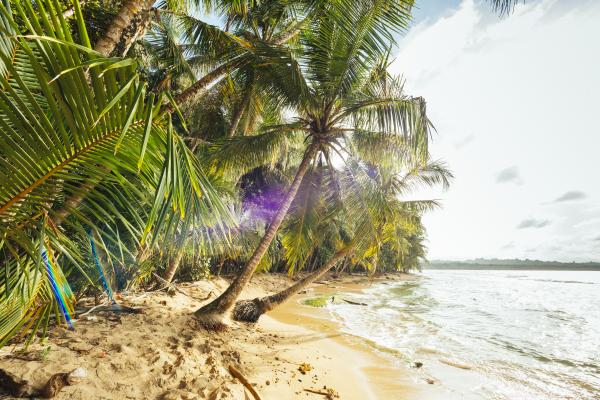 Dry season
If you want to have the best beach experience, then December to April is ideal, though holidays and spring break tend to be more crowded and tours and hotels book quickly so it's important to plan a trip at least three months in advance.  
In January and February in the northeast, it is possible that the "temporalis del Atlantico" (polar air pushing across the Gulf of Mexico) bring with it a few days of continuous heavy rain. Otherwise, this season is mostly hot and dry.
Green season
The rainy season goes from May to November, with daily showers reaching their peak in October. Humidity tends to go up after May and June, but the increased rainfall actually makes it a unique time to see the dense green foliage of the jungle in full bloom. Plus, since this is the off-season, there are some excellent deals and you'll likely encounter much smaller crowds.  
Expect the heaviest rain in the southwest and northeast regions of the country, especially on the Osa Peninsula, where it can receive so much rainfall that some lodges close temporarily.  
It's worth noting that the weather patterns are very much opposite on the Caribbean and Pacific coasts, so when rainfall is heavy on the western coast in September and October, it is sunny and dry on the east coast; similarly, when the winds shift in January and February, the Pacific coast is drier. Plus the Tilaran and Cordillera mountain ranges which form the Continental Divide tend to break up any storms before they cross from one side of the country to the other.
The Rainforest
Although the jungle receives less rainfall between December and April, it is wet all year-round. Since the rainforest depends on the annual precipitation, there is never a "dry season" here. Especially in the Monteverde cloud forest, where moisture is constantly condensing on the leaves and in thick mists, you can expect to either be a bit wet or completely soaked, even in the dry season. With a change of clothes and proper rain gear, though, this isn't anything that will dampen your trip!