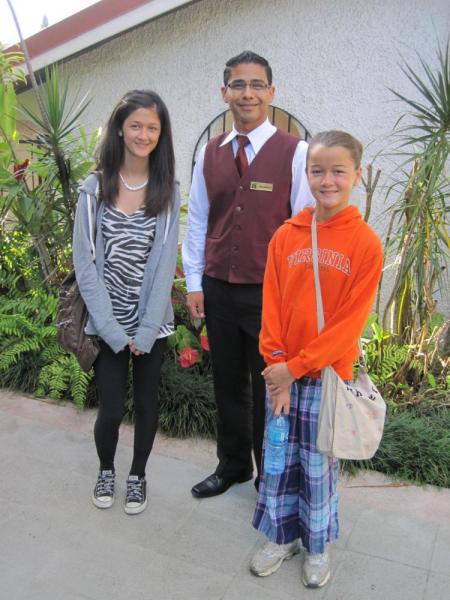 Our night was short and we woke early for a 620 am trip to Tortuguero. On the map it seemed *quite* remote and half the journey would be by boat.
Our guide was Kenneth (I kick myself for not asking him his Hispanic name as often the guides try to make it easy on turistas by Anglicizing their names). Kenneth spoke like a scientist but many of the ladies thought he was quite handsome ("rowr!" as one would say). Kenneth loves his country and was honest about some of its problems. But he loves Costa Rica with a passion - which showed and made his comments more interesting.
At one point before a visit to a butterfly garden, he asked the kids "how many legs does a butterfly have?"... Inside the garden we were surrounded by more butterflies than I have ever seen. Several large "Blue Morpheus" landed on my daughter as if she was a fairy queen. My younger daughter was off curiously trying to find the answer to Kenneth's question.
Butterflies *look* like they have "four" legs...which is odd since insects have 6. Where are the other two? Why only walk on four? Well....you'll have to find out for yourself :-). Kenneth's explanation was fascinating.
When we finally got to the Turtle Beach Lodge, we were surprised by the beauty of the grounds in this remote jungle retreat. The cabins were "air conditioned" the natural way but we spent so little time in them we did not mind. Wildlife surrounded us wherever we looked. We encountered our first "howler" monkeys and "Jesus Christ" lizards (common Basilisk). My girls ran down to the beach - composed of dark volcanic sand - and saw nothing but desolate beach and jungle for miles up and down the coast.
That night we dined on delicious food in an open air room, serenaded by the chirping of nocturnal birds and insects. I fell asleep to the sound of the ocean less than 100 yards from our cabin. We were definitely in the wild and it was starting to feel like a vacation. I had not checked my Blackberry in over 24 hours - I probably could not if I tried.