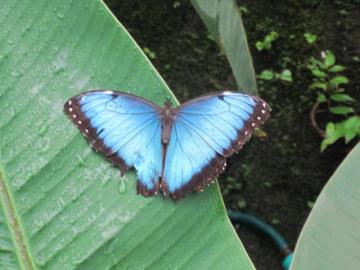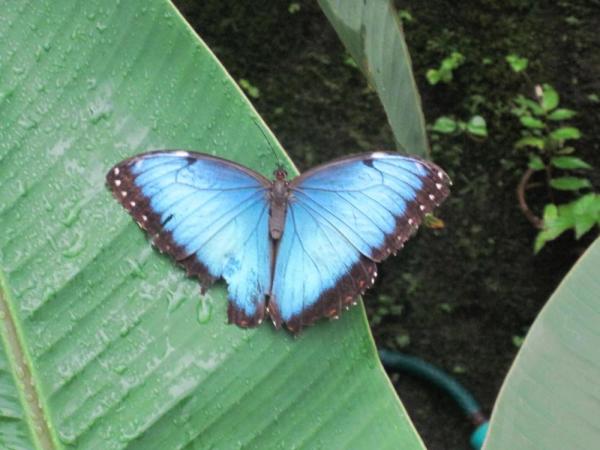 Our second day in Tortuguero started and ended in darkness.
We woke early for an early morning canal tour when the wildlife is more active. This was no zoo exhibit and there are no guarantees of what you will see. But that means each trip is unique and has its own surprises. Among the many birds, caymans,monkeys and sleeping bats, we were surprised by a river otter who leaped out of the water and scratched his back on a log for a few seconds before diving back into the water. Kenneth was tickled we got to see such a rare sight.
Later in the afternoon, we ventured into the hot and steamy lowland jungles. Rubber boots, lots of mosquito repellent and a cold wet bandanna around my neck and I was fine. We encountered lots of frogs, including the famous blue-jean poison dart frog. "Professor" Kenneth was great as usual with all the information about the lowland jungle wildlife and ecosystem.
But our best adventure so far was reserved for that evening....the main reason we wanted to come to Tortuguero.
We boarded the boats at about 830pm in pitch darkness for our turtle watching trip. As we glided down the canals, the boat headlights showed the shoreline reflected in the dark waters as if they were a mirror of obsidian glass. Flashlights revealed the occasional cayman jumping into the water as we passed by. It was quite surreal and exciting.
In Tortuguero town, we were divided into groups of ten and assigned a guide. Every two groups of ten is assigned a section of beach for 2 hours, and trained "patrollers" report on turtle activity and where we need to go (in a hurry) to watch. Along the way to the beach, my youngest daughter walked into a leaf-cutter ant "highway" and was bitten (sneakers highly recommended). She made the rest of the trip on my wife's back, piggy-back style. But the incident soon was forgotten as we marveled at what was going on down at the pitch-dark beach.
We saw two large green turtles leaving, having laid and buried their eggs. One more had just started her labors by digging herself into a pit. Over the next hour we saw our "Mollie" (the girls had named her) lay and cover her 100+ eggs. It was wondrous to watch, and Mollie tugged at our heartstrings as she labored through her task. This was like National Geographic come to life.
When we left the beach in silence (and awe) at midnight, we sensed this was not going to be like any vacation we'd ever been on before.