When Is the Best Time to Visit the Falklands?
The best time to visit
Falkland Islands
(Islas Malvinas) is during summer and fall between November and April. November to February is especially ideal, with long days, clear skies, and warmer temperatures offering excellent conditions for
wildlife viewing
. Remember that Falklands' weather is ever-changing all year round, so be prepared for wind and cold regardless of when you're going.
Winter in the archipelago runs from May to August. Expect rain, wind, and frigid weather. While this is the low season for travelers, it's the ideal time to get a glimpse of the southern lights, or aurora australis, in the Falkland Islands.
The Falkland Islands: Quick Facts
Hottest Month:
January
Coldest Month:
June and July
Longest Daylight Hours:
December and January
Most Hours of Sunshine:
November to January
Peak Season
Tourists flock to the South Atlantic archipelago between
November and April
, the warmest months in the year. Even during high season, the islands don't get too crowded, but it's still best to book your cruises and flights to the Falkland Islands early due to limited lodging options.
Best Time to See Penguins
Although King and Gentoo penguins can be found in the Falklands all year round, migratory species like Rockhopper, Macaroni, and Magellanic only show up in the summer. If you're hoping for the best penguin encounters, aim to visit during breeding and hatching season from
November to February
. Lucky travelers may witness the emergence of chicks during their visit.
Best Season for Whale Watching
Although year-round sightings occur, autumn (
March and April
). is the best time to see whales in the archipelago. During these months, travelers can spot various whale species in Falkland waters, including southern right whales, minke whales, and endangered sei whales. Summer months are also suitable for
whale watching
.
Best Time for Bird Watching
During the spring and summer (
October to March
), migratory birds return to the Falkland Islands, providing an excellent opportunity to observe over 200 species, including land and seabirds, such as the black-browed albatross, Falkland steamer duck, and Cobb's wren.
Best Time to Cruise to the Falkland Islands
Summer months (
November to March
) are ideal for
Antarctica cruises
, with the milder ocean currents suitable for sea expeditions. During this time, the ice breaks enough to allow ships to sail through.
Cruises to the Falkland Islands u
sually stop by other wildlife-rich areas in the region, including South Georgia Island.
Best Time to See the Southern Lights
The Falkland Islands are one of the best places in the world to experience the southern lights or aurora australis. Minimal daylight is ideal for seeing aurora australis, so visit when the days are shorter (
April to August)
for the highest chances of witnessing the nighttime spectacle.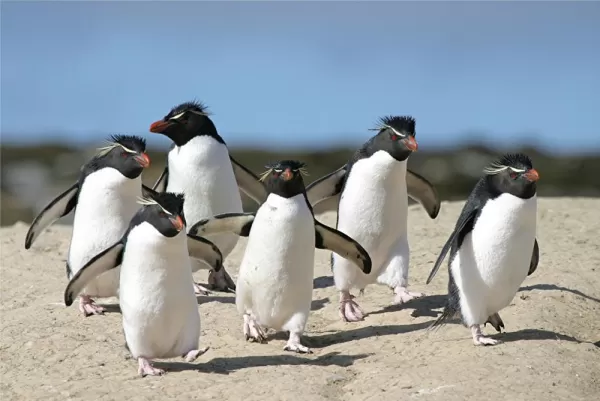 Falkland Islands Weather By Month
November to February
Summer months are the best time to visit the Falklands. Days are longest in December and January, with the latter also bringing in the year's highest temperatures. Opportunities for wildlife watching are endless. Elephant seals mate in November while penguins lay their eggs during this time. By December and January, seal pups are out and about on
Sea Lion Island
, and different species of penguins are seen in huge colonies caring for newborn chicks.
March to April
Although autumn in the Falkland Islands sees less sunshine and shorter days, conditions are still comfortable enough for sightseeing. Travelers who visit during this time are rewarded with fewer crowds and lower costs, though migratory animals will be moving out of the islands before winter sets in at the end of April. Whale watching is an excellent activity in autumn, and the southern lights will begin gracing the sky by late April when daytime starts getting shorter.
May to August
Winter brings the coldest period on the islands, with average temperatures reaching as low as 36°F (2°C). With the chilly weather and short days, this is not the best time to visit the Falkland Islands. The wildlife population is also down, with only King penguins, a handful of Gentoo penguins, and smaller birds left on the islands. Parades are held to mark Liberation Day on June 14, commemorating the end of the Falklands War in 1982.
September and October
As winter transitions into summer, travelers can expect steadily rising temperatures. Despite the chill of early spring, this is a good time to visit the Falkland Islands, as migratory penguins and other wildlife arrive for mating season. Flyfishing and birdwatching season also begins as early as September, extending until summer.
Learn more about the best time to go to the Falkland Islands and other popular destinations in the Southern Hemisphere by contacting our
Adventure Life travel experts
.
Falkland Islands Weather (Port Stanley)
| | | |
| --- | --- | --- |
| | Ave. Temperature | Length of Day (Hours) |
| January | 51°F (11°C) | 16 |
| February | 51°F (11°C) | 14.4 |
| March | 49°F (9°C) | 12.4 |
| April | 45°F (7°C) | 10.4 |
| May | 41°F (5°C) | 8.7 |
| June | 38°F (3°C) | 7.9 |
| July | 38°F (3°C) | 8.4 |
| August | 39°F (4°C) | 9.9 |
| September | 41°F (5°C) | 11.8 |
| October | 43°F (6°C) | 13.8 |
| November | 47°F (8°C) | 15.6 |
| December | 49°F (9°C) | 16.6 |