Accommodations at the Rookery Inn
A new 2 bedroomed cottage on the north coast beneath Rookery Mt. looking over the cliffs and bird colonies. Located a 40 minute drive from the Saunders Island Settlement on the north coast of the island, it is the newest accommodation on Saunders Island. The Inn is fully equipped for 4 with central heating and 24 hour power. It is set in a remote position in the north of the island, home also to colonies of black-browed albatross and rockhopper penguins. Located closer to the settlement than other cabins, The Rookery Inn still provides a feeling of isolation with fantastic hiking.

• 2 twin bedrooms
• Shared bathroom (shower/WC/sink)
• Shared kitchen/seating area
• Self-catering accommodation only
• Gas fired cooker, hot water, heater & refrigerator
• All bed linen, towels, crockery and cooking utensils supplied
• Electricity supplied by small generator for general use as well as convenient for charging camera and computer batteries.

Saunders Island Amenities
A small store is located on the island with range of tinned, dried and frozen foods available. Fresh meat, eggs, milk and bread also available. Ask about pre-catered meal packs from Stanley.

About Saunders Island
This 30,000 acre island, situated about three miles off the north west coast of West Falkland, is still an active sheep farm and is important historically for being the site of the first British settlement in 1765. It is one of the Falklands supreme wildlife sites, with Gentoo, Rockhopper, Magellanic and rare sighting of Macaroni and Chinstrap penguins. Since 1980 a small breeding colony of King penguins has become established. Four species of raptors, King and Rock cormorants, Black-necked swans and many other shorebirds are easily accessible from the settlement or at the many and varied wildlife 'hot-spots' around the island.

However the attraction to the wildlife enthusiast is undoubtedly the Black-browed albatross colony which stretches along the north coast from The Neck, so named because it is a narrow sandy isthmus between two high parts of the island.

The northern beach is covered in stunning white sand pounded by majestic surf and is home to all of the penguin and bird species listed above. The wildlife colonies continue along the north coast to Rookery Mountain. The "shower" formed by fresh water running down over the cliff and used by the Rockhopper penguins to preen their feathers makes for great photographs.

On rare occasions Fin and Sei Whales have been seen off the island. In all cases amazing photo opportunities abound, and Saunders Island is the perfect place to escape from the pressures of urban life.
Inquire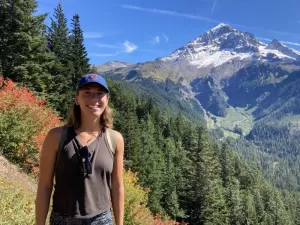 We Love to Talk Travel
Call
1.800.344.6118
or
Chat Now
I could not be happier with my Adventure Life experience, from beginning to end. I travel a lot, and I think your company and personnel do an outstanding job. I truly appreciate your professionalism, attentiveness, and flexibility. I wouldn't hesitate to recommend your company and would be happy to serve as a reference.
Constance Block