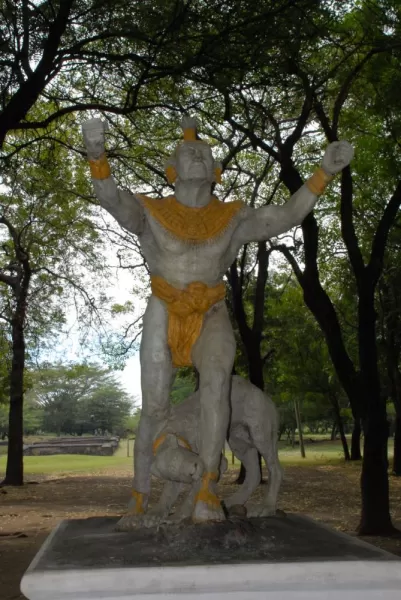 Christmas morning in Granada started off much quieter than the midnight fireworks the night before. We had our morning breakfast buffet and met our guide Eric just after 8 for the drive up volcano Mombacho.
We arrived at the Hacienda El Progreso Coffee Plantation about half way up the volcano where it was cool and breezy compared to the city. We toured through the coffee plantation and processing plant and then zip lined through the coffee fields and jungle canopy. The zip line was highlighted by the Plunge, a 13 meter (4 stories) free fall. Of course we were roped and controlled but it was still quite a sensation.
The Mombacho zipline is fun, safe, and includes a variety of platforms with stunning views. Still, it didn't compare to the first zipline we did years ago in the Monteverde Cloud Forest in Costa Rica. If you are a zipline aficionado, you might not find this one as thrilling as others.
Next, we were driven to the top of Mombacho where we found ourselves in the middle of the cloud forest: windy, foggy, not raining but humidity in the air beyond 100 percent. We couldn't see into the crater nor down towards Lake Nicaragua because we were in the clouds. Visibility was a few hundred meters and this apparently is normal and typical. We hiked around the top of the crater, saw some steam vents from the active volcano and one lone sloth sleeping in a tree. Had the weather been clearer, we might have been more excited about our visit.
Finally, we made our way down the incredibly steep road to the plantation house for a nice lunch before the ride back into Granada. As we entered Granada we met a funeral procession. Eric said that only in Granada are the caskets driven by a black horse drawn carriage. It was yet another cultural experience.
We spent the rest of the day resting and enjoying our hotel and views of the square. The horse drawn carriages stop and start right in front of our hotel. The afternoon rains came and went and didn't slow down the Nicaraguans one bit.
When traveling in a foreign country there is always the risk of stomach problems. Today Marnie experienced it in full force. By the time we got back to Granada for our afternoon of relaxation, she was down for the count. We wouldn't wish this on anyone, but it's short-lived and she is going to be 100% for our next adventure: the Island of Ometepe.
Feliz Navidad, Nicaraguan style.