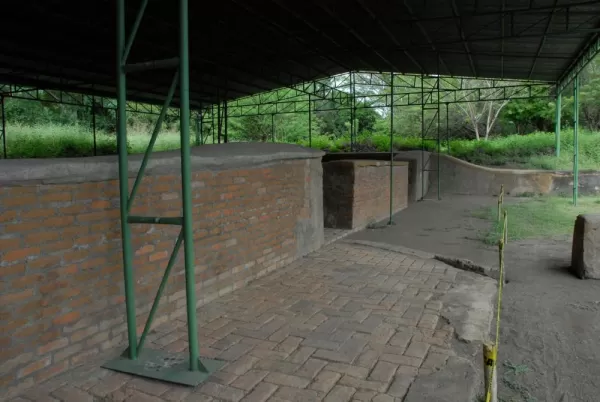 For those of you who may be wondering, 'How did they come up with the idea of going to Nicaragua?' here's the story. Over the years the three of us have traveled extensively together. We spent a month in Costa Rica at a language school and three weeks in Peru and the Galapagos Islands. When we began to plan our next trip it was a good excuse to call the same company who booked our previous trip. Adventure Life is a US-based company specializing in Central and South America travel. Originally we considered going to Guatemala for this trip but Nicaragua offered many of the same kind of experiences (volcanoes, colonial cities, wildlife, etc.) at a lower price. Nicaragua's tourist infrastructure is very young and it is growing rapidly. Adventure Life didn't steer us wrong and they've put us in the most beautiful, convenient, and luxurious accommodations we could imagine and our guides have all been top notch.
This morning we were greeted by driver Sergio and a new guide Raymundo. Sergio and Raymundo drove us for about an hour south from Granada to the port of San Jorge. From there we took a crazy ferry from the mainland to the Island of Ometepe. The ferry was packed beyond imagination and our travel companions included tourists, locals, and a large colorful bus. You gotta see the pictures.
Once at the port of Moyogalpa on the island of Ometepe, we were met by another guide Francisco and driver Fernando. Both men are residents of Ometepe and speak English well. They drove us to the other side of the island, with a stop for lunch at a beautiful beachside restaurant.
Lake Nicaragua is one of the largest fresh water lakes in the world. One guidebook says it is as large as the island of Puerto Rico. Ometepe is the largest island in Lake Nicaragua and consists of two volcanoes, Concepcion and Maderas. Maderas is a dormant volcano and Concepcion is active. In fact it was acting up just six months ago! The island's fertile volcanic soil, clean water, wide beaches, wildlife population, and archaeological sites have landed it on the shortlist for the new Seven Natural Wonders of the World.
Our home base for the next two days is the Totoco EcoLodge. Totoco is located on the slopes of the Maderas Volcano and is surrounded by coffee and plantain farms. We each have a private cabin that is 100% eco-friendly. That means that we have a composting toilet, renewable solar energy power, and all the food is organic, mostly grown on site. This afternoon we could hear the howler monkeys as we lay in the hammock on our patio.
Totoco has only four cabins and it appears that most everyone here is either American or Canadian. We are learning a lot from our fellow travelers, most of who are on the same path as we are (Leon, Granada, Ometepe, San Juan del Sur). In fact, we plan to see some of the same people on the beach in San Juan del Sur for New Years. Nicaragua is a pretty small country.
Here on Ometepe our plan is to enjoy the beautiful views of Concepcion from our patio, hike in the cloud forest of Maderas, and enjoy this beautiful natural area. Stay tuned!