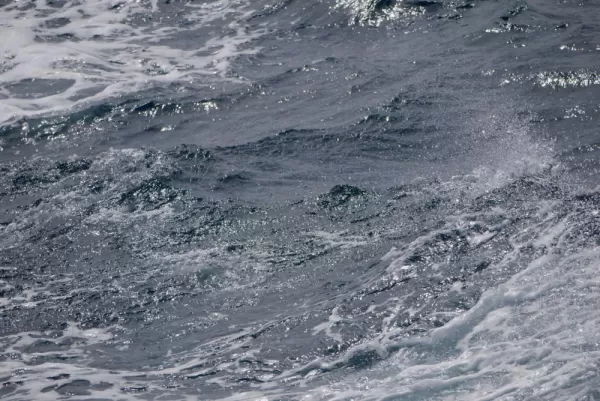 Today we had a tour to see Tronador mountain. This mount is known by its black glacier. When I read about it in our touristic booklet, I had thought that ''black'' is only the name of the glacier because maybe there are some black rocks there or something like that. However, I was notified that the ice of the glacier is really black. We had never seen a black glacier so I chose this tour.
Tronador mountain is about 90 km away from Bariloche, inside the Nahuel Huapi National Park. We went there by bus, passing lakes, crossing rivers and forest. It was already the fourth National Park in South America for us but certainly not the same as the others. We saw beautiful lakes, rivers and mountains like before, but there were two things I should comment on especially. The first we met on the turn from Road 40 (we drove there along Ruta 40 again!) to the Park. It was a wooden board, which marked a watershed between the Atlantic and Pacific oceans. This watershed is named officially as a main watershed of the Earth, and it was surprising for us to reach it inside Argentina. The second point was Tronador itself.
The name Tronador means Thundering in English. The mountain is covered by a huge glacier, which is constantly moving and making loud noises. Everything else is the same as Perito Moreno Glacier, but Tronador is rounded by mountains and the echo increases the sound. As a result, its noise is similar to a thunder. The color of the ice is also different from the blue Perito Moreno ice. Tronador is a dormant volcano, and not as clean as the mountains around Perito Moreno. The upper side of glacier has natural white and light blue colors. Moving downwards, the ice collects volcanic ashes and other impurities so that the lowest part of the glacier is really black! The water at the bottom of the Tronador Glacier is not transparent and named glacial milk with black ice floes floating in it.
While returning home we remembered that it was Christmas Eve. I asked our guide to drop us not at the hotel, but at nearest supermarket to buy something for Christmas dinner. He asked me what shop I prefer - the nearest one or an open one. I chose the open one. It was a late afternoon, and all the shops were already closed. At last we had found one in downtown.
We had a good kitchen in our small hotel and cooked ourselves a full dinner including fresh salad, soup and chicken. We took our best dress clothes from our backpacks, where they had been waiting for nearly a month. Natasha put on a festive skirt for the first time from home and I had put on lavish white trousers.
Our small family Christmas party started exactly at midnight European time, not local. We sat against a large picture window. Our meal was delicious, the wine was good, our clothes were clean and beautiful, and Huapi Lake was the background for us.