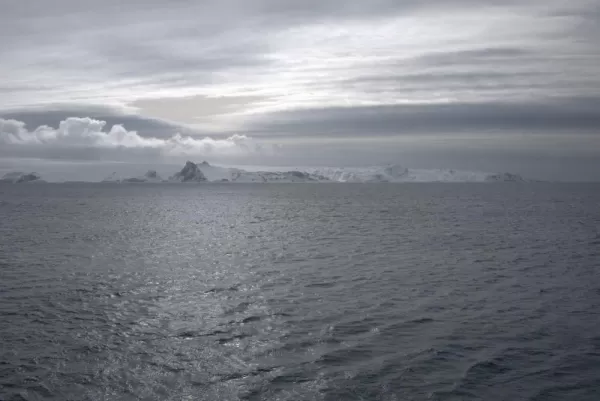 We were on the bus again going to El Chalten. This town is placed on the other side of the same Los Glaciers National Park we visited yesterday. However, the park is large and the bus ride was three hours to reach it. We were going there to see Fitz Roy Mountain. Our guidebook said that most of the time it is covered by clouds and invisible, but I was hoping we would be lucky.
I saw Fitz Roy immediately when our bus left Road 40 and turned onto a local road along the beautiful Viedma Lake. The weather was nice, and even Viedma Glacier could be seen on the distant side of the lake. Only Fitz Roy was partly covered by clouds, but it was still visible! It dominated above the plains and lake. Its black rocks inside the black clouds looked menacing. There was something magical about it, but I wasn't be sure if it was a white magic. No doubt, it was a real Lord of this land.
We arrived at El Chalten, dropped our backpacks at the hotel and went to the mountains. We didn't want to lose time when the weather was so good. We chose a trail to Lago Torre, because it was the nearest one. The sun was shining, the sky was clear, and all around there was green. It was very warm here, but we were dressed for Antarctica. After a few kilometers of walking we were left with only t-shirts and light trousers on. We came soon to a small but beautiful lake. Unfortunately we hadn't brought our swimsuits with us but we resolved to bring them tomorrow!
After about eight kilometers we reached the upper point of the trail and saw a Lake Blanko and its glacier, which came down from the mountain into the water. We saw also Fitz Roy and the other mountains surrounding it. A few rivers ran from down from the hills, and we heard waterfalls in the distance. Here it was summer, and the weather was hot. It was strange for us after being in the Antarctic snow only a few days ago.
We were back at the hotel after six hours of walking. Fitz Roy stood straight opposite our window and was clear. We admired it for a few hours until the skies became dark. The mountain had been playing with the light, white clouds. Fitz Roy felt our attention and tried to show us all its royal beauty. At last all the clouds disappeared until only one stood above the mountain. It looked like the visible white energy of Fitz Roy, or may be its nimbus or crown. It was magical. And, no doubt, its magic was white.
We said to Fitz Roy ''see you tomorrow'' and went to bed. At the last moment I remembered about the swimsuits and put them along with our towels in a small backpack for tomorrow's sunbathing and swimming.