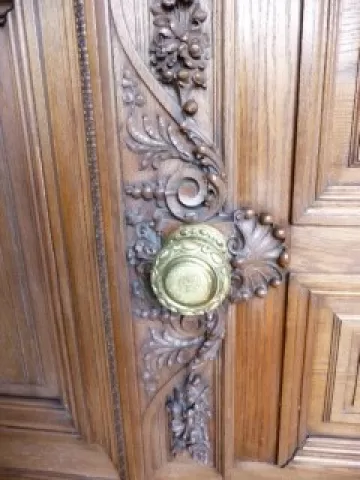 We reluctantly left the Estancia Rincon Chico at 10am when Ignacio arrived to take us to town. The night was cool, with a gorgeous sunset. The power was off, so the air was still and silent. I slept better last night than I have in a long time!
We drove to Puerto Madyrn, where we had lunch and wandered through the shops. I was in a precarious position, since I had only 6% power left on my iPad, and no Internet connection to download my photos. We stopped at a cafe for a hot drink, but, to my disappointment, they had no place to charge my pad, nor a true connection to access my email. I try to take every opportunity to connect so I can update the journal each day.
We arrived at the airport in good time, only to discover our flight was delayed one hour due to Buenos Aires, where our flight originated. I tried to charge my computer there, but alas, they had a different configuration plug. Dan said God just didn't want me to connect that day! I sadly agreed, but was revived when he told me I could download the photos on his iPad instead. Hubby to the rescue!
Our flight finally came for us, but again, Mario's bag was checked by security. Something fishy about that boy! The flight to Ushuaia was a bit turbulent, but we arrived safely. The short flights disembark the passengers the old way, down aluminum steps to the ground. The minute we stepped foot out of the plane, we were met by a cold blast of air. Tall, sharp granite-like mountains of enormous proportions surrounded us, and Mario commented that we landed on a strip of land in the bay!
We had come from a flat steppe in the Peninsula Valdez to a mountainous region reminding me of Alaska. We were truly at the end of the known world. Only the Antarctic, 400 miles to the south was beneath us! I had forgotten what happens to the day night cycle this far south. Walter, our driver, told us that the sun goes down at 10:30pm, and up at 4:30am. Eerie!
The fresh air was invigorating, but, it was time to go to bed. Our Hostel Linnarias is charming, and a promising goodnight is at hand.