Ceiba Tops is a beautiful Amazon lodge located on the banks of the Amazon River just 40 km (25 mi) from Iquitos. Ceiba Tops offers the comforts of home, air conditioned rooms with private bathrooms, in the most luxurious of Amazonian Rainforest settings.

At Ceiba Tops, elaborate gardens, a swimming pool, a water slide, hammock house and the Esmeralda lounge all complement the surrounding exotic environment. This luxury lodge now has courtesy WiFi Internet service in all public areas, so you can send your e-mail while swinging in a hammock or in a lounge chair by the pool on your own laptop. Public telephone and internet service are also available in the public booth at normal hotel rates.

Ceiba Tops is perfect for stays of one or more nights. For families, connecting rooms are available or guests can upgrade their Amazonian Adventure by choosing the Presidential, Ministerial or Junior Suite.

Services
Guests staying at Ceiba Tops will enjoy the following:
• All lodging and meals
• Privately owned transport over land and water.
• Airport arrival and departure transfers. (Arrival after 4pm requires the first night in the Iquitos with transfer to the lodge the following morning, hotel night not included.)
• Local bilingual naturalist guides who accompany each guest throughout their program.
• Bar service, laundry, airport tax and airline tickets are NOT included in the tariff.

Programs Include
• All city and river transfers
• Experienced multilingual, local naturalist guides
• All meals at Ceiba Tops
• Self-service potable water at the lodge
• All fully guided rainforest and river excursions

Dining at Ceiba Tops
Ceiba Tops Lodge offers a wide variety of foods, both local and international, cooked in a simple and appetizing style and served in the tropical palm-thatched dining room. Breakfast includes one entree, a pastry selection, fruit and local fruit juice. For lunch and dinner, guests will enjoy a buffet which includes:
• One entree of chicken, beef, local fish or pasta and fresh salad.
• A variety of rice and bean dishes, hot vegetables, bread and butter.
• A choice of desserts including local fruits such as papaya or pineapple or prepared desserts such as rice pudding or flan.

Complementary coffee and tea are included with every meal. Bar service, including soft drinks, is also available at guest expense.

Amazon Canopy Walkway
A special full day excursion to the Canopy Walkway is available for Ceiba Tops guests staying 2 or more nights. Explore the myths, mysteries and magic of the world's most exotic jungle, and then step from the tropics into the air-conditioned comforts of Ceiba Tops.

The Canopy Walkway is an experience unequaled in the rainforest! At a height of over 35 meters (115 feet) and extending for 500 meters (one-third of a mile), the Canopy Walkway provides a view of the rainforest from the treetops, the best vantage point for observing Amazon wildlife and vegetation. The Canopy Walkway is accessible to all and requires no special skills or equipment. The suspended walkway is spread between 14 of the area's largest rainforest trees and is one of the longest canopy walkways in the world.

Regularly maintained for the exclusive use of guests and scientists, the Canopy Walkway has extended research into an area where little is known and so much is left to be discovered.

Ceiba Tops Reserve
Ceiba Tops Lodge is located 40 kilometers (25 miles) down the main Amazon River from Iquitos, located on a protected area consisting of 100 hectares (250 acres) in total. Of this area, 34 hectares (85 acres) is primary or virgin rainforest, while 66 hectares is secondary rainforest, gradually returning from farm land to forested secondary growth. A strongwire and a cut boundary area several meters wide, as well as company guards, gives protection to this area. This is the closest area to Iquitos along any main river where primary rainforest may be found. As all of the area around the reserve has been cut down for farming and harvesting wood, this reserve is an excellent "island" which is being used by scientists to study the effects of a small area of rainforest cut off from a large block of undisturbed forest.
Itineraries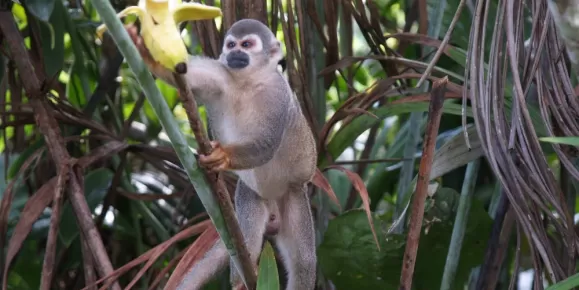 EXPLORE
Ceiba Tops Amazon Lodge
4 Day Itinerary
Visit a Yagua Indian Village
View wildlife from the canopy
Learn about Amazon holistic healing
Activities:

Land, Local Market, Rainforest Exploration, Village Visit, Wilderness Lodge, Wildlife Viewing

Activity Level:

Relaxed
Tour Details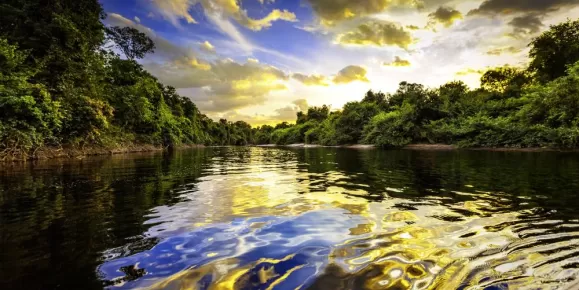 EXPLORE
Ceiba Tops & Canopy Walkway
5 Day Itinerary
Hike biodiverse primary rainforest
Learn about Yagua native culture
Spot dolphins and catch Amazon fish
Observe the canopy from above
Browse Mazan's morning market
Activities:

Fishing, Land, Local Market, Rainforest Exploration, Village Visit, Wilderness Lodge, Wildlife Viewing

Activity Level:

Relaxed
Tour Details
Inquire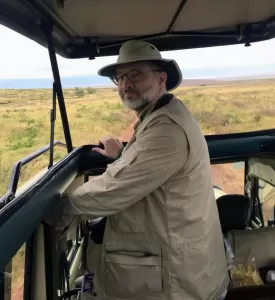 We Love to Talk Travel
Call
1.800.344.6118
or
Chat Now
This was our first trip to South America and we were a little nervous. But Adventure Life made things so easy! All our questions were answered before we left, and our guide, Vidal, was amazing! He gave us enough space to explore without rushing us along. He also knew where the best picture taking opportunities were, which was great.
Lindsay Gompf