What to Expect on a South Africa Safari: A How-To Guide to Help you Prepare for Your Trip
South Africa has long been a premier safari destination. For many travelers, the decision to head to the Rainbow Nation of South Africa is a no-brainer. After all, where else in the world can you come face-to-face with a wild rhino one moment, and then eat a four course meal in a
five star safari lodge
the next moment? South Africa is a veritable playground for the adventurous soul. But there's a lot to think about when it comes to planning your trip.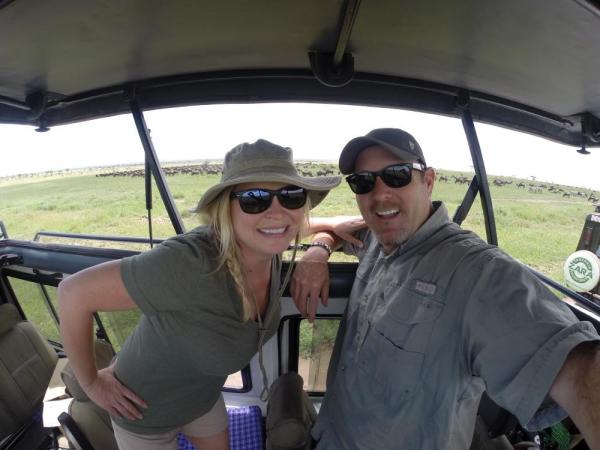 A couple on safari
This comprehensive how-to guide will help you gain a better sense of the country and what to expect, and it will also help you organize and prepare for your South Africa safari.
If you've already found the perfect South African safari, that's great and you're ahead of the game. If you haven't booked your trip, don't worry, I've included a list of
recommended safaris
at the bottom of the page. You can also read
this post
to learn about 3 action packed safaris for under $3,000.
Keep in mind, the sooner you book your trip, the better off you'll be – especially if you have certain preferences for camps and lodges, or if you want your safari customized in any way. We recommend not waiting until the last minute. Rather, it's best to book 10-12 months in advance.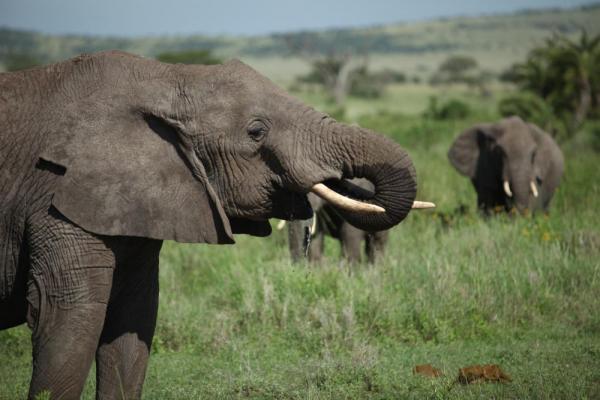 Elephant at waterhole in Kruger National Park
Can I bring my kids?
Kids aged 6+ are welcome on most safaris, but it's important to look closely into your itinerary if you will be traveling with children. Sometimes long game-drives (several hours) can really test the patience of young ones. Otherwise kids do great, and the safari lodges are very accommodating to their needs.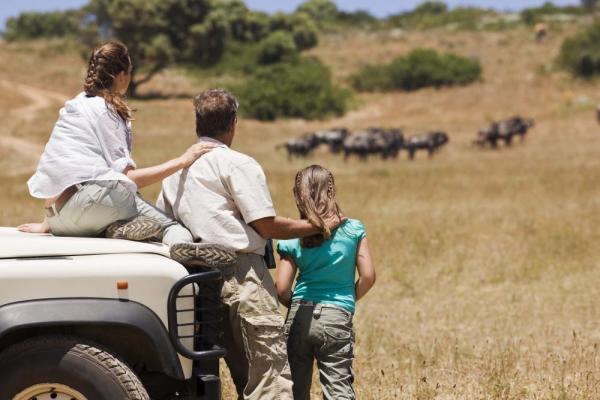 Young girl and family spot Cape buffalo
What documents do I need?
As far as documents go, a passport is all you'll need to be granted access into South Africa.
When should I go?
If you want to safari in Kruger National Park, then the
ideal time of year
is May through September. This is high season and your best chance for catching perfect weather. But even during the mid to low seasons, you're bound to see some amazing creatures, as the leafless trees don't offer much cover for the wildlife.
Important items to pack for your South Africa safari
2-3 outfits of neutral (earthy) colors
Binoculars
Camera
Bathing Suit
Wide-brimmed hat
Sunscreen
(Consider printing this list to help you pack)
What to Expect on Your South Africa Safari
The Lodging
Most people on their first-time South Africa safari are absolutely blown-away by the luxurious lodging. The
safari lodges of Kruger National Park
are almost all 4 and 5 stars, so you'll be delighted with the intimate and authentic atmospheres throughout your stay. Many lodges have room service, same-day laundry service and even private plunge pools that will help you to cool down between game drives.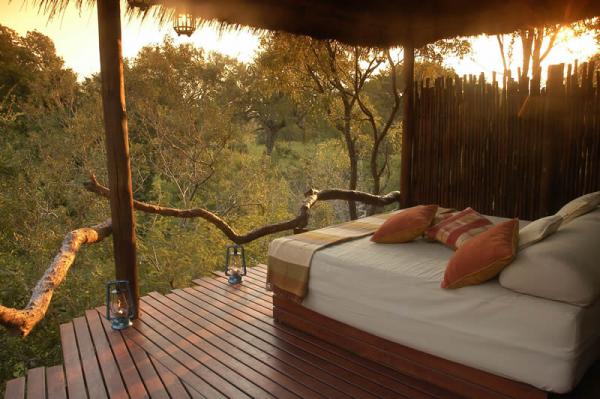 Guest quarters at safari lodge
The People
You'll encounter some of the kindest people you'll ever meet while in South Africa. And the lodge staff and tour guides are no exception – they embody the South African warmth and hospitality that has come to be expected of the region. They understand that for many people, a trip to Africa is a once-in-a-lifetime opportunity, and so they do everything in their power to ensure your stay is unforgettable. In short, you won't be let down by the people of South Africa.
The Food
Your stay at a safari lodge will usually include three meals per day. But to call it food is somewhat misleading.
Cuisine is the more appropriate term, as many of the lodges employ nationally celebrated chefs with decades' of experience in preparing delectable dishes.
Most safari lodges offer English or Continental breakfast, a light lunch of greens, meat and cheeses, and a 3-4 course dinner with wine or drinks of your choosing.
Depending on the lodge, you may even have the opportunity of eating a traditional Boma dinner beneath the stars and beside a warm fire.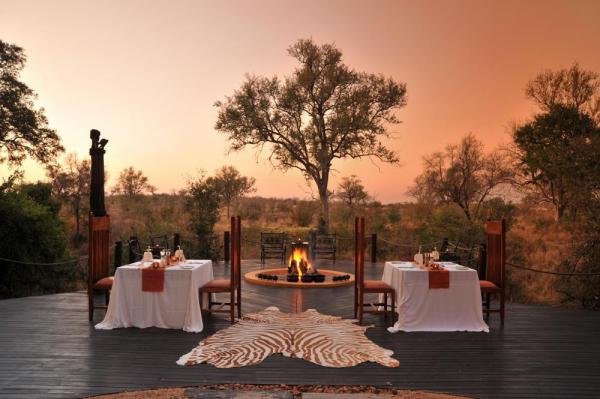 Boma dinner at sunset
In the Bush
So you're in South Africa. You've got a lay of the land, you're familiar with the accommodations, and you have an idea of what to expect. Now it's time to head into the wild African bush to meet the most impressive animals that walk the Earth. Here's what you can expect in the field.
You'll wake before the birds, fuel up on coffee or tea and a small snack, meet your safari guide and maybe a few other guests, then board the open-air safari vehicle to embark on your first game drive.
You'll spend the next 2-3 hours scanning the horizon for the who's who of the African beasts – the elephant, lion, leopard, buffalo and rhino (also known as "The Big 5"). The guides are literally experts in their field, and they'll do their best to get you as close as possible to safely observe the wild animals in their native habitat. You can snap photos to your heart's content, or simply sit there on the edge of your seat while taking in
the primal essence of South Africa.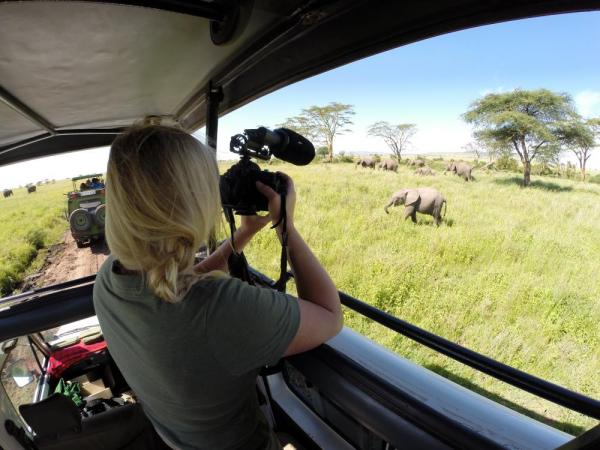 Photographing elephants on safari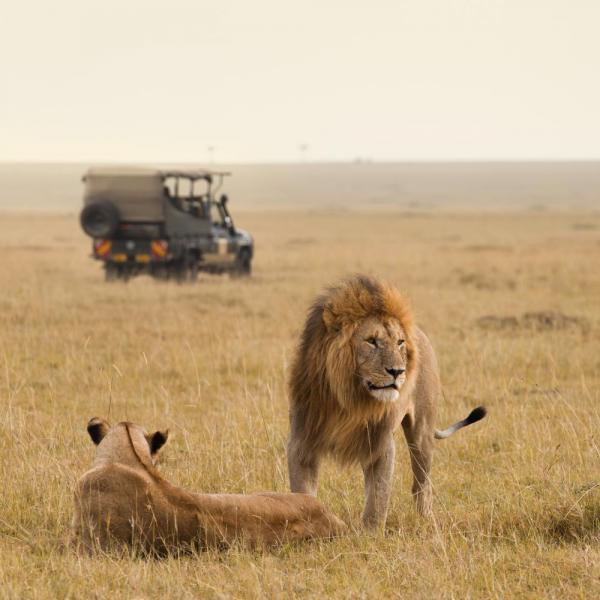 Lions on a South Africa safari
At around 9am, you will either return to the lodge for a full breakfast, or your safari guide will cook a fresh breakfast on the trail before returning to the lodge.
During the heat of the day, while the lions are resting in the shadows, you can take a dip in your private plunge pool, take it easy and catch up on sleep, or head out again on a mid-day walking safari.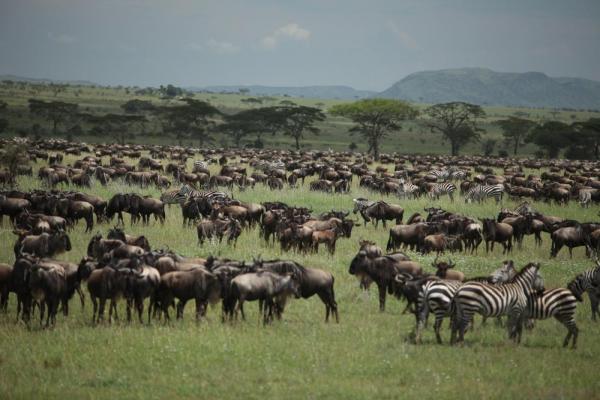 Safety in numbers on a safari
Then, at around 4pm, you'll journey back into the wildest parts of Africa once again on the safari vehicle. By this time, you'll be quite familiar with the "African massage" (you'll understand when you get there). Your eyes will be well-trained to spot not only The Big 5, but also the slightly less charismatic "Little 5" – the antlion, leopard tortoise, rhino beetle, elephant shrew, and buffalo weaver bird.
As the day moves on and the sun dips below the horizon, your guide will likely stop the vehicle and serve-up traditional African "Sundowner" drinks. But even without the drinks, the South African sunset is among the most intoxicating sunsets the world over.
Healthy Expectations
Now, it is Africa, and it's all-too-easy to arrive with unrealistic expectations. The truth is, you're not guaranteed to see every living thing on your South Africa safari. So it's important to remember that it's a safari, not a zoo (and good thing!).
While you should expect the unexpected, at the end of your trip you may not have been fortunate enough to witness a pride of lions in the midst of an exhilarating hunt for the Cape buffalo. And that's ok. But if you come with healthy expectations, you will leave with your own treasures, your own South African memories that you'll be certain to cherish for years, even decades to come.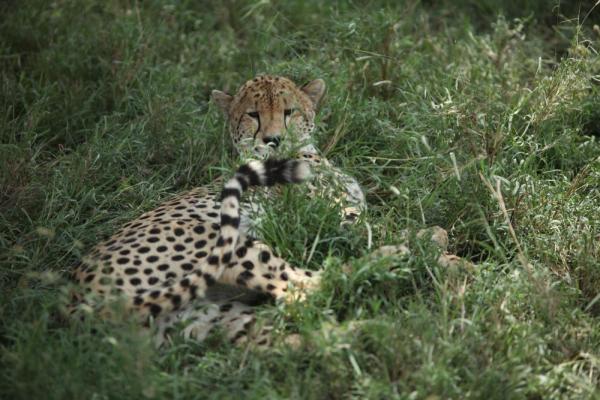 Cheetah relaxing in the grass
South Africa Safari – A Few Recommendations
Zulus & Zebras
– 7 Days – $1675
Highlights of South Africa
– 9 Days – $2950
South Africa Luxury Safari
– 9 Days – $8775
Stars of South Africa 2014
– 14 Days – $10,995 - $11,793
For more recommendations, visit
Adventure Life
to see our complete list of thrilling safaris.