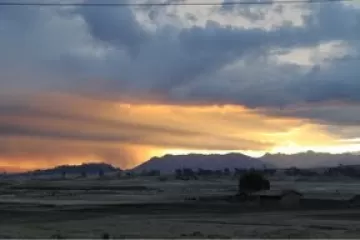 At the Copa (CO!), Copacabana (Copacabana)
The hottest spot north of Havana (here)
I don't think Barry Manilow was talking about the same Copacabana. Today was the day we said good bye to Peru and hello to Copacabana, Bolivia. Again tourist bus was the transportation of choice. We arrived at the main Puno bus terminal. The place was already busy at 7AM in the morning. One of the ticket booth ladies had a set of extremely sharp and loud pipes. "Para Cuzco!" she screamed out every minute or so. It was nails on chalk board this early in the morning.
We were a bit confused by the boarding process. But eventually figured out we had to pay some sort of tariff or tax worth 1 sole before getting on the bus.
The bus stopped just before the border for a bathroom break and a chance for us to exchange our soles into Bolivianos. Around 10AM we arrived at the border. We had to get off the bus and get our passport stamped indicating we were leaving Peru. Then we had to cross the Bolivia border on foot.
Once we made the cross, it was more paper work and stamping. The border agent was chatty with me and asked if I was Japanese and if my parents lived in Canada. My Spanish is very poor and other tourists had to help me with one of the questions. All in all it was a very painless process.
We returned to our bus around 10:30AM and had to change our watch one hour ahead to 11:30. Copacabana was now only 8 km away. But 5 minutes later, we were stopped and were asked to pay a tariff of 1 Boliviano per person. I am still not sure what that was for.
We finally arrived in Copacabana by noon. It is a quiet little town, but we immediately detected the constant urine smell in the air. We had find accommodation right away for the night. La Cupula and Las Olas were the high end places that came with a "hefty" price tag of 20 USD per person per night. But they were all booked up. We decided to stop at a restaurant called Cafe Bistrot with wifi to check out what else was available in town. The owner of the Cafe was very kind and provided us with tons of local information. she recommended with check out Aldea Del Inca just up the street. The hotel is fairly new and owned by a Spanish man. Similar to the other two places, with 20 USD we had wifi, hot water, breakfast and all the essentials. The courtyard was lovely with a reed sofa, hammocks, a gazebo and even a children's playground overlooking Lake Titicaca.
Now we had the rest of the afternoon to explore Copacabana. That took about 20 minutes. We did notice a strong hippies presence and some sold random jewelry on the streets, perhaps making extra cash for their next adventure.
We picked a courtyard restaurant for some drinks and afternoon snacks. We were surprised to see nachos with guacamole on the menu. After ordering it, we pondered whether it was going to look like the nachos we know. But nothing had prepared us for this: Cheesy doritos with guacamole! I had saw one of the staff going into the kitchen with a bag of doritos earlier. Now it all made sense! We didn't have enough chips to finish the very oniony guacamole. We were convinced they didn't use the whole bag and ate the rest themselves. By the way, this culinary ingenuity costed us 25 bolivianos (4 USD).
For dinner we went back to Cafe Bistrot and I had the stuffed trout. The owner was very proud that all her dishes were made from scratch. It really showed, the food was delicious and filling.
*******link to original post*******
http://rubyroads.blogspot.com/2011/09/copa-copacabana-day-9.html