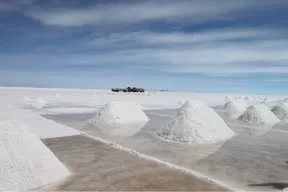 Our flight out of La Paz arrived in Quito just after midnight. Immigration was a breeze and we were done in less than 10 minutes. We took a cab to a hotel near the airport for a nap before our flight to Galapagos at 7:50AM.
My first impression of Quito was quite different than what I had originally imagined. The streets were clean and kept up. The buildings were not tall and massive, but definitely not rundown. The people looked different from Peru and Bolivia. They looked more Spaniard.
The morning came too soon. We were at the airport again at 6:15AM and excepted to be met up with an agent from our tour company for our 5 day tour. Instead it was an utter chaos. We found no one and had no instructions. We were put into a line up with no marked signs by an AeroGal staff after he examined our reservation documents. But we were still puzzled and wondered if we were missing something. Someone who stood behind us overheard us talking. She informed us that we had to get our luggage scanned using the outside entrance. So we ran outside and re-entered the airport. We were back at the same check in line, still unsure whether it was the right line. But now we were also stuck behind a big senior tour group from Australia. We waited patiently while chatting up the people behind us. They were on the same 7:50 flight and thought was odd that was no flight of that time listed on the monitors.
The mystery grew as the people behind us got pulled up to check in. Now there was no one behind us. Have we been scammed? Finally, the woman who was busy checking in the senior tour group before looked up us and asked if we were so and so. It was a relief to hear our names. Then she told us we had to pay the 10 USD each for a transit control card next to the luggage scan area. I rushed to do that quickly while our luggages were being checked. The agent then went on giving us a 20 second run down of what is going to happen and slapped on a red sticker on us to indicate which boat we belong to.
By 7:20AM we were at the gate waiting for our flight. Now we wondered about the flight route. We didn't know what was the deal with Guayaquil and Baltra. When the plane landed in Guayaquil after 35 minutes in the air, we really wasn't sure if we were suppose to get off or not. We were instructed to stay on the plane as it fueled and loaded more people on board.
The plane took off again and we were headed to Baltra Island. When we landed, it was so nice to feel the warm breeze. But more paperwork had to be done. It felt like we were entering another country. We had to go through transit control, pay our 100 USD each park fee and have our hand luggage checked again for fruits and vegetation.
The nature guides Andres and Alejandro from our boat rounded us up and we took a short bus ride without our checked bags to the dock. The boat was anchored in the middle of the bay; so we had to be zodiac'ed (or pango in Spanish) over to it.
The boat was a large wooden boat with a sun deck on top, bridge and cabins on the second deck, dinning hall, bar, hot tub and cabins on the first deck and just cabins on the lower deck. The boat only carried 20 passengers and 10 crew members. Not a bad ratio.
We were given housing keep briefing before lunch. There was an one hour difference between galapagos islands and the mainland. But the boat kept mainland time. We had to have two pairs of shoes. One for the boat and one for island excursions. Apparently, we would be stepping in sea lion and iguana poop on the islands and that would not smell too good inside the boat.
Lunch was amazing. I haven't eaten so well since the trip started. Then our luggage arrived on the boat. I was relieved. The last thing I needed was stuck in one pair of pants for 5 days without a bathing suit.
As soon as the luggages arrived, we were off to our first destination: Dragon Hill on Santa Cruz Island. The main attraction for this island was the bright yellow and grey coloured land iguanas. But since it was our first, we took pictures of everything. Our guide laugh and told us by the end of this trip we will be so "sick" of iguanas, crabs and birds.
We came across a few black colored marine iguanas, sally lightfoot crabs that shed its complete shells every year, and land finch birds. We spent about 1.5 hours exploring the land.
When we came back to the boat. The chef had prepared a cheese puff snack dipped in honey for us.
At this point I had completely forgotten about the chaotic morning. This was going to be awesome! Then I asked myself "why didn't we book the 8 day option?".
We chilled on the sun deck and noticed a flock of Frigatebirds hitching a ride. They were flying so close to the boat that if I stood up I could catch one of them.
Dinner was fantastic again. I was certain that I would gain all of the weight I had lost in the last two weeks back in no time. After dinner, we had a briefing of tomorrow's activities. Then we were off to bed at around 8:45PM.
*******link to original post*******
http://rubyroads.blogspot.com/2011/09/galapagos-day-1-day-18.html