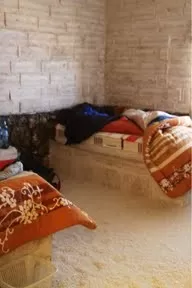 The Gravol knocked me out completely last night. I slept through the night like a baby and refreshed in the morning. Today's first point of interest after breakfast was Espinosa point on Fernandina Island. The panga dropped us off where hundreds of marine iguanas were trying to get warm in the early morning sun. They were hard to spot even when they are in a large group. They just blend into the black lava rocks so well.
We found an abandoned flightless cormorant egg. Not even 5 feet away, we found out why... The mother or father bird was dead. It was really sad. But that is nature. We did find another nest which the father bird was doing the nursing with the mother bird next to it. The father was very protective and nipped at the iguanas that came too close.
We then came across a mother sea lions teaching her cub how to swim. Galapagos hawk that likes to eat baby iguanas. Marine iguanas swimming to another warm rock to hang out.
All this animal watching got us really hungry. We came back onto the boat for lunch and I was so excited to see we were having Cerviche. It was wonderfully lemony and the shrimp was very juicy.
For dessert, I tried something I have never seem before: tree tomato. It was a little sour and the seeds were a little harder than a regular tomato. It was interesting, but it is not going to be my new favourite fruit.
Snorkeling off of Tagus Cove on Isabella Island was the first activity after lunch. The water was very cold compared to yesterday. Especially we had to jump in off the panga. There was no gradual walk into the water. We had hoped to swim with a few penguins. Instead we swam with a sea turtle and saw at least 5. After snorkeling, we took a panga ride along the coast to have a closer look at the penguins, pelicans, boobies and flightless cormorants. Of course, now all the penguins were in the water looking just like a duck. Finally we did find 3 on the rocks.
The panga then dropped us off on the island. We passed a sea lion bachelor pad (only male sea lions hang out there) which smelled really bad.
We climbed about 100 steps to get to Darwin's Lake. It is a salt lagoon that formed in the island volcano crater. It is more saltier than the ocean, so no life lives in it.
When we got back to the boat, we followed a few whales.
After dinner, our guides informed us that we will be crossing the equator line from south to north hemisphere at approximately 7:45PM. Although we had already technically crossed it twice already during the overnight sailing, everyone rushed to finish their desserts and grabbed their cameras to take a picture of the GPS when it reads 0'0". We all crowded into the bridge and watched the GPS intently. When it hit, it was like new year. Some people missed the 0'0" photo, so the captain backed up the boat two more times!! Oh, tourists...
That was a lot of excitement for one day. We were off to bed again by 9.
*******link to original post*******
http://rubyroads.blogspot.com/2011/09/galapagos-day-3-day-20.html