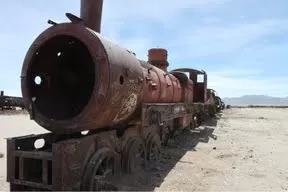 I woke up feeling a bit sad this was our last full day in the Galapagos. I asked myself again: why didn't we do the 8 day option?
Our day started with a walk to the top of Bartolome Island. The island doesn't have much to offer in terms of wild life or vegetation other than lizards and cactus. It was mainly a geological site which the volcanic lava rocks formed interesting landscapes . The weather was a bit overcast. I brought my rain jacket in case. The peak had wooden steps all the way up. It wasn't too hard since we weren't at 4000m anymore.
When we reached the top, the view was the entire island with the pinnacle rock sticking out of the blue sea. It was gorgeous.
There was also an underwater crater that can be seemed on top.
The sun came out just in time for snorkeling off of Gold Beach next to the underwater crater. The water was warmer and we saw a lot more than previous two days. White tip sharks, eagles ray, swimming sea lions and tons of colourful tropical fish.
We came back to the boat, did more lounging around before and after lunch. At 3PM, we hopped in the panga to check out Black Turtle Cove on Santa Cruz Island.
We turned off the panga engine and the guide paddled mostly through the lush mangrove covered cove. The complete silence made me want stay here forever and just stare at nature as it happens. We were lucky to be able to see baby sharks, rays, turtles and fishes very well through the clear and shallow low tide cove water. What a beautifully serene place for nature to flourish.
The hour went by very quickly. Before we knew it we were back on the boat again. This was our last night. The chef prepared us a BBQ feast on the sun deck at 6:30PM. The food was amazing. Giant prawns were the main course. Sangria was served as the twenty of us ate, talked in the soft sun set rays and ocean breeze. We even ignored, I meant, missed our guides' call for evening briefing.
During the briefing, we got our departure packages that included luggage tags, exit control tickets, ID stickers and etc.
Then we went back to our cabin to pack. I went to bed early since I started feeling a little sea sick.
*******link to original post*******
http://rubyroads.blogspot.com/2011/09/galapagos-day-4-day-21.html