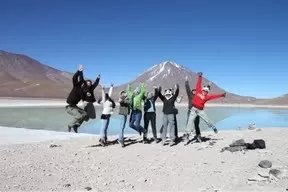 Our last day in the Galapagos. A few of us thought about where we can hide on the boat, so we can stay. Breakfast was early this morning. We were off to the giant tortoise conservation park at 7:15AM. Our luggages were taken off the boat during breakfast and checked through to Baltra airport without us.
A bus drove through the town of Santa Cruz and we arrived at the park before 8. The giant tortoises are the symbol of the Galapagos. When the conservation effort started, there were only 15,000 tortoises left and 11 species (3 had already gone extinct). A lot of them were eaten by humans. Now all tortoise eggs are moved from the islands where they were born to the conservation park incubators to ensure they will not be eaten by rats, cats and other invasive species. The babies are then put back to the islands when they are 4 years or older, so when their shells harden and can fight fir their own survival. There are more than 35,000 tortoises.
We first came across the male and female adult dens. They were kept separate since there are several different species of them and the researchers don't want them to inter mate in order to preserve the species.
The third den lived the famous "Diego" a male tortoise that, for awhile, was helping to preserve his species single handedly.
Then there was "Lonesome George". He is the last of his kind. International efforts have been made to find him a mate with no luck yet.
The last stop in the park was the baby tortoise nursery and incubators. They were all microchipped and their survival rate is 80% when released.
Around 9AM, we finished our park tour. I think everyone was a bit sad that it was all over. A bus drove for about 50 minutes to a port. We got on a large wooden ferry boat for a very slow 10 minute ride. Then we were on a bus again and this time was a 10 minute ride to the airport.
At the airport we were issued our boarding pass and luggage stickers. We said good bye to our shipmates of 5 days. The flight was delayed for more than an hour coming from Quito. We got into Quito around 4PM. We were picked up a good friend's family. They were very sweet and generous.
The family first took us shopping for souvenirs which we manage to replace the chullo hats we lost in La Paz. Then they took us to Old Town. I was glad we were able to see it on a quiet Sunday night. The colonial area were light up, but it was so quint. It really didn't feel like we were in South America.
In the far distance hill top was the virgin lite up in purple.
The family took us to a restaurant that had a roof top patio. Even though the patio was a bit chilly to sit and dine, we stayed a little while to take in the city view.
We dined inside and I enjoyed another shrimp cerviche. I must learn how to make this stuff.
By 9PM, the family took us back to their house. The father is an architect and it was no surprise their house was amazing. The daughters rooms was done in a loft style with an open second level. There was a wall that was smooth to the touch, but had the most interesting pattern. The roof of the house was all asymmetrically pieced with several sky windows and lined with dark wood panels.
Since the house was located half way up an alley. It was so quiet and we slept like babies.
*******link to original post*******
http://rubyroads.blogspot.com/2011/09/galapagos-day-5-day-22_19.html