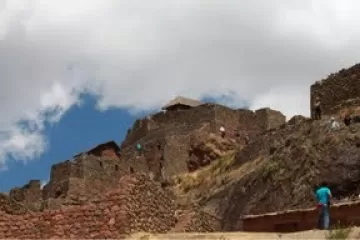 The next morning, we woke up from a very peaceful night of sleep and Julia prepared us pancake for breakfast. Unfortunately, it didn't come with maple syrup. I had to settled for strawberry jam. Julia walked us to the dock after breakfast where we hoped on the same wooden boat and headed to the Island of Taquile.
An hour later, the guide took us on yet another trek up the hill. This time was up to the town centre of the island. But it wasn't too bad. About 15 minutes of up hill and 20 minutes of flat path.
This island has a great Spanish influence. You can tell especially by the way the men dressed. With black pants, white shirt and black vest, they also wear hats they knit themselves to indicate their relationship status. White hat with red band and draped on the left meant the man is available and is looking for a girlfriend. If the white hat is draped on the right side, the man is with a girl or in a trail marriage which they live like husband and wife for 2 or 3 years before the real deed. There is no divorce allowed. Men with red hat are married and men with multi coloured hats means they are very important figures like the mayor or something. The women also have shorter skirt than the Amanati women. It was interesting to see the changes in clothing between the islands.
Unlike Amanati, Taquile is a lot more developed in terms of tourism. There are a quite few restaurants around the town centre. We had lunch at one a bit up the hill. But it had a stunting view of the lake and the village below. The grill trout fresh from Lake Titicaca was the best meal I had since our arrival in Peru.
After lunch it was time to head back to Puno in the wooden boat. The boat felt even more painfully slow. The return journey took more 3 hours. I stayed outside of the cabin and complete forgot how unforgiving the Peruvian sun can be. Without sunscreen, I sadly looked like a shinny tomato when I got off the boat. Tomorrow is going to suck!
*******link to original post*******
http://rubyroads.blogspot.com/2011/09/lake-titicaca-from-peru-day-7-8.html