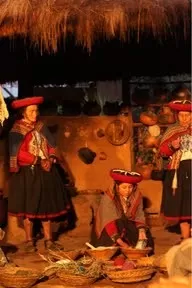 We purchased our Machu Picchu (MP) tickets on day 2 in Cuzco at the Cultural Ministry. Friends had recommended we also do Wayna Picchu (WP). Only 200 people were allowed to climb WP at one time during only two time slots: 7 and 10AM. We were very lucky to get the 7AM slot since someone had cancelled theirs. The entrance fee to both MP and WP costed 150 soles (55 USD).
Another early morning for us. We were in queue for bus to MP at 5AM to catch the first bus at 5:30AM. The line was already quite long and people was holding spots for their friends. We were a bit concerned that we were going to miss the sunrise.
We didn't make it on the first bus. At 5:45 we started the 25 minute windy drive up to MP.
Around 6AM we knew we had missed the sunrise. But we soon forgot the disappointment when MP came into our sight. I kept thinking what Bingham was thinking when he saw this sight. I have been to Angkor Wat of Cambodia, Great Wall of China, underground churches of lalibela, pyramids and temples of Egypt, MP was different. Unlike most other ancient ruins, the first sight of the site was up or at eye level. The first sight MP were from above, offering a complete panoramic view of the ruins. It made me want to get a closer look.
Nestled amongst the sacred mountains and hills, MP was a massive man made collection of structures that was remote and so hidden for so long that still posses a lot of mystery and intrigue. We were really glad we got there early enough to not have to fight with crowd too much to get good wide shots. Pictures of the actual grounds of the ruins we saved until after we climb WP.
We rushed on the other side of MP to the entrance of WP. The entrance line up moved very slowly. Passports had to be checked and a registration book had to be signed. I was short on water. One of the side effects of altitude sickness pill was I was always thirty. But not to worry, the entrance desk people was happy to sell you a bottle of water for 5 soles (1.7 USD). WP was the hill to the right of MP and served as a dramatic backdrop for MP. It took us approximately one hour to hike to the peak. I would say it wasn't as hard as the Grouse Grind in Vancouver since the agony was shorter. The top 1/4 of the ascend was very narrow and steep. I am afraid of heights and didn't dare to look down. The rest was not very steep especially compared to Grouse Grind. At the top, it was a bit crowded. So we descend a little and settled in on one of the terraces for a quick snack time to regain some energy for the descend. Food was actually not allowed onto the premise, but most people did sneak them in anyways.
The descend really did a number on our legs. I bet money on it that tomorrow I am going to feel it. We took it easy and roamed around the grounds of MP for several hours before deciding to head out and get some in our stomaches.
On the way out of MP, I had notice backpack check in was offered for 3 soles I believe. I wish I had known beforehand because I thought whatever I brought I had to carry it up to WP with me. So I minimized my pack as much as possible including sacrificing a change of clothes for the train ride back to Cuzco.
Smelling fantastic, we took the 4:43PM Expedition class train back to Cuzco. We had thought since it would dark with nothing to see there would be no point in booking the more expensive Vistadome train. To our surprise, the Expedition train had windowed ceiling as well. We wondered about the difference. It turned out the difference was primarily in the food. In Vistadome, we were served nicely plated fresh fruit and pastry with proper cutlery and place settings. In Expedition, we were served bean and peanut snacks in a paper bag. The other differences were very minor.
It was interesting that out of thousands of passengers that take the train each day. We ended up sitting across from the same guys who we sat across from going to AC . Three amigos from Atlanta and Tampa. We thought we were going to catch some Zs, but ended up chatting with them the entire 4 hour train ride. Americans are interesting people that is for sure. The conversation from health care reform to bunny ranch for horses and from pharmaceutical lobbyists to Solid Gold dancers. To Canadians, whether we like to admitted or not, they are our endearing gun toting next door neighbour.
We bid good bye to our new friends and laughed about the conversations we had and the great weather we had in our car ride back to Cuzco. After check in to our hotel, we realized how long of a day had. But what an awesome day it was!
*******link to original post*******
http://rubyroads.blogspot.com/2011/09/machu-picchu-day-5.html