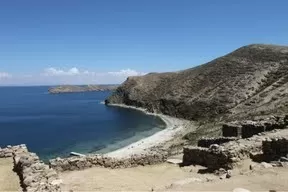 We are finally making our way to the capital of Bolivia, La Paz today. I have been a little nervous about this leg. There wasn't much pre-planning we could do and had heard the route can be unsafe. The tourist bus doesn't leave until 1:30PM and arrives at the city centre just before sun down. The local bus are much more frequent. It leaves every hour. But the local bus stops in the cemetery area which can be a very dicy area, especially after dark. We decided to brave the local bus in the morning and not wait for the tourist bus.
We showed up at Plaza Sucre where all the buses gathered in Copacabana just before 9AM. The ticket costed 15 bolivianos (2.2 USD) each. The bus was already more than half full which meant it will leave on time.
Shortly after 10AM, we arrived at Tiquina (Lake Titicaca) where we had to get off the bus and pay 1.5 bolivianos (0.22 USD) for a boat to ferry us over while the bus with all of our belonging took a separate barge to cross the lake. Rumour has it these barges can't handle the bus with passengers on them. It made sense since they looked like wooden flat boats that has long seen its days.
We were back on the bus 30 minutes later and then it was another 115km or 2.5 hours to La Paz. The bus played really loud and strange mix of 90's English pop music, folk music and reggae ton. More than often the bus driver would play 5 seconds of a song, then skip to the next.
We arrived in La Paz noon-ish at the cemetery bus station. We were advised to only take official radio taxi. They were surprisingly hard to find in such busy area! We decided to walk down hill a few blocks and finally found one. Normally, a price should be negotiated before you get in, but we didn't care at the point. The 15 minute taxi ride to Sagarnaga Street by the Witches Market was only 15 bolivianos.
We decided to have lunch at the hotel restaurant. The menu was fancy and the Thai Chicken sounded really good. After the nachos with guacamole experience, I was unsure what I would get myself into. But I was going to roll the dice again. I really shouldn't gamble, ever.
It was over cooked pan fried chicken drizzled in peanut butter...
We walked around Sagarnaga Street after lunch, bought a few souvenirs and got a massage. When dinner time came I really wanted to try the Thai Old Town Asian restaurant. One more time, I said to myself, a restaurant specializes in Asian food can't be that far off! The restaurant offered Thai, Japanese and Indian dishes. I was excited to see a few noodle dishes on there and went for the Miso Ramen. But needless to say I had very low expectations. The soup was not bad, the pork slices were way over cooked and udon instead of ramen noodles which was also really over cooked. I was very impressed with our waiter who spoke perfect English and provided superb service. He asked me whether the ramen was what I had expected. I was honest and said it was ok. He apologized and said these days it was difficult to get ingredients from Japan and they had to use a lot of local items. I actually thought if the pork and udon weren't so over cooked, it could've been pretty good despite the ingredients. Anyways, our stomachs were full and went back to the hotel to pack for Salar del Uyuni (Salt Field) tomorrow.
*******link to original post*******
http://rubyroads.blogspot.com/2011/09/route-to-la-paz-day-11.html