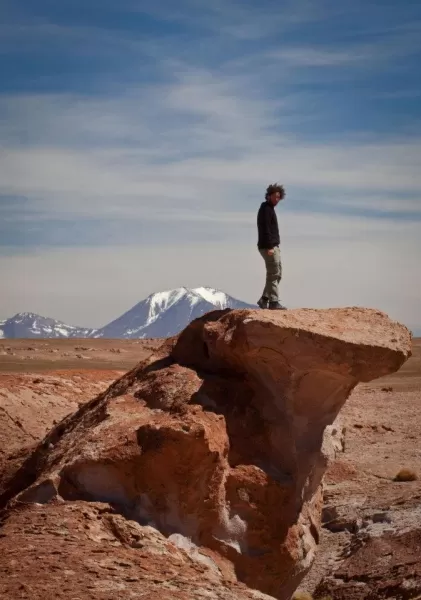 It was an early day for us. At 6AM we hopped into our pre arranged car and headed to the Poroy station that was approximately 20 minutes outside of Cuzco. No more than five minutes after we settled into our seats, we were on our way. I looked at my watch and noticed the train was almost 10 minutes ahead of the indicated departure time. Perhaps all the passengers were early.
Our train was the Vistadome class which offered windowed roof for a full view of the mountain range. I must admit, Vancouver to Jasper train was much more scenic. However, my Ecuadorian travel friend reminded us that the difference was these mountain ranges were sacred and bared so much history and culture for the people that lives in these areas. She was absolutely right.
Breakfast was included in the train ticket. I just loved the vibrant colours and the violet flower was a beautiful touch.
The train made a short stop in Ollataytambo to pick up more people. Yesterday when our Sacred Valley tour reached this point, some people got off the tour and caught the train to Machu Picchu here. This would have been a very efficient way to go. If we had known, we could've saved at least half a day of traveling.
1.5 hours later, we rolled into town of Aguas Calientes, the hot water or hot springs in Spanish. This is the entrance town to Machu Picchu. All who came to seek the ancient ruins must pass through here.
The first thing we did was buy the bus ticket to MP for tomorrow. The ticket was 15.50 USD return. The plan was to get on the first bus at 5:30 to see the sunrise.
We had the rest of the afternoon to roam around this tiny tourist town which was full of restaurants, pizzerias and gift shops. So once again dinning seemed to be the best way to pass the time. But half way through lunch, the entire town lost power and it also started pouring rain. We over heard that the power was not coming back on until tomorrow afternoon! We were relieved that we brought our head lamps, but regret leaving our rain gear in Cuzco. But we were able to get colorful ponchos at one of the many shops.
We had little to do and decided to buy a deck of cards. That kept us entertained and out of the rain until night fall. Then it was time to eat again! We had plan to dine a place called Tree House. It had great reviews in the guidebooks and online. However, in the dark, despite asking the locals (including a policeman), we couldn't find it. Disappointed, we settled for the generic touristico restaurant.
One thing I did noted was that I see Chinese restaurants everywhere. Even in a small town like AC. However, I have yet to see one open for business. All of them were closed even during prime meal times. I found that
Back at the hotel, we prayed for no rain tomorrow before settling in for the night.
*******link to original post*******
http://rubyroads.blogspot.com/2011/09/route-to-machu-picchu-day-4.html