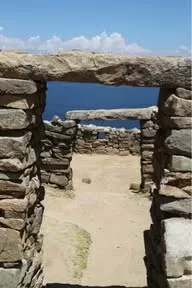 We took a taxi to El Alto International Airport in La Paz. It costed us 50 bolivianos which I could've swore the hotel told us it should cost around 15. Oh well, we had a plane to catch. The airline called Amazonas had only recently opened up a route from La Paz to Uyuni in late July. We kept our fingers crossed for delays. To our delight the 1 hour flight departed and arrived on time. The plane was tiny and full with about 20 seats. We did have to pay 15 bolivianos airport tariff (for domestic flights) before getting on the plane.
The Uyuni airport appeared to still be under construction and very small (I didn't even see it when we landed). Someone from Red Planet Tours was suppose to meet us at the airport, but we didn't see anyone. There wasn't even a phone to make a call. I had to borrow someone's cell phone and was told to just hop on the bus to town. The bus was 7 bolivianos (1.1 USD).
The tour was suppose to start at 11AM and we got to town centre and red planet office just before 10. Red Planet was suppose to provide us with an English tour guide, but they didn't have one! They offered us a shared guide with another group in another car and refused to give us a discount for the mix up. Although I was very annoyed with the mix up, we were stuck between a rock and a hard place. We had to take the tour and hope for the best.
While waiting for our 4x4 land cruise ride, we went out to grab extra water (2L per person) and toilet paper. Around 11:30AM, we were finally off on our 3 day Salar del Uyuni tour.
The first stop was the train graveyard. In early 1900, this area use to be a happening place rich in silver and the train was used to transport them out. The town of Uyuni had built wide roads with the potential to be the next big metropolis city like La Paz. However, when other new silver mines were discovered outside of here the mining experts moved out. The locals didn't know what they were doing and the industry died. The trains were then left to mother nature. The yard made for amazing pictures.
Second stop was the salt processing factory. The owner only works two days out of the week since there is no great demand for salt. The factory only supplies the local regions like Uyuni, Potosi and etc. There are no export since countries like Chile have their own salt field. The salt was very cheap and still packaged in a very traditional way. 5 bolivianos for half kg bag and 35 bolivianos for 50 kg. We each paid 1 to 2 bolivianos to the owner for the tour and demonstration.
The salt factory and surrounding buildings were all mostly made out of salt. They last approximately 10 years and the brown lines in the salt bricks indicated how much rained the area got each year.
We then moved on to learn more about salt. The salt field use to be a body of water thousands of years ago. Although most of the water is gone, the salt still contains moisture. So the locals put the salt into little piles to drain the water and dry the salt.
We had our lunch at a salt hotel in the middle of the field. Salt hotels are actually illegal here due to the pollution it causes the field. This particular hotel now only functions as a shelter for passing-by tourists to have lunch. There were a bunch of flags in front of the hotel. There wasn't a Canadian or Chinese flag. I urge whoever is going there next must bring one for me!
Next stop was Isla Inkahuasi (Inka House) or Fish Island which is an island in the middle of the salt field. The walk about costed 30 bolivianos (4.5 USD) and took about 20 minutes to get up and down. It was extremely windy and cold. I had three layers on and a very warm scarf. The island is best known for its giant cactuses. Unlike the cactus we know, these ones have no water inside when opened, but dry wood like with holes.
One of the biggest things to do in the salt field is to take perceptive pictures. We had a lot of fun taking these funny pictures.
It has been really windy and dry in the area. My hands have been cracking since the hand lotion I brought was not creamy enough. I really recommend anyone traveling in this area to bring lots hand lotion and cream.
It had gotten pretty cold by about 3:30PM. So we started head to our hotel. The hotel was in the middle of nowhere (but not on the salt field) and was made out of salt bricks. It was basic, but cozy. Definitely not as bad as I thought. A hot shower cost 10 bolivianos.
*******link to original post*******
http://rubyroads.blogspot.com/2011/09/salar-del-uyuni-day-1-day-12.html