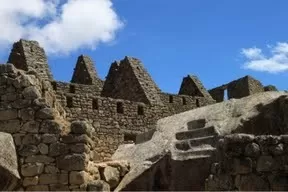 Today started awfully early. We had to be packed and ready to head out by 5:30AM. Might as well, I had been tossing and turning since midnight. I wasn't as cold as I thought I would be, especially we were also given hot water bottles for our feet. But I was under a sleeping bag and 5 layers of wool blankets. There were just too much stuff on top of me and I was too constricted to sleep.
Anyway, we went on our way in the dark and in -8 Celsius weather to see a volcano named Sol de Mañana at 4860m. I have never been so close to an active volcano before. It was cool to see the piping hot steam pressuring through the rocks. It was also smelly too due to the sulfur.
We didn't stay for too long since it was so cold. The next stop was the hot spring. I contemplated whether to go in or not on the way there. I am sure the 35 Celsius pool would be really lovely, but getting out afterwards would be painfully cold. When we arrived, I stuck my fingers in the hot spring water, I was sold. When I am ever going to do this again! Hanging out in a hot spring pool next to a lagoon with a bunch of flamingoes in the background.
I was so glad I went for it. The warmth of the water felt so nice after the chilly early morning rise. I wasn't going to get out of the pool if it wasn't for the pancake breakfast that was awaiting for me. When I emerged from the water, it wasn't actually that cold. After I got dressed, I was warmer than when I got in and didn't even need my third layer of jacket. I felt completely rejuvenated at breakfast and ate two pancakes with caramel spread and hot chocolate.
Now we were off to our last major spot on the tour, the Green Lagoon. This lagoon is full of toxic copper and many other different kinds of minerals. That is why there were no flamingos. When we got there, there wasn't much wind which was good because we were not as cold, but not so good since the lagoon didn't appear to be as green as when the minerals are mixed by the wind. It was still a beautiful site to see with the snowy volcano of Licancahur in the background.
Then we started our very bumpy and dusty two hour ride to our lunch spot. After lunch, the roads got a little better, but still dusty. We made a few more stops at the red lagoon again and volcanic rock site which was full of mosquitos.
Overall this was an enjoyable tour organized by Red Planet. However, we had felt we were short changed by not having an English guide with us in the car. The guide we had did his best to keep us informed after the two cars met up. But sometimes one car arrives earlier than the other and we would missed on a lot of information before we had to moved onto something else. We decided to speak to the company about our thoughts after we arrived back in Uyuni at around 5:30PM. I was impressed with Red Planet and the staff who actually listened to our problems. They decided to charge us the Spanish tour price which was 700 bolivianos (105 USD) and issued us each a 45 USD refund. We made sure we tipped the guide well since it wasn't really his fault.
I was happy the tour ended well. It was time to check in to our Uyuni hotel and take a much needed shower!
*******link to original post*******
http://rubyroads.blogspot.com/2011/09/salar-de-uyuni-day-3-day-14.html