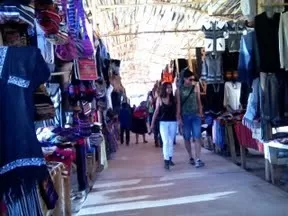 Cuzco to Puno is normally a 5 hour trip by bus. There are other transportation options as well. Flying takes about one hour, but only flies into Juliaca and it is another one hour ground transportation to Puno. It costs about 100 to 150 USD. The other option is by train. Since Perurail is a privately owned and the only train company in Peru, this route is very expensive at $250 USD. Not to mention, it is a 10 hour trip. We opted to take the tourist bus with a company called Inka Express that took approximately 9.5 hours. The 45USD ticket came with an English speaking tour guide, several attraction stop points and a buffet lunch.
The bus departed from Cuzco around 7:30AM. The reclinable seats were quite comfortable and clean. Hot drinks, water and pop were served. After about an hour, we made our first stop. Andahuaylillas often referred to as the Sistine chapel of the Andes. Some of this old church was under construction. Pictures and videos were not allowed inside which was too bad. Even though the exterior looked nothing special, the inside was quite beautifully decorated with gold framed biblical paintings. This catholic church also included elements of the Inka religion such as the Inka cross. The ceiling was covered in intricate patterns.
The second stop was Raqchi. It was an Inka village ruins with a large ceremonial structure as the centre piece. The village even had a mini great wall like in China. It was also built to keep the intruders out.
The third stop was the highest point of the trip. La Raya was located at 4335m. Despite the sunshine, as soon as I stepped out of the bus I felt the chill and harsh wind.
The last stop was some sort of stone museum named Pucara that I didn't feel was all that interesting.
Although the day flew by, I couldn't wait to arrive at Puno since we still had to arrange our Lake Titicaca tour for tomorrow. But I didn't have to worry too much. Our hotel was two steps away from Lima Street, the major road in Puno. We found a good tour agent with a fair price in no time. Now we were able to sleep knowing we just had to wake up tomorrow and wait to be picked up for another fun filled adventure!
*******link to original post*******
http://rubyroads.blogspot.com/2011/09/inka-express-day-6_1329.html