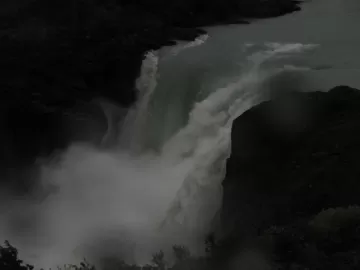 • This morning, we set out on a four-hour open truck safari through the Iguazú Forest. The adventure included a Zip Line over the jungle canopy and rappel down to a 12 m high waterfall that got us totally wet. At the end of the rappel Maggie had difficulties standing on the ramp at the bottom of the waterfall since it was very slippery. Her attempts were quite funny until finally, one of the guides pulled her by a rope to a drier part of the ramp.
• Maggie had a major attitude when she found out what the planned activities were, but after the first section of the Zip Line she enjoyed the activities and the day.
• We got back to the hotel for lunch (leftovers from airline food and hotel's breakfast items, fruits and vegetables)
• After relaxing for a while we walked to downtown for iced coffee and window shopping. The Café where we had our iced coffee the day before ran out of coffee so we had diet coke instead. The stores were closed for siesta, so much for our little venture to town.
• Our last stake dinner (filet mignon) in Argentina was a major disappointment. The meat was very chewy, the fish, however, was very good.
• As we were leaving, Natan offered his help to 2 Israeli couples next table that wanted more bread sticks but did not know how to ask for it in Spanish. Natan asked the waiter for "Palo Alto Pan", and although it translates to high stick bread the waiter understood. Natan was proud of his Spanish abilities.
• Concluded the evening at a little outdoor Tango Café