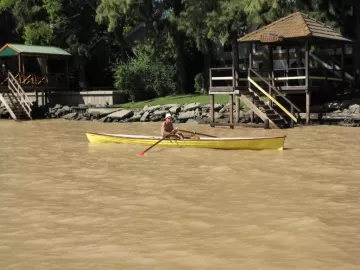 • The excursion bus which was supposed to pick us up from the hotel was 45 min late. One hour drive to the park.
• Perito Moreno Glacier mini tracking activity started with a short lake crossing of Lago Argentino to the beginning of the hiking trail. A nice 30 min land hike followed by a 90 min mini tracking on the glacier. It was a first for us. For the glacier walking portion we had to wear special spikes (crampons) over the boots, to avoid slippage.
• We gave one boxed lunch to a young Dutch couple that look like they needed the food more than we did.
• On the way back we stopped at a vista point overlooking the North face of the Perito Moreno glacier vs. the Southern face which we had tracked earlier.
• Tonight we were the ONLY guest at the lodge. We had a nice dinner at the place and order our newly discover read wine, Malbec.