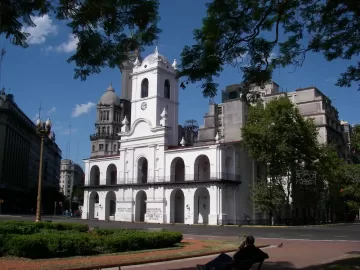 Today, Sunday I started on the official tour. Our tour guide met us at the hotel and I met the couple, Kathy and John from New York City, who would be joining me for eight days. Our tour guide gave us a good running commentary on what we were seeing and the history of the area.
Our first stop was at the huge metal flower sculpture, Floralis Generica in the Recoleta barrio. It was fascinating to learn that it opens in the morning, closes in the evening and is lighted at night. It was the first chance I had to get a picture of me in Buenos Aires when John, Kathy and I swapped cameras for shots in front of the sculpture.
The most fascinating part of the tour was the cemetery in Recoleta. I had never seen anything like it before and took dozens of pictures. It was like its own little city with main avenues and little side streets. The streets lined with tombs resembled city town houses the way they abutted on another. The variety of designs, the beautiful sculptures and colorful stained glass windows made me want to take a picture of almost every tomb. We saw the tomb of Evita Peron.
We were left off in the San Telmo area where there is a weekly flea market. We had thought it would be interesting, but once we started walking through the crowds we decided to leave for a quieter street. We found a nice little restaurant where we had a beer and something to eat