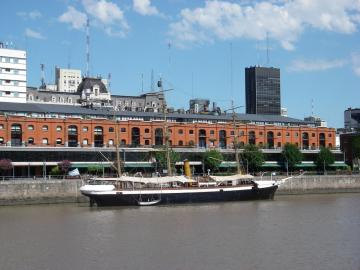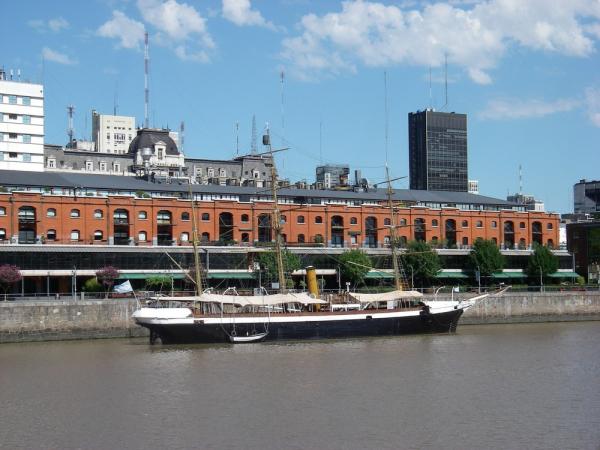 The regular schedule for today is a hike on Morino glacier. Because the local tour operator would not allow anyone over 65 to hike on the glacier, Adventure Life arranged for an alternative tour for me. Ironically, I think the glacier hike was the safer of the two choices. I was fortunate enough to go to Estancia Christina. First we went to view Upsala Glacier, the largest in the Glacier National Park. On the way in a tour boat designed to hold 100 passengers we were six tourists and an equivalent number of crew and tour guides. We were eager to see the views from the boat and stood outside as long as we were allowed. The wind and water spray made it seem much colder. The mountains along the river to the glacier were topped with snow and there were large floating pieces of ice that had calved from the glacier. We got up close to the Upsala. I've seen glaciers before, but nothing this huge. It is always amazing how blue the ice is.
At Estancia Christina I took a four-hour horseback ride. It was not one of those nose-to-tail plodding along rides so often offered for tourists. This was for experienced riders and it was just me and the guide. The only problem was that he didn't speak hardly any English and I don't speak hardly any Spanish. All went well, but I think I would have learned more about the history and geography of the area if we could have communicated. We rode across flat lands, up and down hills, and crossed four streams. We stopped at a lake for the lunch we carried in the saddle bags, then headed back. On the way back we came to five or six horses feeding on the range and drove them back to the corral. By the time we were done my neck and shoulders were aching from the stress on the herniated disk in my neck from trotting and loping.
We had another good meal with fine wine. When I got back to my room there was a small bottle of champagne on ice waiting for me. My neck and shoulders still ache.