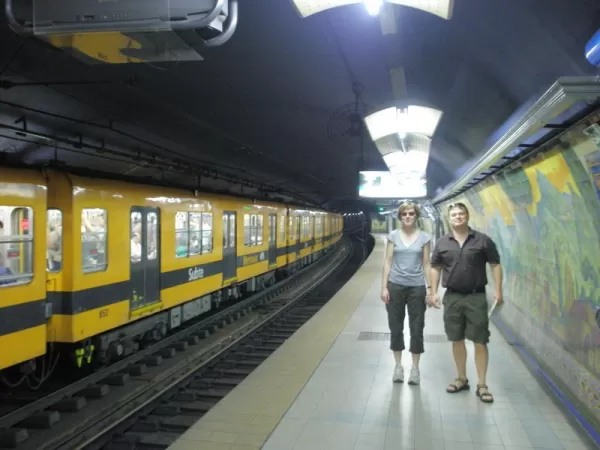 Okay... now I expected a big city... a busy city.... but this place is huge and it doesn´t sleep. It´s in constant movement. Giant masses of people moving about in anything motorized... and the noice... WOW. They also drive like maniacs. Shifting gears, grinding them, making the engines throttle at high speeds... blearing horns... braking at the last possible minute... and that was just a cab ride! I´m not really sure why there are any painted lines on the pavement... they are simply not required or respected. Single lane street have upto three cars wide at any time. There were even some streets that have upto nine actual lanes accross, all going in the same direction (you do the math).
We spent the day walking around the San Telmo, Centro, and Puerto Modero barrios.
These picture are from a pedestrian street... called La Florida. As the day progressed, more and more people came out. The street is lined with stores... selling everything under the sun. Prices also fluctuate from one store to the next... as much as 50%.
We stopped along the way to enjoy a large cup of coffee. At least it´s a large by argentinian standards, we would consider it an extra small. Coffee is always served with a small glass of "agua con gaz" (mineral water). Havn´t figured out why yet... but maybe it´s because it´s served extremely, piping hot. Yup...I burned my tongue on my first sip!
Buenos Aires natives are friendly. Their spanish is extremely fast, however, the language barrier isn´t there. Thus far we have been able to communicate, albeit with hand and face gestures, pointing, using english and french, actually it´s much similar to playing charades... and they are very good at figuring out what we mean ;o)