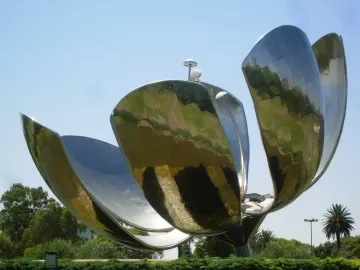 Our last day in Buenos Aires was spent shopping. We walked along La calle Florida in San Telmo and took in the atmosphere.
Honestly, anyone planning on taking a course in Marketing or working in the retail sector, should take a walk along La Florida. Every single store has an employee outside, dedicated in bringing the person walking along the street into the store. They have handouts that you don´t even realize you´ve accepted... next thing you know you are walking along with several different flyers. They are also multi-lingual... they can speak in enough languages to get you into the store; "Hola... ¿como estan? Oh... speak Inglis... where you come from? Parlez francais? Special deal for you... only today. Factory leather specials today only!... " No pulling the ¨No comprende¨ card.
There are also different artists that line the sidewalks... musicians, knick knack peddlers and even mimes like the fellow below.
Oh... and for those of you wondering how Serge coped with all this shopping ;o)...
¡Ciao Buenos Aires!