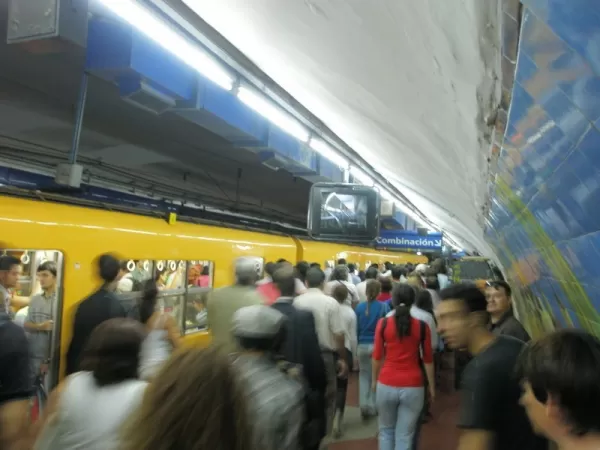 The Subte; an underground train with the ability to move people rapidly... all under the city´s belly. Now using the subway is a regular affair for Sue... however, for Serge and I not so much.
We had however practiced in Toronto while on our layover, so we felt ready to face the underground adventure. We started our journey very easily, hopping on the Subte as we were regulars... but, by the time we made our transfer things got a little busy, verrryyy cozy and highly aromatic.
The Subte; an underground train´s who has the ability to move masses and masses of people rapidly! We did however successully maneuver the sea of people and get to our destination without any extra ticket purchases or scenic routes!!
Popping out of the underground, we came into the Recoleta barrio. Quite different than the San Telmo one we came from.
First of all it´s green... lots of trees.... secondly it´s richer and newer, the sidewalks even allow for two people to walk side by side. Although it´s just as busy as the rest of Buenos Aires...
We did a lot of walking around Recoleta, taking in the sites. The School of Law, a massive building that is part of Buenos Aires University.
They also have a humongous flower garden... actually it´s a single flower that opens at dawn and closes at dusk.
Recoleta also has a unique tourist attraction... a cemetery.
Eerie isn´t it??!!... Not a place I want to walk around in after dark... but it was really impressive the see the number of tombs that were there. It´s like a city within a city. Some of the tombs are maintained, some are quite let go and even vandalised.
Palermo was another barrio we walked through. Did I mention we did a lot of walking? Palermo is home of most of the foreign embassies, it is also home of the Malba museum. The Malba holds a collection of modern latin american art that attracts many visitors, but, personally, it was the building itself that was the attraction. Modern, sleek and lots of windows! An engineering marvel.