Galapagos, October, 2015
I cannot describe to you how fortunate I feel, to be invited to explore more of these mysterious islands.  And how strange and marvelous the circumstances!  To be speaking to you again along these lines is truly a gift—a gift given all because I won a contest!  Readers voted for me to win Adventure Life's Blog Contest, and I received a free cruise back to the Galapagos—to the islands I hadn't yet seen.  Here is the link to my first trip,
Galapagos Through the Eyes of an Artist.
  In it, you will find details about my travels to the Northwestern Islands aboard the Guantanamera in May, 2015.  There are plenty of photos! It highlights the art I created, gives facts on the animals that live there, and provides travel tips.  This blog will focus on my travels on the Eastern route, sailing on the Millennium, in October 2015.  The goal is the same: to share my art, photos and observations.  I will also compare the two voyages, to give potential travelers insight into which tour, which boat, and maybe what time of year might suit them best.  But I should start at the beginning of the trip, and let it unfold in some sort of natural order.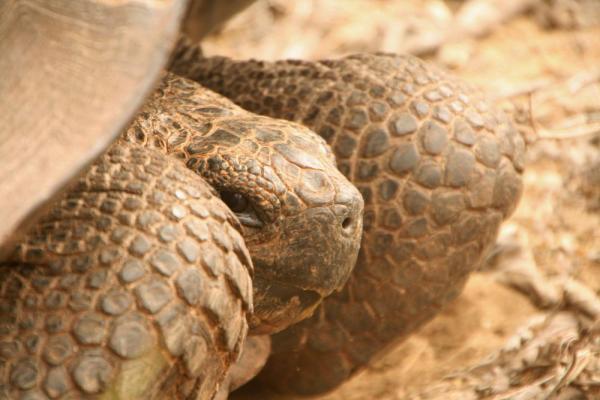 Packing for Galapagos is always the first adventure.  The rule book states that there is a limit of 44 pounds!  I found it best to use one of those small, roller suitcases that many pass off as their carry-on luggage, and a backpack.  I wanted to be reasonably mobile with my stuff—transferring from planes to buses to dinghies to ships would require it.  Inside the luggage, I used those extra-large, Ziploc type bags that roll up really tight.  They are ideal for fitting more into a smaller space.  Then on excursions they double as protection for cameras and other things from water damage.  (Check out
this link
, where I highlight ways I packed and made a simple, cheap water protection feature for my camera that turned out to be invaluable on both trips.) 
And then we were off!  Phoenix, Miami, Quito.  Filling out forms, getting passports stamped, claiming luggage, obtaining a taxi.  A long day's journey to arrive at our lovely Rincon de Puembo hotel. (It is amazing how much shorter the flight TO your destination is, verses on the way HOME.  I know, it's physiological.) The hotel has a beautiful courtyard, helpful staff and flowers everywhere.  As an artist, I especially enjoyed the detailed murals inside the vault of the domed ceilings!  A nice start to our 8 days in Ecuador!  We were greeted with a refreshing fruity beverage and a kind letter in our room…."We hope you have an excellent time in our property and that you have enjoyed our beautiful Ecuador as part of your honeymoon…"  Which was hilarious, since, this time, I was not travelling with my husband (of 25 years), but with one of my best friends, Jaime!  
The next day we were promptly greeted by our Adventure Life driver and guide, Giovanni, and transferred to the airport for the flight(s) to the Galapagos.  He walked us through the entire process, obtaining our Galapagos Transit Card, and all the way through security, to make sure we were well on our way. (Keep your card!  You will need it on the way back.)  There was a quick stop in Guayaquil, as is typical, to pick up more passengers. We did not deplane, (it is a short wait), then we continued on to the islands.  FYI--they spray the plane to kill off any stowaway bugs.   I was lucky enough to be on the 'good' side of the plane, and got a nice aerial view of Kicker Rock as we descended into San Cristobal.  It stood like a 450 foot sentinel, almost as if it was waiting for visitors to snorkel along its walls.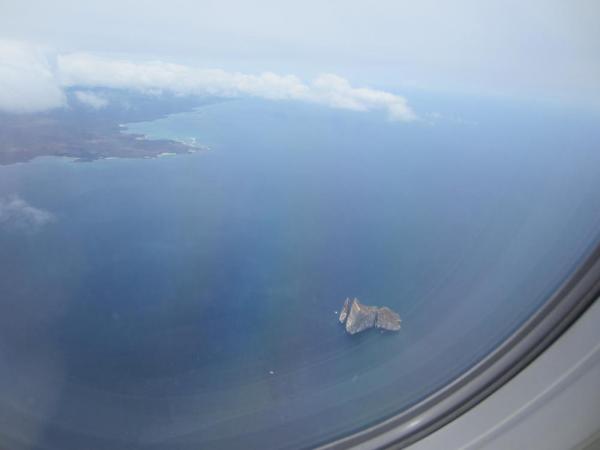 More lines and passport review.  (If you like collecting stamps in your passport, make sure you ask for one from Galapagos, many times they don't if you don't request it!) We made eye contact with the guide holding the sign marked "Millennium".   The transfer to the dock was relatively painless, and we were treated to our first view of wildlife while waiting to board:  sea lion mothers and pups lounging on seaside benches.  The crew quickly ferried our luggage to our cabins and we were off!  I learned we only had a group of 9—the boat usually holds 16 adventurers and crew.  Our guide's name was Tommy.  (I want to take this moment to highlight the helpful attitude of the staff on these boats.  One of our fellow travelers had arrived a day or two early and her underwater camera was ruined while she snorkeled.  Tommy scrambled to find her a local connection to purchase a used GoPro, and it was in-hand when we boarded.  I will also take this moment to urge you to budget for tips.  Most boats are cash only, and these folks work really hard to make your voyage amazing.)
First visit:  Isla Lobos (Sea Lion island).  True to its name, for sure.  We took a short hike, passing a blue-footed booby on her nest.  Our first creature on our first island, and it is the most iconic of Galapagos sea birds!  We all had our lists of 'must see' animals, so it was nice to check one off within a few minutes of our feet striking sand.  (For information about the blue footed booby, and the art piece I did of one from my last tour,
click here
.  Scroll about half way.)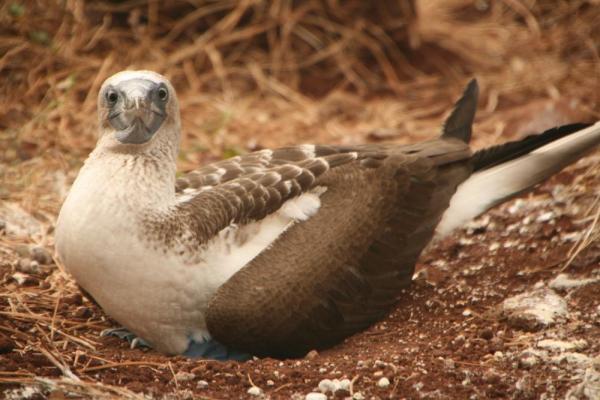 We also passed a male frigate bird and a very large, fuzzy frigate chick.  Off in the distance, the vibrant crimson, inflated throat patch of another male was visible.  The rest of the frigate gang soared lazily on currents above us.  (Info and art,
click here
. Scroll to the middle and to the bottom.)  More frigate factoids: they boast the greatest wing surface to body weight of any living bird.  Since they do not produce enough oil to make their feathers waterproof, frigates cannot dive.  If they get waterlogged, they will drown.  Frigates grab food off the surface of the ocean, flush flying fish out of the water to catch them midair, as well as pirate food from other birds returning to the nests.  So frigates have to be able to tell the difference between an empty and a full bird! A lot of specific, tricky skills these guys need to master in order to make it in the world!  The abilities needed to survive requires extra parenting—they stay with the chicks for 16-18 months in order to insure they will make it.  It is the longest parental care in the bird world.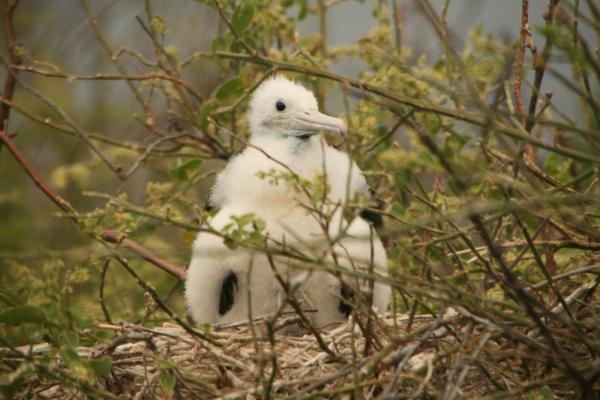 Then we saw the main attraction for this island:  a group of female sea lions with their pups, only days old. There were at least a dozen babies, covered in soft, golden brown fuzz.  We even spied a placenta, half buried in sand.  A male hollered at the females from the water, and the mothers and tots bawled and grunted at each other. Even suckling was a noisy affair!  Some babies snuggled together, touching noses and looking around.  Others explored the rocks, on wobbly flippers, and played with tree limbs they could reach.  I could've gotten lost in their dark, liquid eyes.  It was so incredible to just sit and observe this little community for a while. 
Which, of course, became my first artist's inspiration.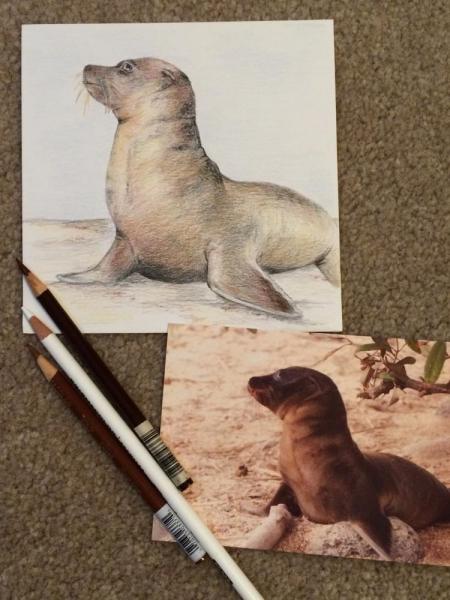 But there were more adventures for the day!  On to snorkeling!
This was a good first test of our equipment, and most of us decided it was time to rent wetsuits!  Brrr!  Our guide said that the water was actually unusually warm, due to El Niño.  It should be around 60 degrees, and instead he guessed it around 72.  It was cold enough for us!  The visibility wasn't so great here, but it was rewarding to catch glimpses of the fish species we would encounter.  (I kept a running list, which I will share later, of species we could identify from the boat's library of marine creatures.) But a few examples of what we saw included: a male sea lion that cruised by, on watch for intruders into its territory, Green and Pencil urchins that littered the sea bottom, and a large school of Razor Surgeonfish.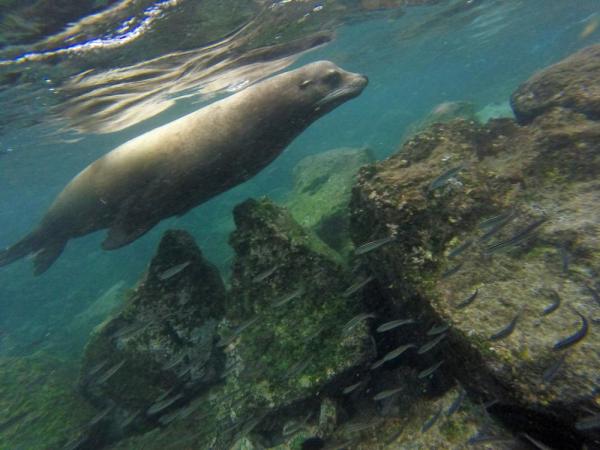 Then it was back to settle in on the Millennium, and explore our home away from home.  The boat was beautiful…gorgeous wood flooring and reasonably ample space in the rooms (for a boat, anyway!).  We had our own private balcony.  There were several areas on the ship for gathering and enjoying views.  The food was delicious, and plentiful. Over the course of the week, we ate either around large tables in the dining area, or on the back deck outside for amazing views!   I am not a good sleeper anyway, so the rocking and the engine noise were a problem for me.  Another traveler said it was like being in a giant hammock…so I think it depends on your particular system.  I had already predicted that I might have problems, so with the assistance of Dramamine and a sleep aide, I settled down for some (hopefully) rest and tried not to keep myself awake, thinking about the amazing days ahead!