Up early to pack and go to Santa Cruz island, to visit the Charles Darwin Center.  The bus stopped right by the mosaic garden, (
click here
for photos and art from this area) so we ducked in for two minutes.  Then we looked in on the different land tortoises.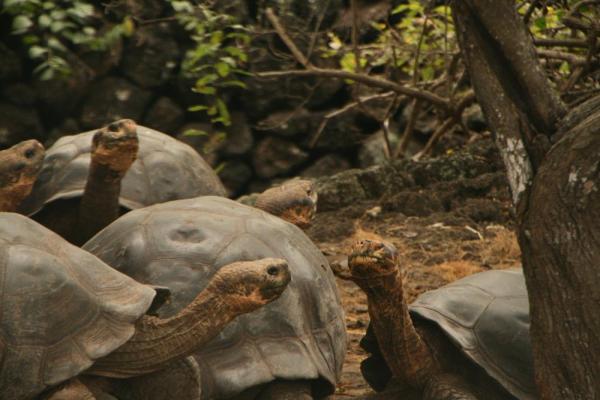 One memorable moment was when two female saddlebacks squared off, heads stretched to their fullest height, in a display over the male, Diego.  They say he is at least 100 years old, but to them he was quite a catch!  The land iguanas lounged, their yellow and orange skin in various stages of shedding.  They reminded me of a patchwork quilt.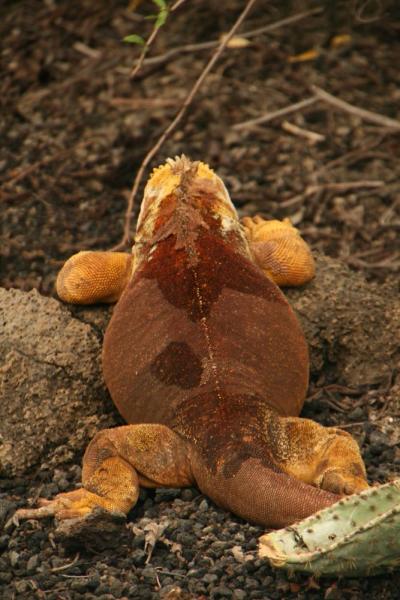 The visitor's center is still closed for construction.  Driving through town, it was interesting to watch the hustle and bustle of small town life.  Island dogs abound.  Murals cover many walls, which the artist in me appreciated.  We drove over the highlands, and were able to spot several wild land tortoises in the fields!  The highlands are so green and lush, with many exotic flowers blooming.  They beg more exploring, but, alas, we are out of time….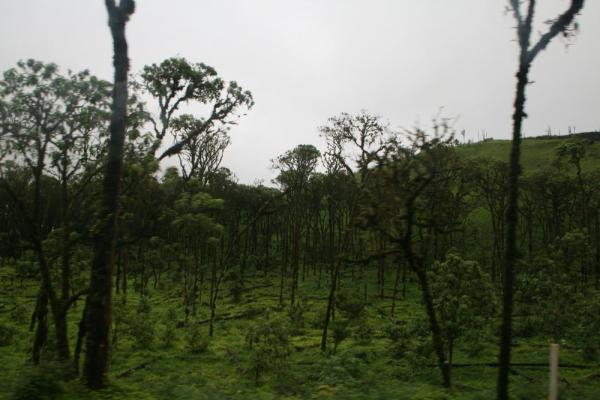 We said our goodbyes at the airport, and went our separate ways.  Jaime and I were fortunate enough to view the Cotopaxi volcano that has been steaming and grumbling outside Quito, on our flight back into the city!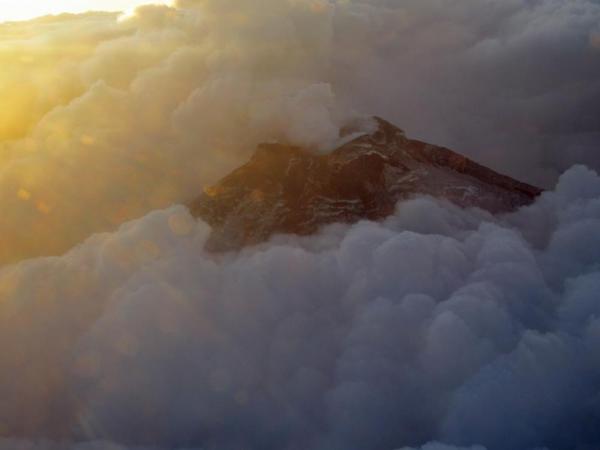 Our Adventure Life driver greeted us at baggage claim, and we went back to our lovely hotel. The next morning it was up early to the airport for home.
Not everything about travel is fun.  There are certain inherent risks—to life, limb, property and schedule.  Some people glamorize and romanticize travel to the point that when it doesn't go care-free, it is a disaster.  It is horrible.  It is the end of the world.  People that are normally level-headed, friendly adults throw toddler-type tantrums when their experience doesn't match the brochure.  Luckily, Jaime and I are not that way.  Occasionally, there is an extra price to pay to go off on adventures.  This time, it was paid by a 14 hour journey turning into a 24 hour journey, as a severely delayed flight had us miss our next connection.  We had to change carriers, which meant running from terminal 3 to terminal 1 at LAX, only to arrive at the gate, breathless…to be told that the new flight we were on was delayed two more hours!  Our luggage was eventually found and returned to us after we had settled back at home.  It is in those times that I have to just sit back, and remind myself of all the incredible experiences that traveling brings me.  All of the memories and inspirations...
Now, I found the BEST TRAVEL TIP EVER for getting through customs back into the United States. It works on a smartphone.  Check to see if the airport you are flying into uses the Mobile Passport App.  (Miami does.)  I downloaded it onto my phone prior to travel.  Then, when I landed on American soil, as people were gathering their bags and waiting to deplane, I launched the app.  I answered all the custom questions there instead of on the form they hand out, and followed the directions to take a selfie.  They then gave me a receipt on my phone.  When I deplaned, instead of getting in that long, ol' line with the hundred other people, I found a line that said Mobile Passport App.  There was NO ONE in front of me!!!!  They looked at my passport and scanned that receipt.  I picked up my luggage.  I found the Mobile Passport App sign again, bypassed all the people in the other lines, and went to that line. Two people in front of me.  They checked my phone again and I WAS DONE.
I would guess that saved Jaime and I at least an hour of just standing in lines.  Maybe more.  It's free and painless.