Floreana had unique features.  There was a giant, gnarly mangrove tree that dominated the crescent shaped shoreline.  Erosion had made a secondary type of cliff, where a Blue footed booby and giant chick sat together and groomed.   This beach had the green sand caused by the olivine crystals, while a beach on the other side of the island got different currents, and was fed white sand.  And in the middle, a lake with flamingos!  For art from my last trip,
click here
.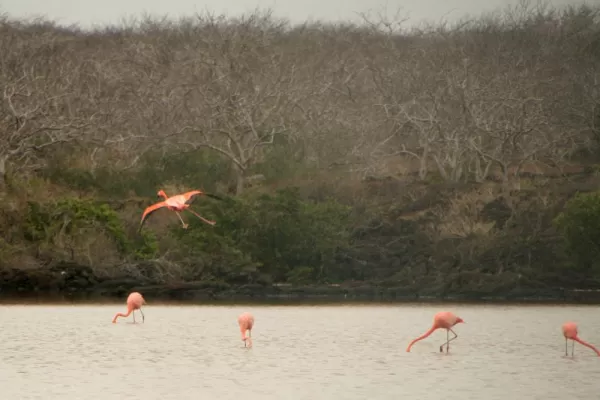 I would guess we saw 40 or so.  One flew in, awkwardly flapping, with feet flying out behind him.  He was greeted with noisy honks.  We could see in the distance a few on nests. A black winged stilt milled about in the mud.  The lake area really showed the contrasting landscape—the shimmering water lined with black lava and shocking green mangroves, transitioning to dry grasses and white tree bark, and brown rock. 
As we traversed inland, we discovered several painted locusts, a flamboyant little insect that exists nowhere else.  Here Julian also pointed out the Palo Santo trees, weeping fragrance.  Moss and neon green lichen grows on its branches.  It is related to frankincense and myrrh.  The name Palo Santo means "wood of the saints" and is burned often as incense in churches. 
We also spied some Smooth-billed Anis, little black birds with prominent beaks that are not indigenous to the islands.  Reaching the white sandy beach, stingrays were spotted, swimming in the shallows.  As I ventured closer, one grazed my foot!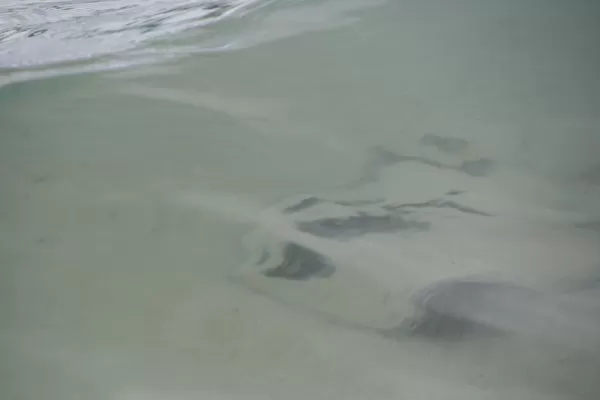 We spotted a Tiger snake eel on the sand, mouth wide.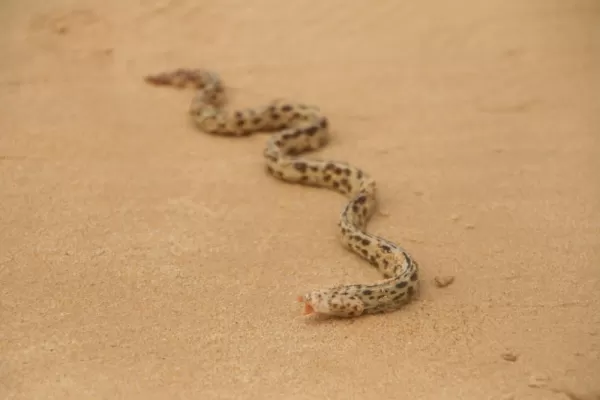 This is how I know I could never be a true Nat Geo photographer…apparently I am not able to let nature take its course.  I put it back into the water.  It may still die, but it won't be from me leaving it gasping on the beach! 
A Yellow-crowned night heron scouted for food over the volcanic rocks.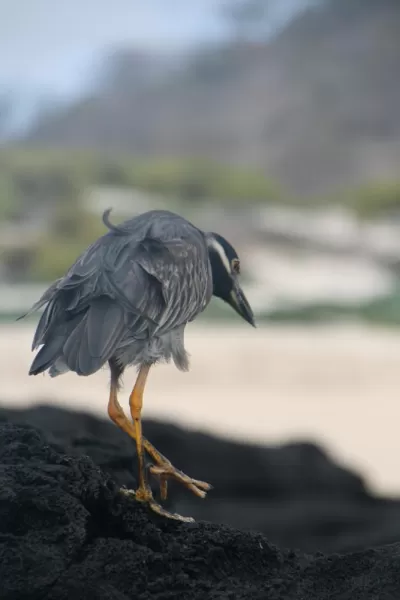 My inspiration for today.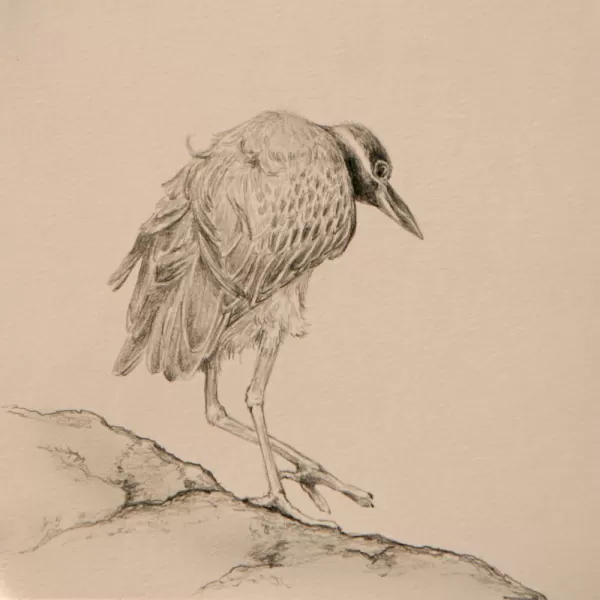 We saw a pair of Sally Lightfoot crab, one gripping the other by the claws, and escorting it away.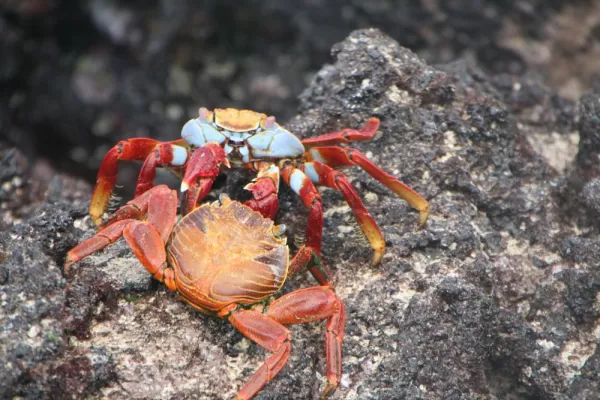 Our guide could only guess if it was a love interest, or dinner.  Someone spotted a Blue Lobster in the surf.  Ghost crabs had left their signature, little balls of sand they filtered for food, snaking out from a central hole.
Champion Island, Snorkeling
We toured around the Floreana, passing a set of volcanic rocks called Devil's Crown (aptly named, for its eerie appearance.)  The snorkeling was fantastic at Champion Island.  Along with different starfish, sea lions, and more Green turtles, there was a craggy outcrop that white tipped reef sharks were hanging out under.   Jillian took my GoPro and dove down to get some shots.  Three came swimming out of the crevice and perused the reef in their un-hurried, smooth manner.  It's good to be at the top of the food chain.  Clear waters, beautiful light, not too cold.  A lot of colorful King Angelfish.  Daily, the crew provides snacks and drinks after snorkeling, but today was the best.  They put cinnamon in their hot chocolate! 
Post office bay
Today I participated in one of the oldest existing post office traditions.  Whaling Captain James Colnett apparently started it by placing a wooden post barrel here in 1793.  The idea was that passing ships would sort through the left mail and deliver ones that were addressed to places on their routes.  At the time, a whaling vessel would be out, typically, for two years, so mail was a valuable resource.  Thousands of ships have participated in this system over the years, and now tourists also join in.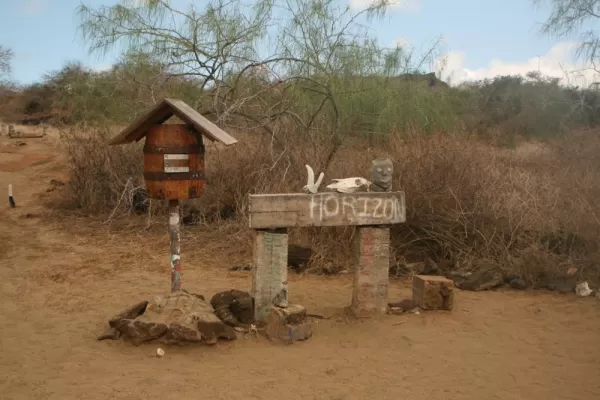 We sifted through Ziplock bags full of people's comments and observations about the islands, looking for addresses near our own.  One postcard said, "Spending time in these islands helps to understand what is important, what is useful, and what is noise.  As our guide let us know on day one, it's the simple things that make the biggest difference.  Keep me or send me somewhere randomly." There were some that said 'for pick-up only', obviously meant to draw a certain person to the islands.  Appreciation for the islands was palatable with each handwritten entry.  Obviously, visitors cherish this place.  We walked back to the ocean, now painfully aware that this was our last full day here.
But there was still much left to see!  On the narrow beach were shorebirds—black winged stilts, semipalmated plovers and sandpipers.  Around the corner was, of all things, a soccer game!  The crews meet up for a match, this time from the National Geographic boat that was on the same itinerary we were.  Here we had our last snorkel.  Bittersweet.  We were rewarded with a few new species of fish to add to our list.  We had one last sea lion dance with a young female.  Jaime threw rocks and she caught them!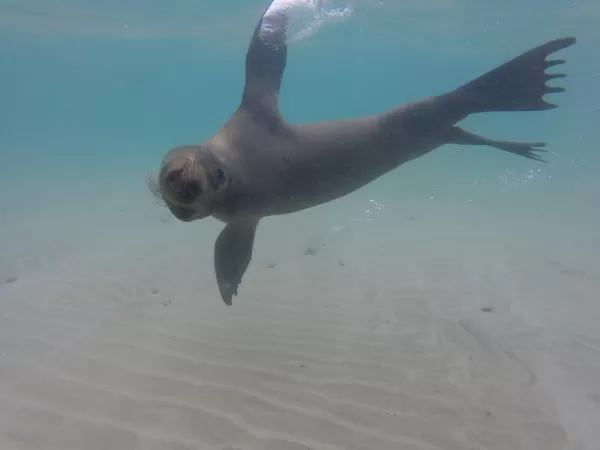 Up on the top deck, enjoying our last sunset, we reviewed the week's sightings.  We each had our own animal list.  Some, we were overjoyed to note, we had viewed in abundance.  Others, we were unable to check off.  I sighed, and just chalked it up to the unpredictability of nature.  Not five minutes later, after we had fallen into a satisfied silence, I started laughing.  Coming towards us, was another item on our list.  A pod of dolphins!  We watched them approach, and then they disappeared.  Jaime and I decided to check the front deck to see if they were using the boat to draft from, and they were!  I ran up the steps and grabbed everyone, and we leaned over the edge and just enjoyed them.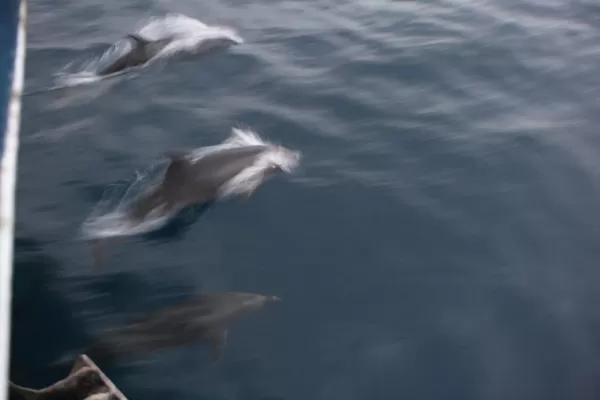 We could actually hear them whistling to each other, and the air escaping their blowholes as they would exhale and inhale.  One leapt and splashed a few guests!  We had quite a while to appreciate the magic of that moment.  They finally peeled off and we returned to the top deck, where the frigates had landed on the rails and roof and were catching a ride. It was fun to listen to them bark and nag each other, vying for space.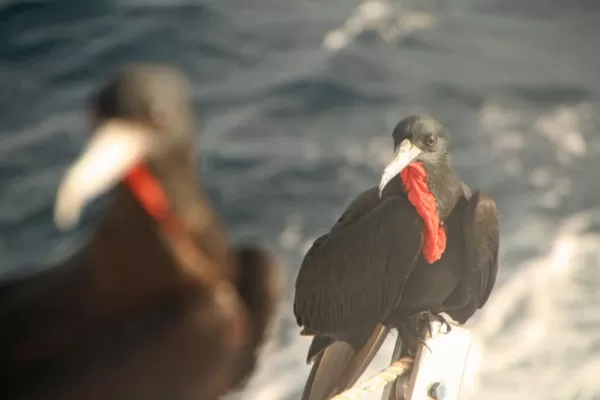 The crew, dressed in their finest, met us for a drink and a final farewell.