Next stop: Punta Pitt, San Cristobal!
We had a leisurely walk on a strangely colored, greenish beach, made so by olivine crystals in the sand.  Lava lizards abound.  We then turned inland and hiked up a dry river run that flows freely in El Niño rains—they have to take travelers elsewhere during those years.  It must be gorgeous to see it flowing, though.  What amazing rock formations!  Strange, banded lava boulders.  Water erosion "steps" we climbed, and dry pools, waiting for the rains. Lichens in alien colors like lavender and chartreuse.  It was a very dry landscape. The only real green was a strange succulent.  The trees were dormant and I could see their 'bones'.  A young finch poked its head out of a well-designed nest.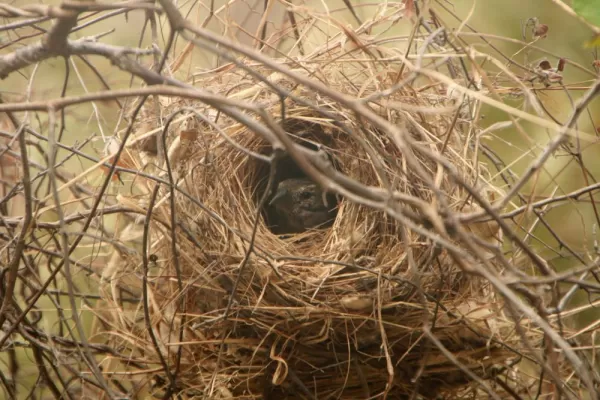 We saw a few red footed boobies, but this particular hike is more known for its landscapes than for wildlife.  (For artwork 
click here
.)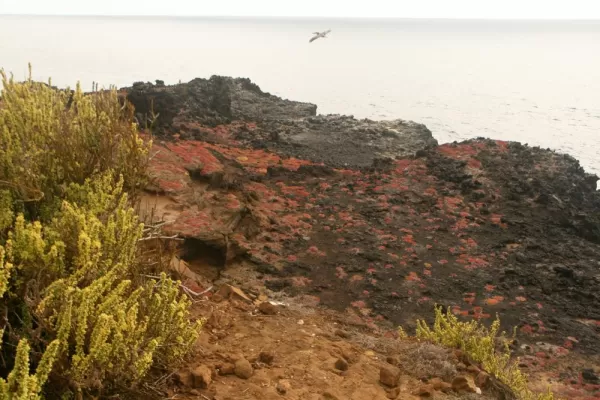 On the hillside, sky lined, we spotted two goats.  This is an unfortunate sighting, as goats are actively being eradicated from the islands.  They were originally brought here by sailors and pirates, who released them. They reproduced and thrived, and they were a food source next time they traveled that way.  Goats are devastating to the animals and plants on the islands, destroying nests, and so on.  Our guide reported the sighting and we continued on.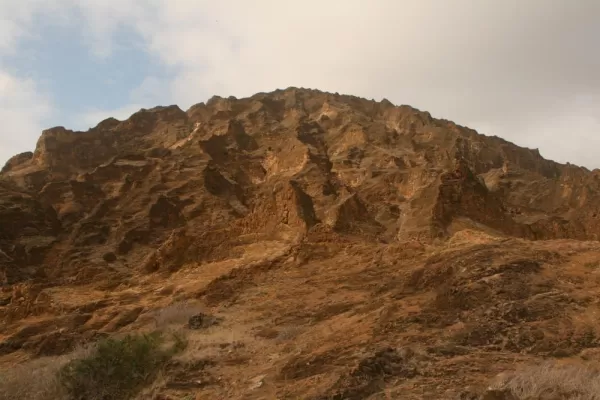 Galapagos Fact:  They use several techniques to get the goats…the most unique one I heard of is called 'the Judas Goat' method.  Goats are social animals, so they catch one, place a bell on it and release it.  The poor thing leads the hunters right to the flock!   It is sad, but a necessary measure to be taken to protect the species that are indigenous to the islands. (Other non-indigenous species on the removal lists are rats and cats.   I spotted cat tracks on one occasion, and a cat skull elsewhere.  I think, on populated islands, the dogs are also an issue, but much more complicated to deal with.)  Did you know there are only two land mammals native to the islands?  Rice rats, and the Galapagos bat.  And there are no amphibians!  Scientists muse that amphibians couldn't survive the salt water migration required to get here. 
Tommy, the guide, lent me his extreme wide angle lens and I got to play with proportions.  He also did an amazing time lapse of the boats and the sea, and shared it with me on my iPhone. 
Click here
to view!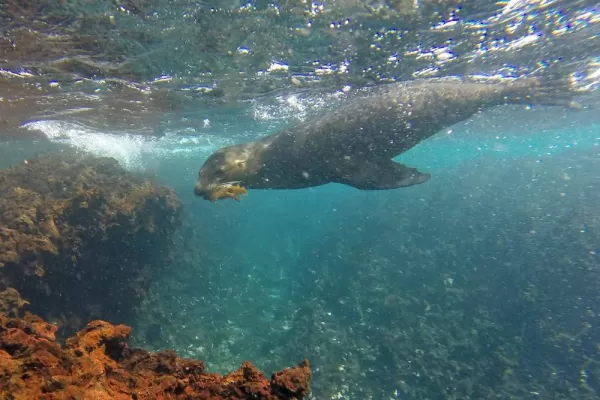 Amazing snorkeling!  We were wayyy more comfortable in our shorty wetsuits.  Much better visibility here as well.  We saw a wide variety of fish species.  I spied what looked like mating behavior…a massive school of fish, with an occasional individual shooting straight up out of the school, immediately chased by others.  Two sea lions joined us and were very playful.  They would swim up underneath me, so close I had to pull my flippers up to make way for them!  One had a rock in her mouth, which she would show me, drop and then catch again.  The two would cuddle up together underwater, touch noses, then break away to play with the humans.  A snorkel tip:  Most people tend to keep their eyes on the bottom, because that is where you typically see fish.  Make sure you scan the waterline, both above and below the surface!  Sea lions, penguins and other animals oftentimes skim the surface while traveling, and if your head is down, they will go right on by unseen.  (Watch the shoreline, as well.  Animals hang out right on the edge of the surf.  For one thing, the Sally Lightfoot crabs on the rocks are much easier to approach from the water.)  And, in my practice looking above the water line, I saw an immature red-footed booby hovering over our group.  I brought my GoPro up to capture him on camera.  He locked in on me, and kept flying closer and closer, hovering over my head.  It seemed he was trying to land on me, so I finally just ducked underwater and I thought I felt his wings graze my scalp!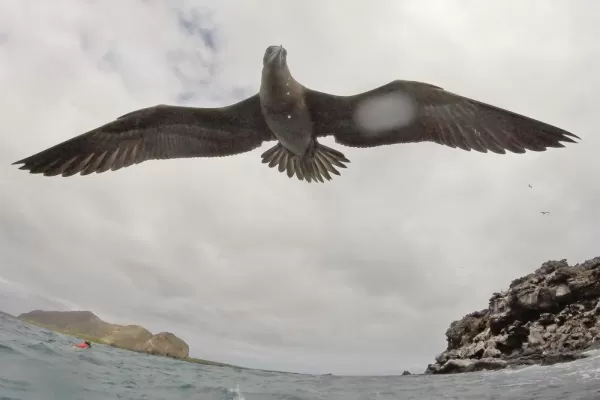 I can't really describe how it felt to be eye to eye with a bird in flight.  Amazing!  He went over and landed on the dingy, so I swam over and got more photos of him and his buddy.  They stayed aboard, even when we all climbed on, and caught a ride all the way back to the Millennium!
We enjoyed lunch back on board, followed by a 4 and a half mile hike into the Tortoise Natural Reserve (La Galapaguera).  The weather was overcast, and a bit humid.  We came upon five different tortoises in the wild. An absolute giant had half-buried himself under the dry vegetation!   One, a 10-12 year old, according to Tommy, was not numbered…meaning it was a natural hatching that occurred on the island.  He reported that in to the powers that be, and was glad to see that that was occurring.  It meant the group was doing well beyond human intervention.  He pointed out that they were living on their fat reserves until the rains came.  The "foliage" consisted of dead leaves, dried grasses and sticks-for-trees.  The only greenery, a type of cotton, the tortoises don't eat.  This is one of the species that will thrive with the coming of El Niño —it isn't all bad news!  With the rains come much food for land creatures.  We sat down as a group near one of the tortoises, quietly observing.  He actually turned around and walked towards us!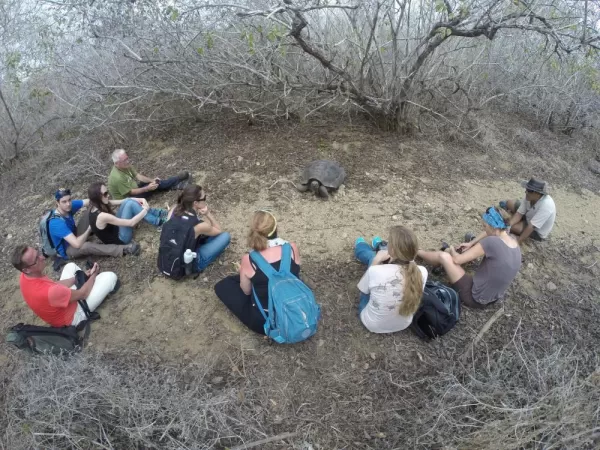 His movements were slow and meticulous.  It almost reminded me of the old Disney animatronic robots.  We spent some quality time just watching each other.  His lack of urgency was contagious.  Oftentimes, there is so much to see on these trips, and so few precious hours, sometimes I'd feel a frenzied push to experience (and photograph) as much as possible.  Looking into ancient eyes, I slowed my pace and sat with him, and with my silent friends as we all just marveled.  For more information and other art I have done with the tortoises,
click here
.)
My artist's inspiration for today.
Please check out the photo album for additional pictures!