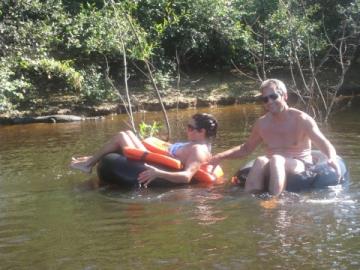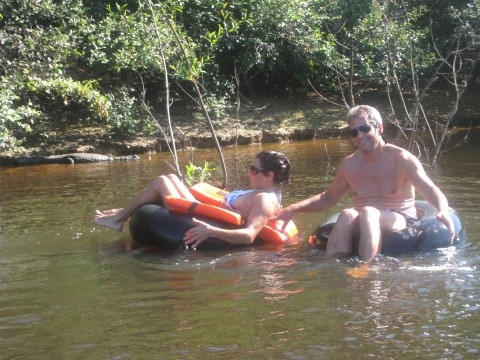 Brazil and Peru were interesting - but huge. Everytime we went to a new place, it was a full day's traveling.
We first went to Campo Grande, where we met someone who introduced us to Pousada Santa Clara in the Pantanal, which was excellent. Cheap, but good room, full board and excellent guides. We did a river trip, tube floating among the caymans, walked through the forest and saw an anteater, monkeys, racoons, parakeets, capybaras and loads of birds. We also fished for yellow-bellied piranhas and caught one each, which were then fried for us that evening – very tasty but very small and lots of bones!
From there we went to the youth hostel in Bonito. The hostel was great. We had a private room, there was a swimming pool, and they organized all the tourist trips. We did a snorkel float in both Rio Sucuri, and Rio de Prata – freshwater rivers with astounding clarity. But the trips were very overpriced and very tourist oriented. Apparently everything is government controlled, and you got treated like children on a school trip.
Next was Foz Iguazu which was simply amazing – huge, huge waterfalls that we saw from both the Brazillian and Argentinian sides. Both were equally spectacular.
We then visited Ceu's friend Matheus in Belo Horizonte – a clean modern city with such steep hills that you really need good breaks on your car! It was like going on a roller coaster. We had a lovely visit with him and his mother and brother – and got to drink the Brazillian specialty drink called 'Chop' (pronounced 'Shop') which, believe it or not, consists of just the FOAM from an ordinary beer! Absolutely crazy! Matheus showed us his city, took us to the best restaurants and, naturally, we watched the Brazillians play at the World Cup. Nothing else to do, since the entire country closes when a game is on. Even the museums shut until after the game.
From there we went to Rio, and stayed in a rather basic youth hostel at Ipanema. We ate in the restaurant across from 'The Girl from Ipenema' restaurant, which is where the song was written. We toured the largest Favela which is run by a drug gang – and as a result has virtually no crime, as they want to keep it a safe place for people to come and buy drugs!
Of course we walked both Copacobana and Ipanema beaches, along which there a several public, open-air, work-out gyms. They consist of a frame of pull up and other bars and one even includes weights. They are totally free and get well used. We often saw people there with a personal trainer coaching them.
Throughout the trip we had sunshine, warm weather, and no rain.
A 4 hour flight took us to Lima, Peru. First stop was a Ceviche restaurant in Miraflores – It was so good when we went there on our first pass through, (on the way to Brazil from BVI), that we went back there a second time. Lima itself, however, was rather uninspiring. Very run-down.