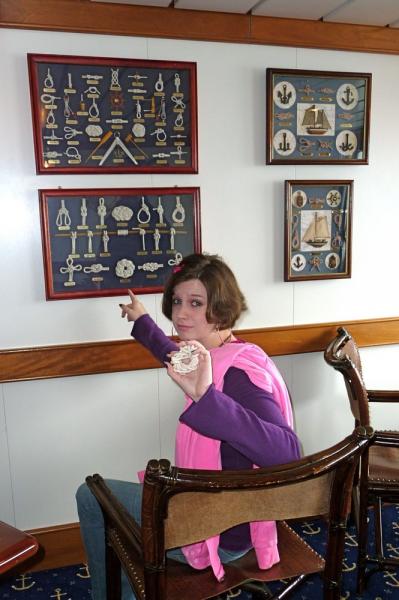 The alarm rings at 6 a.m. and one word gets us up: PENGUINS! It's our expedition to Isla Magdalena, where between 100,000 and 150,000 Magellan penguins live.
It is raining a little (don't care: rain pants!) as we file into the zodiacs, with the island a big brown hill topped by a white steepled lighthouse. It is open water in the Strait of Magellan, so the swells are high as we step aboard.
The sight of so many penguins is astounding. They cover the brown hill, and they are so on-the-go that the island almost looks like it's moving, the way an ant hill does. Only two rules: no camera flash and no touching. A path leading way up to the lighthouse is roped off for us, and as we walk along, the penguins toddle back and forth to the sea to swim or fetch seaweed. They bring the seaweed back to their burrows, whose holes are everywhere. They scoot down them and you can see dirt fly through the air as someone decides to dig a new one. They ignore us as they traipse around, preening and playing. They are loud, too, throwing their heads back and squawking, beaks to the sky.
We have about an hour, so we skip the lighthouse. We only have eyes for penguins. The sun comes out. So many things beg our attention: the fuzzy teenagers hanging out at the beach, the albino penguin sitting still, pairs having beak slapping fests (is it love or hate?). The crew finally has to shoo us back to the boat. How lucky are we?
To top it off, as we reach the Mare Australis, a rainbow appears over the island. I know this is an occasion as Francisco, the boat photographer, is hurrying to document it. Me too of course!
I have discovered, by the way, an excellent method of keeping dry. I put on my wide sun hat with chin strap, then pull my hood up over it. It looks a little goofy, but it keeps my face out of the wind and rain, and my cameras too.
We are very near Punta Arenas, and colorful tugboats push the ship into the busy port; ocean-going ships lay at anchor all around us. We say goodbye to our dining companions from Canada and get their email addresses. A slight mixup: the tour company that is supposed to pick us up does not have our name on their list; they are fetching someone else. We board their van anyway as a 15-minute rainstorm suddenly wipes out the sun. Afterwards it is completely sunny again and extremely windy.
The van takes us on a short jaunt to the Plaza Hotel, on the town's main square; a classic with lots of trees and a statue in middle. The hotel has plenty of old-fashioned charm: high ceilings, colonial, very quaint. Caitlin, up since 6, is as crabby as only tired teens can be, and we encourage her to take a nap.
Chris goes to the bank for Chilean pesos; I can't nap. The wind is blowing around the hotel like a hurricane. The sun suddenly gives way to rain. From our window, I can see a tourist on a street corner holding her arms out to the wind and twirling in the gale. Patagonian weather! We wait out the rain until 4, as the sun tries to come out. As we stroll the main street, a huge rainbow spreads over the town because it is literally raining and sunny at the same time.
The main street is full of little clothes and shoe stores like you'd see in any small town, plus a big grocery store, a department store and a smattering of restaurants and pizzerias. Caitlin scores a raspberry ice cream cone in a little 2-story mall, and we buy peanuts being roasted on the street.
After about 6 blocks, the shopping peters out; the mélange of architecture is interesting though, from deco to belle époque to modern. One building has a plaque marking where the British Club was when Shackleton tried to get them to help him rescue his men off Elephant Isle. We end up at the lemon yellow Puerto Café, where from a cozy little tearoom on the second floor we can see ships at anchor swinging madly in the waves. Passersby are wearing parkas. In summer! With the sun blazing! At the store downstairs selling handicrafts, lapis lazuli jewelry and wine, a boy tells us the wind blows like this all year round. We buy a penguin hat for Caitlin, a golf shirt for Chris (the color of his eyes with a penguin on it), and a potholder for me with every Chilean symbol on it. Am I living it up or what?
By now it's after 8 and still bright as day. We head to a restaurant called La Luna, kind of trendy, kind of touristy with a couple of maps into which travelers stick pins for their hometowns.
After dinner, Caitlin takes advantage of the free internet in the lobby, and Chris and I go for a stroll. We pick up The Black Sheep, billed as Patagonia's only English language paper. It's aimed at backpackers and trekkers, but has lots of useful info, including bus schedules and ads for tours. Handy if traveling on your own. (www.patagoniablacksheep.com) And one article details the stray dog problem all over Chile. That explains all the pooches we've seen!