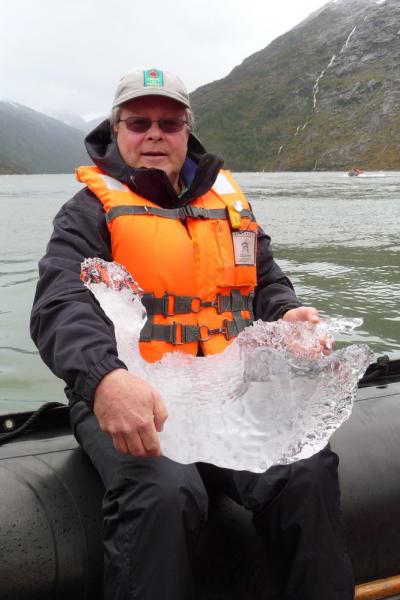 Today we are to go to the northeast part of the park for more wildlife viewing and a trek. Celine, instead, signs on for a 4-hour-in, 4-hour-out trek toward the towers. You apparently do it somewhat on your own, though you're with other people who are also trekking.
We drive to a beautiful green/blue lake with flamingos, and I see one fly, something you don't see in the zoo. Then we go to a very salty lake (I tasted it) that supports a primitive life form that looks like brains washed up on shore. Actually, the whole lake looked like a big green margarita and the crashing white caps like salt around it.
At another wild waterfall, it starts to rain quite a lot. Javier says he had planned to do a trek there but suggests we go elsewhere in hopes of rain stopping. We do, and sure enough, the sun comes out. So we agree on a 3-hour trek to see cave paintings instead of visiting a "beautiful farm." Caitlin is not happy about the idea of a 3-hour walk, but the rest of us do not want to drive around anymore. Caitlin likes to be on a horse instead of her feet.
We put our lunches in backpacks, and Javier leads us off among golden hills. It is an easy walk across the steppes, dotted with grazing guanacos. We have lunch amid giant sedimentary boulders. Purple thistles and margaritas grow all around, attracting butterflies and bees. The sun is warm, all is lovely.
The rock paintings, another thing I find highly overrated, are uphill, but the views are beautiful; guanacos, munching everywhere, paying us no heed. In some spots the red grasses against the pale green are breathtaking.
We have to cross a ridge and go down the other side, quite steep and gravelly for a bit. Javier gives me one of this trekking sticks but Caitlin says she doesn't want one until her feet are slipping on the gravel and Chris and Javier have to rescue her. After that she grows more cheerful. The plains are rather like an elephant graveyard, she says, because guanaco skeletons dot the fields, picked clean by both the pumas that brought them down and the birds. Bones are bleached white, and skulls excellently preserved, right down to the teeth, rib cages sticking up. Javier says 40 to 50 percent of the offspring are lost to pumas.
Back in the van, my pedometer reads more than 13,000 steps! Javier says it was a trek of 8 or 9 kilometers.
Back at Eco Camp, it's 530 and dinner isn't until 730. Caitlin goes to sleep and Chris closes his eyes, but I go for a walk. The clouds appear to be lifting over the towers – the rest of the area is sunny – so I cruise around the new part of the camp, the domes with private bathrooms, wood stoves and little wooden decks. Celine, who had one, said you are still cold in the morning because you would have to stoke the fire in the middle of the night. But the bathroom being right there is huge, she agrees!
Chris is up by now, so he gets a beer and we bring our 2 chairs outside the dome to see whether the clouds will lift off the towers. Ronaldo and Tertius are up too, watching for them. But there is actually so much in the park that seeing the famous towers no longer seems like such a big deal.
At dinner, Celine says she only made it through 3 hours of the trek because of her bronchitis, and she went back down with a passing returning group. They had said they couldn't see anything at the top anyway.
Dinner is a lamb bbq, with roasted peppers for Caitlin – not that she needed it with the huge salad/side dish buffet.
All the couples and Caitlin take their pictures together, and we all say how wonderful (and lucky) it is that we all got along and found each other interesting. We invite each other to visit and exchange email addresses.
Javier, our mother hen, promises he will wake us up at 530 for 6 am breakfast (we have no alarm). Chris said the showers had been so-so, ok for him because he likes lukewarm water. But others said it was touch and go with the hot water, which depends on solar panels.