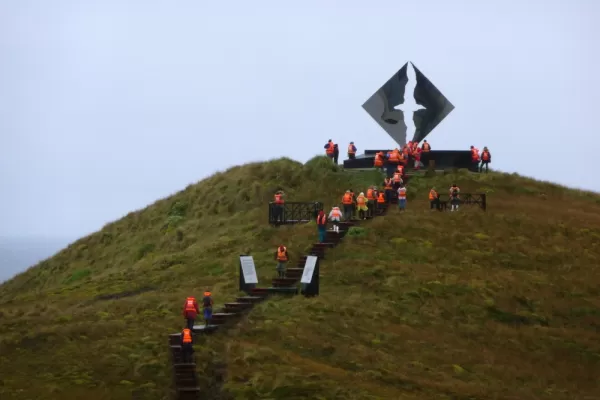 I wake up at dawn as Chris heads for the bano, and through the door I spot -- golden sunlight! I dash out of the tent to see the park's three famous towers aglow. Mariana and Ronaldo are out in front of their dome and we all silently make crazy cheering motions for the sun.
I take a walk behind the camp and scare up 2 hares, which are so big and run so fast I think they must be mara (even though they didn't hop like a kangaroo.) But Javier later said that though the mara is a national symbol of Chile, it is now found only in one part of Argentina.
It's too cold to change clothes or shower; we opt for breakfast in the warm dining room: eggs, toast, chocolate cereal that Caitlin loved, salami and cheese. Javier explains that the buffet table next to the cereal table is for us to make a box lunch – wonderful choices including smoked salmon, prosciutto, cheese, ham, hearts of palm, tuna. Javier says to pack extra because it is going to be a long day. So we stock up with bags of raisins and nuts, cereal bars, chocolate bars, oranges, apples, bananas. If you don't see it, ask for it. They suggest we recycle the plastic zip lock bags.
In the van, our first stop is where a couple of dozen Andean condors are soaring in circles right above two herds of guanacos – a park postcard! We walk carefully into the fields so as not to startle the guanacos. They keep an eye on us and move away if we get too close, especially to the babies. Babies are gamboling with their mamas, and the males perch atop the ridge as if posing for a calendar. They have a camel-like look to them but their brown and ivory coats blend easily into the backdrop of olive green, wheat and rusty red grasses.
Meanwhile, the condors fly over the valley, drying off their wings, Javier said. In Caitlin's research report for school before we left, we learned that Andean condors can be as big as 33 pounds, and they need strong winds to help them glide. In a park so big it helps to have a guide who knows where the wildlife congregates.
Drifts of daisies and white yarrow line the roads. Smooth pale green hills are evidence of the glacier moving through. There are few trees; Javier says most of them burned some time ago in a fire started by a Czech tourist's camp fire (Chileans know how to gold a grudge).
Next stop: a waterfall. I think waterfalls are overrated, but this is a good one. We hike up past a pale green rushing river to see it roaring over a drop and surging down the mountain. At one point it turns into a lake where we spot a catamaran.
Then we head over to Grey Lake where we are to board a boat. But first we stop to take pictures where a cute grey fox is hanging around to beg.
At Grey Lake, Javier tells us to eat at the picnic tables outside the lodge and then go inside and sit in the big lounge chairs with huge picture windows facing the lake. At the hotel shop, Caitlin snags a zip fleece with the lake logo. The hotel itself is 263,000 pesos for a triple – a little more than $400 a night. Lodging here seems quite expensive; we don't even know how much Eco Camp is.
The roads in the park are very rough -- unpaved, tho not muddy, with gigantic potholes and corrugated ruts. You wouldn't want to drive your own car here and few private cars are seen. There are mostly tourist vans and buses, and not many of those. Very uncrowded for high season, but everyone seems to think this is normal. This figure might not be accurate, but someone said there are only 140,000 visitors a year (compared to 3 million at Yellowstone).
We hike to the departure point for the boat, on a beautiful lake with a couple of big blue icebergs floating in it. Couldn't take enough pix of those. The little red boat seats about 50 people and is comfortable inside, with banos and a bar. Going out, water splashes like crazy over the bow windows, and not too many of us bother to go out on deck.
But when we get close to the glacier we are all out there, ogling it. The snow-covered mountains tower around it, and it glows like a huge blue mass of whipped cream. Passengers from Japan to Paris are snapping away, astounded by this miracle of nature. The huge ice caverns are even bluer as the ice compresses more. (Only blue, short wavelengths can pass through.)
Then the boat motors around a rocky area to an even bigger part of the glacier. This one is like a lunar landscape -- or violently whipped cream! On the end a couple of slabs are so blue they look like turquoise gem stones. We are given pisco sours or glasses of whiskey cooled by pieces of iceberg. People from all over the world are toasting each other and saying how lucky we feel to be witnessing this. Then, as we leave, the boat's pilot put the nose of the boat in a turn against a huge iceberg, and we all reach to touch it.
It is an hour and a half drive back to camp, where we arrive at 8:30 with cocktails at 8:50. Chris and I try the tasty artisan microbrew from PN, both light and dark. Hard to top a pisco sour, though.
After dinner, we chat with everyone including a Dutch family whose 18-year-old son – as blond and blue-eyed as Hans Brinker – is living in Santiago with a family for a gap year. They brought his 2 "house sisters" who were 17 and 18. The mother and father were spending several weeks traveling around Chile. The boy did not speak Spanish before he came and that's what he wanted to learn. Caitlin hung out with them and the girls told her she should come stay with them and learn Spanish.
Ronaldo and Mariana tell us they had planned on going to go to the US this year, to NYC and then skiing in Utah, but then the dollar went way up so they switched to Patagonia. They live in sprawling Sao Paolo, which they say can be quite dangerous, though the homicide rate has dropped a lot. Biggest problem: robbers holding you up then making you take money out of the ATM for them. They said people there are workaholics. He is a manager for an internet clothing business, and she is a community lawyer. She said robbers are not scared of the sentences because sometimes it takes so long for a case to go to court that they just get off. Or their sentences are reduced after the first third. So it's not a deterrent. Nicola and Tertius said crime is bad in their town in South Africa too. They said they need a big dog like their Newfoundland so people won't come into their garden.
We hit the sack in our clothes again, but Caitlin's hands and feet are so cold I have to crawl in with her and warm her up.