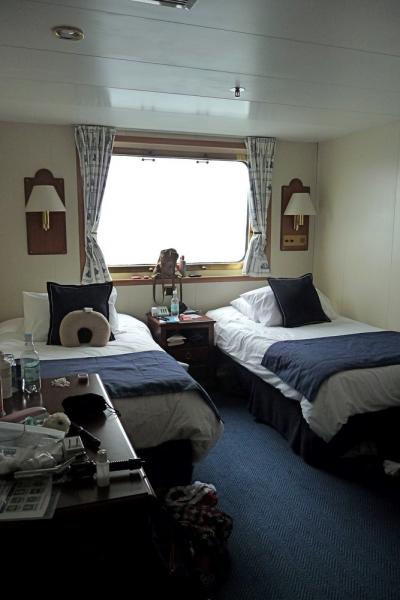 Today we are gliding through narrow passages with the islands quite close on either side of us, majestic ancient hulks of rocks slathered in green, sometimes with rivulets of water running down. Seagulls swoop around the boat. Clouds hover on top of the rocks. It rains a little and is windy. Chris, the dewy Irish-American, is out on the deck, loving nature. Chris and I note that the rocky, empty islands plunge straight into the sea – if you tried to anchor a sailboat, there'd be no place to get even a toehold on land.
After breakfast, I listen to a lecture about explorers of the Magellan Strait. Then more people show up for a nautical knots class. The first knot is my favorite – 3 knots magically appear on the rope, like a bar trick. Caitlin is astoundingly good at the noose knot. Chris is intent on learning the Spanish bowline. Meanwhile, we pass through another area open to the Pacific and the boat rocks and rolls and everyone holds onto their drinks glasses.
Next up: Chilean wine class. First fact learned: Chile is the longest country in the world. We taste a Carmenere, a red made from grapes that came from France but disappeared there (insect invasion) in the 1800s. Then it was found again in Chile, which the Chileans seem quite proud of.
A sailboat goes by in the distance. We see so few things in this empty land that many of us take its picture.
After a lunch of roast lamb and leg of veal, we get ready for our afternoon expedition. All we know is that it's aboard the zodiacs and will last about an hour. It turns out to be a tremendous one.
In a light rain, we putter into a fjord, and as we round a rocky outcrop, there in front of us is a bright blue glacier. We all gasp. Next to it is a wall full of cormorants sitting on mud nests, hundreds of them, flapping their wings, taking off, landing. A tall waterfall cascades down and off boulders in one spot, mist rising all around it. The water is the pale color of the sea-green Crayola crayon, thanks to the minerals, and when the cormorants fly, their white bellies look green, reflecting off the water. But the glacier is the highlight, massive and craggy, fingers of ice pointing up, white-blue and bluer in spots, dotted with ice caves. It is like an abstract art painting. I ask Francisco why the glacier is in this particular spot, and he says 10,000 years ago it was ALL glacier up and down the fjords. The glacier we see is all that is left. He says it gets smaller every trip.
Back on board, it is the French and Spanish speakers' turn to see the glacier, so we head up to the Sky Deck so Chris can teach me and Caitlin to play poker. We catch on pretty quickly, and the bartender gives us sangria and virgin pina coladas. Just as Caitlin is demanding to play for money, we say it's time to dress up as fancy as possible (in Caitlin's case, an actual slinky black dress – where did that come from?) for the Captain's farewell dinner. We miss the pre-dinner penguin lecture for all the gussying up.
I can barely eat dinner I am so full of cruise food. After, we go to the Sky Deck with everyone for the captain's farewell toast (in 3 languages) and a raffle of the boat flag. A huge chart with our cruise tracked and signed by the captain is auctioned off beginning at $90, with people from Canada, France, Germany and Switzerland bidding. Very fun; the bartender threatens to shut off the bar if bids don't go higher (money is for the employee tip fund). It finally goes to Switzerland for $260. Makes our smaller chart, purchased for $52 at the ship's store and still signed by the captain, look like a deal!