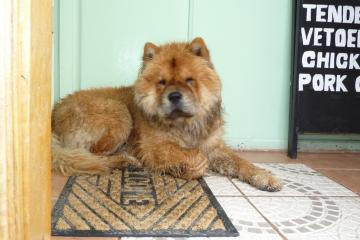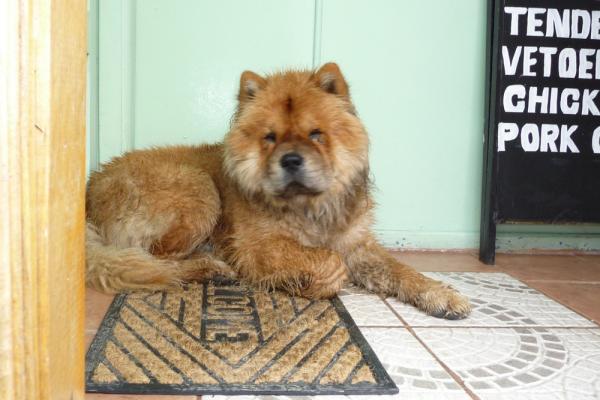 We let Caitlin sleep and go for a walk around the chi-chi neighborhood including, it turns out, the Great Britain and New Zealand embassies. Very Parisian. Flower stands are incredible.
We blast Caitlin out of bed and head to the Recoleta cemetery and Evita's grave. Finally it feels like a summer day! But first we run into an artisans fair. We snap up earrings and necklaces with pink rodocrosita or "Rose of the Inca," the Argentine national stone.
We finally enter the cemetery, which Caitlin immediately loves. Teens today are into vampires and morbidity and the drama of life and death, and this is one over-the-top cemetery. She loves peering into the elaborately decorated tombs, with caskets on display. Statues abound, including a haunting life-sized one of a girl and her dog that could inspire a story. Stray cats lurk; food and water for them have been placed on some of the broken-into or maybe just neglected tombs. We find Evita's family tomb by the small crowd gathered down its aisle. A man from Tucson said he's heard Evita's body was moved out, but nobody knows for sure. You can see stairwells leading down into some of the crypts. Others have dead flowers inside; some are covered in cobwebs. Creepy. But overall, it's beautiful and exotic. To have a family crypt where everybody goes is some kind of cool.
We feel raindrops (and we don't have our pants on!), so we head to a café for ice cream, which we've been assured we should not leave without tasting. Nearby, we can see a gentleman in a fedora playing a guitar and waltzing, apparently for money, taking requests. We're back to the hotel in plenty of time to gather up our worldly goods and head for the airport. Ten hours and 15 minutes and we'll be home.