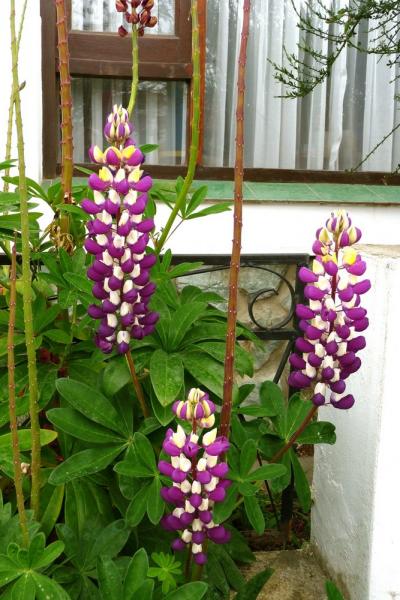 During the night we travel through a passage of open water unprotected by islands, as the captain had warned us the evening before, and sure enough, the waves are high. The motion wakes us up, and we peer out our cabin windows into nothingness. We lay down and let the boat rock us back to sleep until 6 a.m. when we have to get up for Cape Horn. Even the teenager rises promptly, as she can tell from the way everyone acts about Cape Horn that it's a big deal.
We put on layers, in case it's windy and cold. Then we add big orange life jackets with a whistle. Out on deck we line up to board black rubber zodiacs that hold about 12 people. One by one, they ferry us to the Cape Monument. It is 45 degrees and drizzly (already the rain pants are a godsend). As we get off the zodiac we spot a lone penguin perched on a rocky outcrop. By the time we climb up 160 steps we are regretting our layers. We are steaming.
The monument is on a huge chunk of rolling hills, covered with short lush foliage, including mosses, daisies and berries. A boardwalk snakes across fields of green to a lighthouse with a round top, all glass, and a tiny chapel of rough bark. A little store yields no souvenir hats big enough for Chris's curly head.
The boardwalk meanders to the highest point where a tall monument with an albatross carved out of it stands on top, symbolizing the soaring souls of all the sailors who shipwrecked trying to round that dastardly point. We peer at the two islands next to us, the southernmost tip of the continent: 600 miles to Antarctica! It is amazing to be here at the end of the earth.
Wet on the outside and dry on the inside, we are glad to be ferried back to breakfast at 9. Eggs, bacon, hot cakes – we feel like we deserve them all. Caitlin pronounces the hot chocolate the waiter brings her the best she's ever had. But the waiter is not as cute as the crew member who helped her aboard the zodiac. She had worn her contacts at 6 a.m. for him! She is the only kid on board, but eyeballing the guys on the crew keeps her amused.
We had had to sign releases saying we knew how crowded our room would be with the addition of a rollaway bed, but it isn't so bad. And much better than paying for a second cabin! We hang our wet clothes all around to dry. Then we go to the salon to watch a documentary about Ernest Shackleton's attempt to cross Antarctica, when his ship got stuck in the ice in winter.
On board our own ship, it is rolling, and our sea legs are awkward. The salon is beautiful with rich wood and a blue and yellow plaid carpet. Big poufy leather couches send some movie watchers into a snooze.
The movie is in English. We find that few of the 120 people aboard are from the U.S.: us and a couple from Baltimore. There's a bunch of people from the UK, some from Canada. Many French, some from Spain and Germany, 1 from Argentina. You sit at dining tables according to your language. (We often exchanged travel tips; one couple whose time is very flexible said they asked tour companies in Ushuaia about last-minute Antarctica cruise deals and the best discount was only 20 percent – even in this economy. The Mare Australis sailings were sold out.)
We have it much better than Shackleton's crew: Lunch is an antipasto buffet including calamari, which would have been plenty. But it is followed by 5 pastas, from gnocchi to lasagna. Then a dessert buffet!
We hope to walk it off on our afternoon expedition to Wulaia Bay, where Darwin landed and formed some of his theory of evolution. By the time we pile into zodiacs, the sun is lighting up the many greens of the island. T-shirt weather! An historic house is the focal point on the island, whose 20 acres I think are leased by the cruise company which now is restoring the house. Francisco, our guide, said the whole area is an archeological dig, studying the ways of the Yamani, the aborigines. We opt for the "soft" walk, along the water, instead of the "hill" walk, which others said later was easy and had a great view.
The island is green and peaceful, bay on one side, little coves on the other, pine trees slanted to one side by the wind, which can get up to 200 mph. Francisco has us sit on rocks smeared with mustard-colored lichen to listen to nature. We sit for 5 minutes, listening to the waves, sun washing over us, gazing into the clear, clear water. He tells us that Darwin saw the Yamani people, living naked and covered with sea lion fat to keep dry, upper torso well developed and lower not so much because they paddled canoes on their knees, and he thought they were the Missing Link between ape and man, almost human but not quite. Three of them, including Jemmy Button, were taken to England and exhibited in cages. Later, Darwin said he was wrong and apologized. The Yamani ate berries, sea lion, clams and mussels. Shellfish shells are all over the beach. Red poppies are there too, and beautiful grasses. Everything is strong and healthy, yellow dandelions and white clover on steroids.
After our walk, the cruise company has a surprise at the house – a 200th birthday celebration for Darwin. They bring Champagne, pisco sours and hors d'oeuvres -- a catered event in the middle of nowhere. As we hop in the zodiacs, we spot a huge red crab down in four feet of pristine water. Caitlin proclaims this one of "the most beautiful days of my life." Score! Even in her un-stylish rain pants!
After dinner, Caitlin and I go to the "international fashion show" on the 4th deck, which turns out to be crew modelling stuff from the ship's store. Then we play bingo, in 3 languages, good practice on Spanish and French numbers. The catch: If you call bingo and are wrong, you have to sing a song. Caitlin wins a fleece vest with the words "Cape Horn" and a penguin on it.