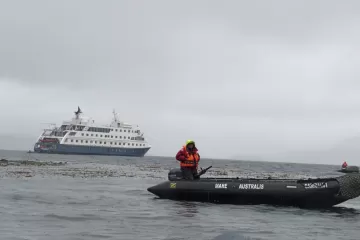 In the morning we have breakfast in the hotel's lovely tearoom-like dining room. Historic pictures of Patagonia line the walls.
Maria, our guide for the day, whisks us out to the airport, where we pick up Nicola and Tertius from South Africa and Celine and Christophe from Switzerland. Then we head to Puerto Natales, the closest town to Torres del Paine National Park, 2½ hours away. It's fun meeting people from so many places.
At PN, we have lunch and chat with Maria, who is in her last year of law school in Santiago. She was born in a town of 4,000 in Tierra del Fuego across from PN. The government has given companies incentives to move there to keep the people in her tiny hometown. Nicola and Tertius, meanwhile, tell us they have 2 girls in university and now they can finally travel. They are going to Antarctica (camping!) after Torres.
After lunch a Brazilian couple, Mariana and Ronaldo, arrives, and the van takes us all 2 more hours to Torres. At PN, we have picked up Javier, who will be our guide for the camp, and he points out the black-necked swans with white bodies that are the symbol of PN.
It continues to be rainy and cold as we stop at La Cueva del Minodol. This is a huge, airy cave where archeologists found a perfectly preserved large piece of fur as well as bones of a minodol or giant sloth.
We arrive at the Eco Camp, our home for the next 3 days, at about 8, and see our domes – no heat! It is freezing. Ours is a little larger than most because it has 3 beds; it's very pretty and simple, a green geodesic dome with bark on the bottom. We head to the big dining dome, which has a wood fire roaring in the stove, to have pisco sours and then dinner. Javier hands out a large flashlight for each dome because there's only electricity in the common domes. You can charge up cameras and iPods in the dining room and the bathroom. The bathroom has composting toilets and solar-heated showers.
Dinner is thankfully yuppified, salmon with onions and peppers along with a tasty corn soup. It's great that the guides dine with us -- Javier is a fountain of facts, a culture junky who amazes us with his breadth of knowledge. Then we head to our beds, which have thick comforters topped with sheepskins. We're freezing, so we sleep in our clothes after finding our way to the bathroom with our flashlight. The bed is so toasty that in the middle of the night I have to shed a few layers. Caitlin says her father and I slept so soundly we snored like "dying chipmunks. "