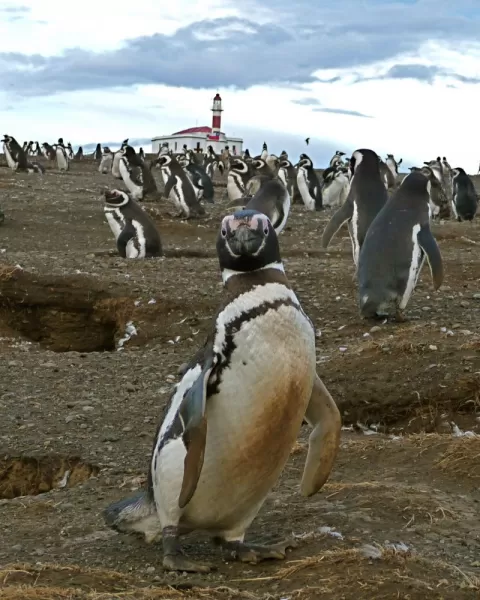 Up at 7 for glacier trekking day; thank goodness it's sunny! We fetch our box lunches and head out to look at the horses in the corral. There's a brown and white shepherd that looks just like our English Shepherd at home, but a bit darker.
A big bus full of tourists picks us up – we have the last 3 seats. In the park, the entrance fee is 60 pesos per person, not 20 as our itinerary had said; the driver stops briefly for the banos and a beautiful view overlooking the glacier Perito Moreno. He drops us off at a lake, and we pile onto a white boat that holds 64 people. It heads out in the pale green water, and all the photogs dash up to the deck – must be their first glacier!
The boat lets us off at a rustic shelter/picnic area where our guides give us instructions, separated into different languages. You can leave your backpacks here to travel light, they say, but make sure you have gloves because if you fall the ice will cut your hands.
We walk through a tortured and twisted forest, a trek of about half a mile. Trees are split apart, branches are everywhere, giant tree trunks lay around like pick-up sticks. Puzzling. Wind? Fire?
The guide leads us up a hill toward what look like shoeshine stands – but turn out to be crampon stands. The guides fit our feet into the spiky crampons that will enable us to walk on the ice. Our instructions: make a V when you go uphill and lean forward; when you descend, stay straight, keep your feet straight and bend your knees. Most important: walk with your feet flat on the ice, stepping with enough force to kill a cockroach.
We take tentative steps. Going up is not so hard – the ice is the consistency of a snow cone. But our first descent is unnervingly steep -- the guides critique our technique, reminding me to bend my knees. In parts we climb up open fields, while in others we squeeze though narrow passages in walls of ice. We take each other's pictures in the sunshine. The electric blue holes and crevasses are captivating. At several points the guides take us one by one, holding our arms as they let us peer down an endless chasm.
The guides say the glacier is growing in parts and disappearing in others. It is one of the few holding its own; until 1988, they say, it was actually growing.
Oddly, we spot a little table on an ice mesa in the distance. When we reach it, the guides pull out a bottle of Wild Grouse whiskey and a box of glasses. They hack off ice to cool the whiskey, then we all give the glacier a "salud"!
The final descent is easy. Used to the crampons now, we practically scamper around.
Back on shore, the bus is waiting for us. The guide says we are spending another hour at a lookout in the park that gives us a view over the glacier and of the rarely seen north side. More glacier! But it is interesting -- a point on the glacier that seems very close is actually 8 miles away. And the north face is dramatic and serene against the green sea. There's a nice walking loop but we stop at the first lookout point as it is now windy and rainy. We thought this would be the first day of vacation without rain – but no!
Back at the ranch I persuade Chris to take a walk with me, as the weather is back to sunny and windy. We come to the marshy part I remember from yesterday, and I am happy he can see the colors in this light.
We walk to the lake where the wind is whipping up the waves; the swirling sand turns the light blue of the waves glassy. The tidal pools are deep blue. Two hawks dive close to us and swoop away. Feathers are scattered everywhere, perhaps simply blasted out of birds by the wind. We see a hawk corpse, still bloody. We see a practically mummified cat corpse: freaky. As we circle back to the ranch house, we are startled by a hare as big as a fox.
By now we're hungry, and we wolf down carrot soup, appetizer empanadas, pastas filled with lamb and a stew duo – beef and lamb in 2 different dishes. Dessert is unusual wedges of cheese and "jam" which turn out to be some kind of aspic/gelatin slices. The waiter says one of them is sweet potato, and they are delicious.
At one point during dinner we look out the window and see the sheep gazing back at us in the dark; they've escaped their pens. Caitlin leaps up and tells an estancia guy who immediately goes out to get them -- before the puma does.
Then we hit the sack to be up at 6:30 to fly to Buenos Aires. Hey -- the soap here is shaped like sheep!